We are excited to share some new books in September!
A mix of kid-lit, young adult, and adult books are listed below.
Thanks to our Lit CelebrAsian team members: Glaiza and Shenwei for taking the time to research and compile this list.
Note: This is a just a small sample of releases out in September, so let us know what books you're excited for.
---
~ Middle Grade ~
 Voyage of the Dogs by Greg Van Eekhout 
Middle-grade science fiction
Release date: 4th of September, 2018
"SOS. Laika damaged. Human crew missing.
We are the dogs. We are alone.
Lopside is a Barkonaut—a specially trained dog who assists human astronauts on missions in space. He and the crew aboard the spaceship Laika are en route to set up an outpost on a distant planet. When the mission takes a disastrous turn, the Barkonauts on board suddenly find themselves completely alone on their severely damaged ship.
Survival seems impossible. But these dogs are Barkonauts—and Barkonauts always complete their mission."
---
We Rise, We Resist, We Raise Our Voices edited by Wade Hudson  & Cheryl Willis Hudson 
Middle-grade anthology with various POC authors
Release date: 4th of September, 2018
"What do we tell our children when the world seems bleak, and prejudice and racism run rampant? With 96 lavishly designed pages of original art and prose, fifty diverse creators lend voice to young activists.
Featuring poems, letters, personal essays, art, and other works from such industry leaders as Jacqueline Woodson (Brown Girl Dreaming), Jason Reynolds (All American Boys), Kwame Alexander (The Crossover), Andrea Pippins (I Love My Hair), Sharon Draper (Out of My Mind), Rita Williams-Garcia (One Crazy Summer), Ellen Oh (cofounder of We Need Diverse Books), and artists Ekua Holmes, Rafael Lopez, James Ransome, Javaka Steptoe, and more, this anthology empowers the nation's youth to listen, learn, and build a better tomorrow."
---
The Vanderbeekers and the Hidden Garden (The Vanderbeekers #2) by Karina Yan Glaser
Middle grade contemporary fiction
Release date: 25th of September, 2018
"While Isa is off at sleepaway orchestra camp, Jessie, Oliver, Hyacinth, and Laney are stuck at home in the brownstone with nothing to do but get on one another's nerves. But when catastrophe strikes their beloved upstairs neighbor, their sleepy summer transforms in an instant as the Vanderbeeker children band together to do what they do best: make a plan. They will create the most magical healing garden in all of Harlem."
---
~ Young Adult ~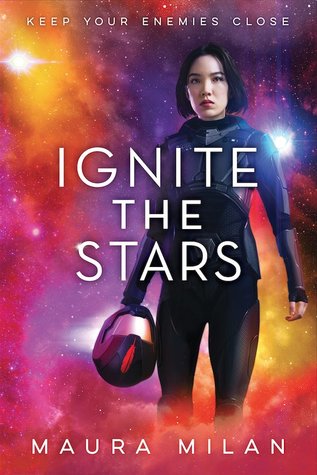 Ignite the Stars by Maura Milan 
Young adult science fiction
Release date: 4th of September, 2018
"Everyone in the universe knows his name. Everyone in the universe fears him. But no one realizes that notorious outlaw Ia Cocha is a seventeen-year-old girl.
A criminal mastermind and unrivaled pilot, Ia has spent her life terrorizing the Olympus Commonwealth, the imperialist nation that destroyed her home. When the Commonwealth captures her and her true identity is exposed, they see Ia's age and talent as an opportunity: by forcing her to serve them, they will prove that no one is beyond their control.
Soon, Ia is trapped at the Commonwealth's military academy, desperately plotting her escape. But new acquaintances—including Brinn, a seemingly average student with a closely-held secret, and their charming Flight Master, Knives—cause Ia to question her own alliances. Can she find a way to escape the Commonwealth's clutches before these bonds deepen?"
---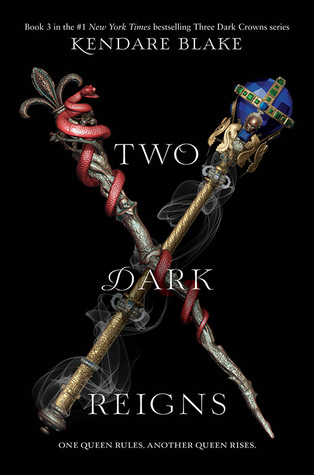 Two Dark Reigns (Three Dark Crowns #3) by Kendare Blake
Young adult science fiction
Release date: 4th of September, 2018
"#1 New York Times bestselling author Kendare Blake returns with the highly anticipated third book in the Three Dark Crowns series!
Katharine sits on the throne, Mirabella and Arsinoe are in hiding, and an unexpected renegade is about to wage a war of her own. The crown has been won, but these queens are far from done."
---
A Spark of White Fire (The Celestial Trilogy #1) by Sangu Mandanna
Young adult science fiction
Release date: 11th of September, 2018
"In a universe of capricious gods, dark moons, and kingdoms built on the backs of spaceships, a cursed queen sends her infant daughter away, a jealous uncle steals the throne of Kali from his nephew, and an exiled prince vows to take his crown back. 
Raised alone and far away from her home on Kali, Esmae longs to return to her family. When the King of Wychstar offers to gift the unbeatable, sentient warship Titania to a warrior that can win his competition, she sees her way home: she'll enter the competition, reveal her true identity to the world, and help her famous brother win back the crown of Kali. 
It's a great plan. Until it falls apart. 
Inspired by the Mahabharata and other ancient Indian stories, A Spark of White Fire is a lush, sweeping space opera about family, curses, and the endless battle between jealousy and love."
---
Young adult science fiction
Release date: 11th of September, 2018
"Rumi Seto spends a lot of time worrying she doesn't have the answers to everything. What to eat, where to go, whom to love. But there is one thing she is absolutely sure of—she wants to spend the rest of her life writing music with her younger sister, Lea.
Then Lea dies in a car accident, and her mother sends her away to live with her aunt in Hawaii while she deals with her own grief. Now thousands of miles from home, Rumi struggles to navigate the loss of her sister, being abandoned by her mother, and the absence of music in her life. With the help of the "boys next door"—a teenage surfer named Kai, who smiles too much and doesn't take anything seriously, and an eighty-year-old named George Watanabe, who succumbed to his own grief years ago—Rumi attempts to find her way back to her music, to write the song she and Lea never had the chance to finish."
---
 Heartstruck (Flicker #1) by Angeli E. Dumatol 
Young adult contemporary fiction
Release date: 15th of September, 2018
"Seventeen-year-old Alexa Zamora looks as if she's always been the beautiful and graceful center of attention. If you knew her in grade school though, you'd remember a sad little girl, who had lost her parents, and spent most of her time on the martial art arnis—a rough sport, not something girls were supposed to like. If you knew her then, you might have ostracized her for it.

She learned from this mistake, and has done her best to hide all traces of her sport and skill in a new school, and now she's New Hope Academy's It Girl. But transfer student Theo Guevarra, who happens to be her old arnis buddy and first love, arrives and makes her question the life she's been living. How long can she keep up appearances, before it all falls apart?"
---
Young adult contemporary fiction
Release date: 18th of September, 2018
"For most of high school, Bijan Majidi has flown under the radar. He gets good grades, reads comics, hangs out with his best friend, Kenji, and secretly crushes on Elle, one of the most popular girls in his school. When he's called off the basketball team's varsity bench and makes the winning basket in a playoff game, everything changes in an instant.
But not everyone is happy that Bijan is the man of the hour: an anonymous cyberbully sends the entire school a picture of Bijan photoshopped to look like a terrorist. His mother is horrified, and the school administration is outraged. They promise to find and punish the culprit. All Bijan wants is to pretend it never happened and move on, but the incident isn't so easily erased. Though many of his classmates rally behind Bijan, some don't want him or his type to be a part of their school. And Bijan's finding out it's not always easy to tell your enemies from your friends . . ."
---
Young adult science fiction
Release date: 18th of September, 2018
"Emika Chen barely made it out of the Warcross Championships alive. Now that she knows the truth behind Hideo's new NeuroLink algorithm, she can no longer trust the one person she's always looked up to, who she once thought was on her side.
Determined to put a stop to Hideo's grim plans, Emika and the Phoenix Riders band together, only to find a new threat lurking on the neon-lit streets of Tokyo. Someone's put a bounty on Emika's head, and her sole chance for survival lies with Zero and the Blackcoats, his ruthless crew. But Emika soon learns that Zero isn't all that he seems–and his protection comes at a price.
Caught in a web of betrayal, with the future of free will at risk, just how far will Emika go to take down the man she loves?"
---
The Impossible Girl by Lydia Kang
Young adult paranormal historical mystery
Release date: 18th of September, 2018
"Two hearts. Twice as vulnerable.

Manhattan, 1850. Born out of wedlock to a wealthy socialite and a nameless immigrant, Cora Lee can mingle with the rich just as easily as she can slip unnoticed into the slums and graveyards of the city. As the only female resurrectionist in New York, she's carved out a niche procuring bodies afflicted with the strangest of anomalies. Anatomists will pay exorbitant sums for such specimens—dissecting and displaying them for the eager public.
Cora's specialty is not only profitable, it's a means to keep a finger on the pulse of those searching for her. She's the girl born with two hearts—a legend among grave robbers and anatomists—sought after as an endangered prize.
Now, as a series of murders unfolds closer and closer to Cora, she can no longer trust those she holds dear, including the young medical student she's fallen for. Because someone has no intention of waiting for Cora to die a natural death. "
---
500 Words or Less by Juleah del Rosario
Young adult contemporary fiction
Release date: 25th of September, 2018
"Nic Chen refuses to spend her senior year branded as the girl who cheated on her charismatic and lovable boyfriend. To redefine her reputation among her Ivy League–obsessed classmates, Nic begins writing their college admissions essays.
But the more essays Nic writes for other people, the less sure she becomes of herself, the kind of person she is, and whether her moral compass even points north anymore."
---
For a Muse of Fire (For a Muse of Fire #1) by Heidi Heilig 
Young adult fantasy
Release date: 25th of September, 2018
"Jetta's family is famed as the most talented troupe of shadow players in the land. With Jetta behind the scrim, their puppets seem to move without string or stick—a trade secret, they say. In truth, Jetta can see the souls of the recently departed and bind them to the puppets with her blood. But the old ways are forbidden ever since the colonial army conquered their country, so Jetta must never show, never tell. Her skill and fame are her family's way to earn a spot aboard the royal ship to Aquitan, where shadow plays are the latest rage, and where rumor has it the Mad King has a spring that cures his ills. Because seeing spirits is not the only thing that plagues Jetta. But as rebellion seethes and as Jetta meets a young smuggler, she will face truths and decisions that she never imagined—and safety will never seem so far away.
Heidi Heilig creates a vivid, rich world inspired by Asian cultures and French colonialism. Her characters are equally complex and nuanced, including the bipolar heroine." 
---
~ Adult fiction ~ 
Adult contemporary fiction
Release date: 4th of September, 2018
I am Miss Frankenstein, I am the bottom of the bell curve." So declares Szu, a teenager living in a dark, dank house on a Singapore cul-de-sac, at the beginning of this richly atmospheric and endlessly surprising tale of non-belonging and isolation.
Friendless and fatherless, Szu lives in the shadow of her mother Amisa, once a beautiful actress—who gained fame for her portrayal of a ghost—and now a hack medium performing séances with her sister in a rusty house. When Szu meets the privileged, acid-tongued Circe, an unlikely encounter develops into a fraught friendship that will haunt them both for decades to come."
---
The End of the Moment We Had by Toshiki Okada, Samuel Malissa (Translator)
Adult contemporary fiction
Release date: 4th of September, 2018
"On the eve of the Iraq War, a man and a woman meet in a nightclub in Tokyo. They go to a love hotel, and spend the next five days in a torrid affair. Written in a stream of consciousness, with the reader's perceptions shifting and melting into one another, what is remarkable in this story is not what happens, but the ability of the writer to enter the minds and memories of the protagonists.In the second story, a woman living in a damp flat obsesses on the filthy state of her dwelling. She remains in bed for the duration of the narrative, but the drama and tension of her inner life – spiralling further and further into her memories and anxieties – keep the reader engrossed to the very end."
---
Monstress, Vol. 3: Haven by Marjorie M. Liu, Sana Takeda (Artist)
Adult fantasy graphic novel
Release date: 4th of September, 2018
"Maika has spent most of her life learning how to fight, but how will she fare when the only way to save her life…is to make friends?
Collects issues 13-18 of the Hugo Award and British Fantasy Award series."
---
 Mecha Samurai Empire (United States of Japan #2) by Peter Tieryas
Release date: 18th of September, 2018
"A standalone book set in the USJ universe, Mecha Samurai Empire focuses on a group of aspiring mecha cadets preparing to fight the Nazis. 
Foremost among them, Makoto Fujimoto grew up in California, but with a difference–his California is part of the United States of Japan. After Germany and Japan won WWII, the United States fell under their control. Growing up in this world, Mac plays portical games, haphazardly studies for the Imperial Exam, and dreams of becoming a mecha pilot. Only problem: Mac's grades are terrible. His only hope is to pass the military exam and get into the prestigious mecha pilot training program at Berkeley Military Academy. 
When his friend Hideki's plan to game the test goes horribly wrong, Mac washes out of the military exam too. Perhaps he can achieve his dream by becoming a civilian pilot. But with tensions rising between Imperial Japan and Nazi Germany and rumors of collaborators and traitors abounding, Mac will have to stay alive long enough first…"
---
 Starfang: Will of the Clan (Volume 3) by Joyce Chng 
Release date: 24th of September, 2018
"The sudden appearance of the enigmatic jukka adds another layer of intrigue and peril to Captain Francesca Ming Yue's already shaky game with the shishini. The threat of galactic war with a mysterious force looms. Will the clans gather? Francesca have to keep her wits about her, unite all the clans and fight. In this stunning conclusion of the trilogy, the fate of the wolf clans, shishini and jukkda will be decided in a final battle. Will the will of the clans prevail?"
---
Adult contemporary fiction
Release date: 25th of September, 2018
"Mara Alencar's mother Ana is the moon, the sun, the stars. Ana, a struggling voice-over actress, is an admirably brave and recklessly impulsive woman who does everything in her power to care for her little girl. With no other family or friends her own age, Ana eclipses Mara's entire world. They take turns caring for each other—in ways big and small.
Their arrangement begins to unravel when Ana becomes involved with a civilian rebel group attempting to undermine the city's torturous Police Chief, who rules over 1980s Rio de Janeiro with terrifying brutality. Ana makes decisions that indelibly change their shared life. When Mara is forced to escape, she emigrates to California where she finds employment as a caregiver to a young woman dying of stomach cancer. It's here that she begins to grapple with her turbulent past and starts to uncover vital truths—about her mother, herself, and what it means to truly take care of someone."
---
~ Adult Non-fiction ~
I Should Have Honor: A Memoir of Hope and Pride in Pakistan by Khalida Brohi 
Release date: 4th of September, 2018
"Everything shifted for Khalida when she found out that her beloved cousin had been murdered by her uncle in a tradition known as "honor killing." Her cousin's crime? She had fallen in love with a man who was not her betrothed. This moment ignited the spark in Khalida Brohi that inspired a globe-spanning career as an activist, beginning at the age of sixteen. From a tiny cement-roofed room in Karachi where she was allowed ten minutes of computer use per day, Brohi started a Facebook campaign that went viral. From there, she created a foundation focused on empowering the lives of women in rural communities through education and employment opportunities, while crucially working to change the minds of their male partners, fathers, and brothers."
---
Release date: 18th of September, 2018
"This is not a book about the politics of immigration. This book––at its core––is not about immigration at all. This book is about homelessness, not in a traditional sense, but in the unsettled, unmoored psychological state that undocumented immigrants like myself find ourselves in. This book is about lying and being forced to lie to get by; about passing as an American and as a contributing citizen; about families, keeping them together, and having to make new ones when you can't. This book is about constantly hiding from the government and, in the process, hiding from ourselves. This book is about what it means to not have a home.
After 25 years of living illegally in a country that does not consider me one of its own, this book is the closest thing I have to freedom."
---
Release date: 18th of September, 2018
"On the eve of International Women's Day in 2015, the Chinese government arrested five feminist activists and jailed them for 37 days. The Feminist Five became a global cause célèbre, with Hillary Clinton speaking out on their behalf, and activists inundating social media with #FreetheFive messages. But the Feminist Five are only symbols of a much larger feminist movement of civil rights lawyers, labor activists, performance artists and online warriors that is prompting an unprecedented awakening among China's urban, educated women."
---
~ Picture/Board Books ~
Super Satya Saves the Day by Raakhee Mirchandani, Illustrated by Tim Palin
Updated Release date: October 2018
"Super Satya is ready to have a super day, including finally conquering the tallest slide in Hoboken. But her day takes a not-so-super turn when she realizes her superhero cape is stuck at the dry cleaner. Will she be able to face her fears, help her friends and be the true hero everyone knows she is? Super Satya Saves The Day introduces Satya, a precocious Indian-American superhero." Suggested Age Range: 3-9
---
*List compiled by Lit CelebrAsian team members: Glaiza and Shenwei 
*In case you missed it, check out the August Releases