We are excited to share some new books in November!
A mix of kid-lit, young adult, and adult books are listed below.
Thanks to our Lit CelebrAsian team members: Glaiza and Shenwei for taking the time to research and compile this list.
Note: This is a just a small sample of releases out in November, so let us know what books you're excited for.
---
~ Young Adult ~
Girls on the Line by Jennie Liu
Young adult contemporary
Release date: 1st of November, 2018
"A teen pregnancy puts two orphan girls in contemporary China on a collision course with factory bosses, family planning regulators, and a bride trafficker.
Luli has just turned sixteen and finally aged out of the orphanage where she's spent the last eight years. Her friend Yun has promised to help her get work.
Yun loves the independence that her factory job brings her. For the first time in her life she has her own money and can get the things she wants: nice clothes, a cell phone…and Yong, her new boyfriend."
---
 Umbertouched (Rosemarked #2) by Livia Blackburne 
Young adult fantasy
Release date: 6th of November, 2018
"The mission was a failure. Even though Zivah and Dineas discovered a secret that could bring down the empire, their information is useless without proof. Now, with their cover blown and their quest abandoned, their only remaining hope is to get home before Ampara brings the full might of its armies against their peoples. Together, healer and warrior must find the courage to save their people, expose the truth, and face the devastating consequences headed their way."
---
Kingdom of the Blazing Phoenix (Rise of the Empress #2) by Julie C. Dao 
Young adult fantasy
Release date: 6th of November, 2018
"This fairy tale retelling lives in a mystical world inspired by the Far East, where the Dragon Lord and the Serpent God battle for control of the earthly realm; it is here that the flawed heroine of Forest of a Thousand Lanterns finally meets her match. An epic fantasy finale to the Rise of the Empress novels.
Princess Jade has grown up in exile, hidden away in a monastery while her stepmother, the ruthless Xifeng, rules as empress of Feng Lu. But the empire is in distress and its people are sinking into poverty and despair."
---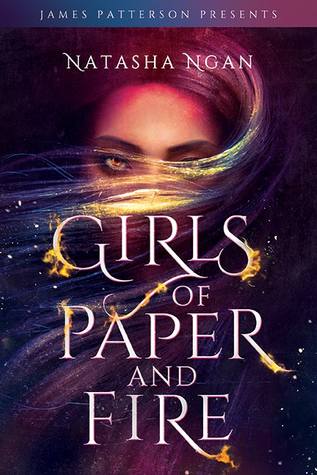 Girls of Paper and Fire by Natasha Ngan
Young adult fantasy
Release date: 6th of November, 2018
"In this lush fantasy, Lei is a member of the Paper caste, the lowest and most oppressed class in Ikhara. She lives in a remote village with her father, where the decade-old trauma of watching her mother snatched by royal guards still haunts her. Now, the guards are back, and this time it's Lei they're after–the girl whose golden eyes have piqued the king's interest.
Over weeks of training in the opulent but stifling palace, Lei and eight other girls learn the skills and charm that befit being a king's consort. But Lei isn't content to watch her fate consume her. Instead, she does the unthinkable–she falls in love."
---
 Empress of All Seasons by Emiko Jean
Young adult fantasy
Release date: 6th of November, 2018
"Each generation, a competition is held to find the next empress of Honoku. The rules are simple. Survive the palace's enchanted seasonal rooms. Conquer Winter, Spring, Summer, and Fall. Marry the prince. All are eligible to compete—all except yōkai, supernatural monsters and spirits whom the human emperor is determined to enslave and destroy. 
Mari has spent a lifetime training to become empress. Winning should be easy. And it would be, if she weren't hiding a dangerous secret. Mari is a yōkai with the ability to transform into a terrifying monster. If discovered, her life will be forfeit. As she struggles to keep her true identity hidden, Mari's fate collides with that of Taro, the prince who has no desire to inherit the imperial throne, and Akira, a half-human, half-yōkai outcast."
---
 Hide With Me by Sorboni Banerjee
Young adult contemporary
Release date: 6th of November, 2018
"In the dying cornfields of his family's farm, seventeen-year-old Cade finds a mysterious girl broken and bleeding. She has one request: hide me.
With help from Cade's best friend, the son of the local veterinarian, the mysterious Jane Doe starts to heal, and details of her past surface. A foster kid looking for a way out, Jane got caught up in the wrong crowd and barely escaped with her life.
Cade has been trapped in the border town of Tanner, Texas all his life and has a difficult past of his own. Reeling from his parents' separation, he's focused on one thing: a football scholarship–his one-way ticket out of town.
As the two plan their escapes, Jane and Cade spend their nights in the abandoned barn on the edge of the farm and their days with Cade's friends: sweet, artistic, Mateo and his vivacious sister Jojo who vows to be president one day."
 The Storyteller (Sea of Ink and Gold #3) by Traci Chee 
Young adult fantasy
Release date: 13th of November, 2018
"Sefia is determined to keep Archer out of the Guard's clutches and their plans for war between the Five Kingdoms. The Book, the ancient, infinite codex of the past, present and future, tells of a prophecy that will plunge Kelanna in that bloody war, but it requires a boy—Archer—and Sefia will stop at nothing to ensure his safety. The Guard has already stolen her mother, her father, and her Aunt Nin. Sefia would sooner die than let them take anymore from her—especially the boy she loves.
But escaping the Guard and the Book's prophecy is no easy task. After all, what is written always comes to pass. As Sefia and Archer watch Kelanna start to crumble to the Guard's will, they will have to choose between their love and joining a war that just might tear them apart."
---
~ Adult fiction ~ 
 The Kinship of Secrets by Eugenia Kim
Adult historical fiction
Release date: 6th of November, 2018
"In 1948 Najin and Calvin Cho, with their young daughter Miran, travel from South Korea to the United States in search of new opportunities. Wary of the challenges they know will face them, Najin and Calvin make the difficult decision to leave their other daughter, Inja, behind with their extended family; soon, they hope, they will return to her.
But then war breaks out in Korea, and there is no end in sight to the separation. Miran grows up in prosperous American suburbia, under the shadow of the daughter left behind, as Inja grapples in her war-torn land with ties to a family she doesn't remember. Najin and Calvin desperately seek a reunion with Inja, but are the bonds of love strong enough to reconnect their family over distance, time, and war? And as deep family secrets are revealed, will everything they long for be upended?"
---
 Altered Straits by Kevin Martens Wong
Adult science fiction
Release date: 6th of November, 2018
"In an alternate 1947 filled with mystical creatures, Singapuran boy-soldier Naufal Jazair is bonded to the merlion Bahana and enlisted in a war against an aggressive neighbour. Meanwhile, in a dystopian Singapore in 2047, SAF officer Titus Ang is tasked with entering Naufal's universe and retrieving a merlion to save the future of Singapore from the Concordance, a hive intelligence that is close to consuming what remains of humanity."
---
 City of Ash and Red by Hye-Young Pyun
Adult science fiction/mystery thriller
Release date: 6th of November, 2018
"Distinguished for his talents as a rat killer, the nameless protagonist of Hye-young Pyun's City of Ash and Red is sent by the extermination company he works for on an extended assignment in C, a country descending into chaos and paranoia, swept by a contagious disease, and flooded with trash. No sooner does he disembark than he is whisked away by quarantine officials and detained overnight. Isolated and forgotten, he realizes that he is stranded with no means of contacting the outside world. Still worse, when he finally manages to reach an old friend, he is told that his ex-wife's body was found in his apartment and he is the prime suspect. Barely managing to escape arrest, he must struggle to survive in the streets of this foreign city gripped with fear of contamination and reestablish contact with his company and friends in order to clear his reputation."
---
 Empire of Sand (The Books of Ambha #1) by Tasha Suri 
Adult sfantasy
Release date: 13th of November, 2018
"A nobleman's daughter with magic in her blood. An empire built on the dreams of enslaved gods. Empire of Sand is Tasha Suri's captivating, Mughal India-inspired debut fantasy.
The Amrithi are outcasts; nomads descended of desert spirits, they are coveted and persecuted throughout the Empire for the power in their blood. Mehr is the illegitimate daughter of an imperial governor and an exiled Amrithi mother she can barely remember, but whose face and magic she has inherited.
When Mehr's power comes to the attention of the Emperor's most feared mystics, she must use every ounce of will, subtlety, and power she possesses to resist their cruel agenda."
---
The April 3rd Incident: Stories by Yu Hua, Allan H Barr (Translator)
Short stories
Release date: 13th of November, 2018
"The stories collected here show Yu Hua masterfully guiding us from one fractured reality to another. "A History of Two People" traces the paths of a man and a woman who dream in parallel throughout their lives. "In Memory of Miss Willow Yang" weaves a spellbinding web of signs and symbols. "As the North Wind Howled" carries a case of mistaken identity to absurd and hilarious conclusions. And the title story follows an unforgettable narrator determined to unearth a conspiracy against him that may not exist. By turns daring, darkly comic, thought-provoking, and profound, The April 3rd Incident is an extraordinary record of a singular moment in Chinese letters."
---
Shanghai Dreams: (Shanghai Story Book Two) A WWII Drama Trilogy by Alexa Kang
Adult historical fiction
Release date: 16th of November, 2018
"In the face of horror, his country stood alone. Japan's hunger for power shows no signs of retreat. Pushed to the edge, the Kuomintang turns to the Kremlin as its last hope for help. 
To help his country succeed, Clark Yuan has to make a choice. Follow his heart and pursue the woman he loves, or give cover to a Russian princess as her paramour in a plot to sway the Soviets behind their cause? 
What should a man do when protecting his country demands the loss of his dreams?" 
---
 All the Lives We Never Lived by Anuradha Roy
Adult historical fiction
Release date: 20th of November, 2018
"In my childhood, I was known as the boy whose mother had run off with an Englishman."
So begins the story of Myshkin and his mother Gayatri, who is driven to rebel against tradition and follow her artist's instinct for freedom.
Freedom of a different kind is in the air across India. The fight against British rule is reaching a critical turn. The Nazis have come to power in Germany. At this point of crisis, two strangers arrive in Gayatri's town, opening up to her the vision of other possible lives.
What took Myshkin's mother from India to Dutch-held Bali in the 1930s, ripping a knife through his comfortingly familiar universe? Excavating the roots of the world in which he was abandoned, Myshkin comes to understand the connections between the anguish at home and a war-torn universe overtaken by patriotism."
---
*List compiled by Lit CelebrAsian team members: Glaiza and Shenwei 
*In case you missed it, check out the October Releases