We are excited to share some new books in July!
A mix of kid-lit, young adult, and adult books are listed below.
Thanks to our Lit CelebrAsian team members: Glaiza and Shenwei for taking the time to research and compile this list.
Note: This is a just a small sample of releases out in July, so let us know what books you're excited for.
~ Middle Grade ~
Jasmine Toguchi, Flamingo Keeper (Jasmine Toguchi #4) by Debbi Michiko Florence
Middle grade contemporary fiction
Release date: 3rd of July, 2018
"Jasmine's best friend, Linnie, has just gotten a puppy. And now Jasmine wants a pet of her own–a flamingo! So when her grandmother sends Jasmine a daruma doll as a surprise gift, Jasmine colors in one doll eye and wishes for a flamingo to keep.
Next, Jasmine tries to convince her parents that she's responsible enough for a pet. She cleans her room, brushes her teeth, takes out the trash, and, most importantly, researches everything she can about flamingos. But soon it becomes clear that her wish may never come true! Will Jasmine's daruma doll ever get its second eye? Luckily her big sister, Sophie, has a surprise planned that fulfills Jasmine's wish beyond her wildest dreams."
---
 The Dam Keeper: World Without Darkness (Dam Keeper) by Robert Kondo, Dice Tsutsumi
Middle grade graphic novel
Release date: 10th of July, 2018
"Beyond the dam lies certain death—this is something every citizen of Sunrise Valley knows well. Yet, when a poisonous black tidal wave carries Pig, Fox, and Hippo over the dam and into the wastelands, they don't find death. Instead they find bustling cities, each with their own dams. Pig can't help but wonder, who is the mysterious dam keeper behind it all?
But he doesn't have time to unravel this mystery. The wave of deadly black fog will return to Sunrise Valley in four days, and its dam can't withstand another assault. In a stolen truck and with a deranged lizard leading the way, Pig and his friends are in a race against the clock. but can they reach home in time?"
---
~ Young Adult ~
 Bumblebee at Super Hero High (DC Super Hero Girls #6) by Lisa Yee
Young adult fantasy
Release date: 3rd of July, 2018
"When the world's honey supply starts to drop and some of her old tech disappears, super student Bumblebee enlists her friends Wonder Woman, Batgirl, Poison Ivy, and Beast Boy to help her find out why. Is it a new villain, or someone from the past? With so much going on at Super Hero High, Bumblebee isn't sure how she's going to keep an eye on everything, but she's determined to do it with style . . . and sting!"
---
Young adult graphic novel
Release date: 3rd of July, 2018
"Mae's beloved older sister, Abbie, has been missing for years. Mae has her theories about where Abbie might be. But nowhere in her wildest imagination do those theories encompass a fantasy world full of terrifying monsters, power-hungry nobles, and nefarious scientists. That is, until Abbie suddenly reappears in Mae's world. And not alone."
---
Lovely, Dark, and Deep by Justina Chen
Young adult contemporary fiction
Release date: 31st of July, 2018
"What would you do if the sun became your enemy?
That's exactly what happens to Viola Li after she returns from a trip abroad and develops a sudden and extreme case of photosensitivity — an inexplicable allergy to sunlight. Thanks to her crisis-manager parents, she doesn't just have to wear layers of clothes and a hat the size of a spaceship. She has to stay away from all hint of light. Say goodbye to windows and running outdoors. Even her phone becomes a threat when its screen burns her.
Viola is determined to maintain a normal life, particularly after she meets Josh. He's a funny, talented Thor look-alike who carries his own mysterious grief. But the intensity of their romance makes her take more and more risks, and when a rebellion against her parents backfires dangerously, she must find her way to a life — and love — as deep and lovely as her dreams."
---
~ Adult fiction ~
Heroine's Journey (Heroine Complex #3) by Sarah Kuhn 
Adult urban fantasy
Release date: 3rd of July 2018
"If there's one thing Beatrice Tanaka never wanted to be, it's normal. But somehow, her life has unfolded as a series of "should haves." Her powers of emotional projection should have made her one of the most formidable superheroes of all time. And she should have been allowed to join her older sister Evie as a full-fledged protector of San Francisco, pulverizing the city's plethora of demon threats.
But Evie and her superheroing partner, Aveda Jupiter, insist on seeing Bea as the impulsive, tempestuous teenager she used to be–even though she's now a responsible adult. And that means Bea is currently living a thoroughly normal life. She works as a bookstore lackey, hangs out with best friends Sam Fujikawa and Leah Kim, and calms her workplace's more difficult customers. Sure, she's not technically supposed to be playing with people's mental states. But given the mundanity of her existence, who can blame her?"
When a mysterious being starts communicating with Bea, hinting at an evil that's about to overtake the city, she seizes the opportunity, hoping to turn her "should haves" into the fabulous heroic life she's always wanted. But gaining that life may mean sacrificing everything–and everyone–she holds dear…"
---
 Small Beauty by jia qing wilson-yang
Adult contemporary fiction
Release date: July 2018
(Aus release)
"Small Beauty tells the story of Mei, who in coping with the death of her cousin abandons her life in the city to live in his now empty house in a small town. There she connects with his history as well as her own, learns about her aunt's long-term secret relationship, and reflects on the trans women she left behind. She also brushes up against some local trans mysteries and gets advice from departed loved ones with a lot to say."
---
 The Ice Migration by Jacqueline Crooks
Adult contemporary fiction
Release date: 1st of July 2018
"The stories in this collection move around in time and place, but are linked by the experiences of the descendants of a Jamaican family of mixed Indian and African heritage. From Roaring River in rural Jamaica in 1908 where the descendants of African slaves make connections with new arrivals from Kolkata to work in the sugar cane fields, to Southall in 2013, where the Millers live alongside newer migrants from India, The Ice Migration is a poetic exploration of movement as central to the human condition, from the ancestors of the vanished Tainos in Jamaica who crossed the Behring Straits 40,000 years ago, to Tutus who is driven to separation from her family, to the constancy of moving on and ultimately return to Roaring River."
---
 The Tale of Cho Ung: A Classic of Vengeance, Loyalty, and Romance by Sookja Cho (Translation)
Adult historical fantasy
Release date: 3rd of July 2018
"The Tale of Cho Ung is one of the most widely read and beloved stories of Chosŏn Korea. The anonymously written tale recounts the adventures of protagonist Cho Ung as he fearlessly confronts and overcomes obstacles and grows into a heroic young man. As a child, Ung flees a wicked tyrant who wrongfully killed his father and took advantage of the emperor's death to seize the throne from the young prince. Driven by his passion, righteousness, and sense of duty, he pursues retribution and restores justice.His journey, from its innocent beginnings to his final triumph, unfolds as a complex tapestry of loyalty, honor, retribution, and love interspersed with threads of romance and the supernatural."
---
  Underground Village by Kang Kyeong-ae (Translated by Anton Hur)
Short story collection
Release date: 3rd of July 2018
"Kang is often mentioned by literary critics as one of the foremost female writers of the colonial period when Korean was occupied by Japan. She focused solely on fiction and essay writing. Kang produced works focusing on the Korean underclass often based on her experiences with extremely poor Koreans in Manchuria, where many of her works took place."
---
 It All Falls Down (Nora Watts #2) by Sheena Kamal 
Adult mystery/thriller
Release date: 3rd of July 2018
"The brilliant, fearless, deeply flawed Nora Watts—introduced in the "utterly compelling" (Jeffery Deaver) atmospheric thriller The Lost Ones—finds deadly trouble as she searches for the truth about her late father in this immersive thriller that moves from the hazy Canadian Pacific Northwest to the gritty, hollowed streets of Detroit.
Finding the truth about her father's life and his violent death takes her from Vancouver to Detroit where Sam Watts grew up, far away from his people and the place of his birth. Thanks to a disastrous government policy starting in the 1950s, thousands of Canadian native children like Sam were adopted by American families. In the Motor City, Nora discovers that the circumstances surrounding Sam's suicide are more unsettling than she'd imagined."
---
What We Were Promised by Lucy Tan
Adult contemporary fiction
Release date: 7th of July 2018
"After years of chasing the American dream, the Zhen family has moved back to China. Settling into a luxurious serviced apartment in Shanghai, Wei, Lina, and their daughter, Karen, join an elite community of Chinese-born, Western-educated professionals who have returned to a radically transformed city.
One morning, in the eighth tower of Lanson Suites, Lina discovers that a childhood keepsake, an ivory bracelet, has gone missing. The incident contributes to a wave of unease that has begun to settle throughout the Zhen household. Wei, a marketing strategist, bows under the guilt of not having engaged in nobler work. Meanwhile, Lina, lonely in her new life of leisure, assumes the modern moniker taitai–a housewife who does no housework at all. She spends her days haunted by the circumstances surrounding her arranged marriage to Wei and her lingering feelings for his brother, Qiang. Lina and Wei take pains to hide their anxieties, but their housekeeper, Sunny, a hardworking girl with secrets of her own, bears witness to their struggles. When Qiang reappears in Shanghai after decades on the run with a local gang, the family must finally come to terms with the past."
---
 If You See Me, Don't Say Hi: Stories by Neel Patel
Short story collection
Release date: 10th of July 2018
"In these eleven sharp, surprising stories, Neel Patel gives voice to our most deeply held stereotypes and then slowly undermines them. His characters, almost all of who are first-generation Indian Americans, subvert our expectations that they will sit quietly by. We meet two brothers caught in an elaborate web of envy and loathing; a young gay man who becomes involved with an older man whose secret he could never guess; three women who almost gleefully throw off the pleasant agreeability society asks of them; and, in the final pair of linked stories, a young couple struggling against the devastating force of community gossip." 
---
An Ocean of Minutes by Thea Lim
Adult science fiction
Release date: 10th of July 2018
"America is in the grip of a deadly flu. When Frank gets sick, his girlfriend Polly will do whatever it takes to save him. She agrees to a radical plan—time travel has been invented in the future to thwart the virus. If she signs up for a one-way-trip into the future to work as a bonded labourer, the company will pay for the life-saving treatment Frank needs. Polly promises to meet Frank again in Galveston, Texas, where she will arrive in twelve years.
But when Polly is re-routed an extra five years into the future, Frank is nowhere to be found. Alone in a changed and divided America, with no status and no money, Polly must navigate a new life and find a way to locate Frank, to discover if he is alive, and if their love has endured."
---
 Starfang: Claw of the Clan Volume 2 by Joyce Chng 
Adult science fiction fantasy
Release date: 17th of July 2018
"Starfang: Claw of the Clan Keen on avenging the death of her Pack-mate, Captain Francesca Ming Yue embarks on a hunt again to seek out her enemy, Yuen Leung, leader of the Amber Eyes. Torn within from her own desires and failure, Francesca has to play a dangerous game with the reptilian shishini. Can she trust them? With her clan at stake, the captain of Starfang has to tread carefully or place the lives of her ship and crew in jeopardy. "
---
Mary B: An Untold Story of Pride and Prejudice by Katherine J. Chen
Adult science fiction
Release date: 24th of July 2018
"What is to be done with Mary Bennet? She possesses neither the beauty of her eldest sister, Jane, nor the high-spirited charm of Lizzy. Even compared to her frivolous younger siblings, Kitty and Lydia, Mary knows she is lacking in the ways that matter for single, not-so-well-to-do women in nineteenth-century England who must secure their futures through the finding of a husband. As her sisters wed, one by one, Mary pictures herself growing old, a spinster with no estate to run or children to mind, dependent on the charity of others. At least she has the silent rebellion and secret pleasures of reading and writing to keep her company.
But even her fictional creations are no match for the scandal, tragedy, and romance that eventually visit Mary's own life." 
---
Adult science fiction
Release date: 26th of July 2018
"Lea Kirino is a "Lifer," which means that a roll of the genetic dice has given her the potential to live forever—if she does everything right. And Lea is an overachiever. She's a successful trader on the New York exchange—where instead of stocks, human organs are now bought and sold—she has a beautiful apartment, and a fiancé who rivals her in genetic perfection. And with the right balance of HealthTech™, rigorous juicing, and low-impact exercise, she might never die. 
But Lea's perfect life is turned upside down when she spots her estranged father on a crowded sidewalk. His return marks the beginning of her downfall as she is drawn into his mysterious world of the Suicide Club, a network of powerful individuals and rebels who reject society's pursuit of immortality, and instead chose to live—and die—on their own terms. In this future world, death is not only taboo; it's also highly illegal. Soon Lea is forced to choose between a sanitized immortal existence and a short, bittersweet time with a man she has never really known, but who is the only family she has left in the world. (TW: suicide.)" 
---
The Descent of Monsters (Tensorate #3) by J.Y. Yang
Adult fantasy
Release date: 31st of July 2018
"You are reading this because I am dead.
Something terrible happened at the Rewar Teng Institute of Experimental Methods. When the Tensorate's investigators arrived, they found a sea of blood and bones as far as the eye could see. One of the institute's experiments got loose, and its rage left no survivors. The investigators returned to the capital with few clues and two prisoners: the terrorist leader Sanao Akeha and a companion known only as Rider.
Investigator Chuwan faces a puzzle. What really happened at the institute? What drew the Machinists there? What are her superiors trying to cover up? And why does she feel as if her strange dreams are forcing her down a narrowing path she cannot escape?"
---
Adult contemporary fiction
Release date: 31st of July 2018
"Phoebe Lin and Will Kendall meet their first month at prestigious Edwards University. Phoebe is a glamorous girl who doesn't tell anyone she blames herself for her mother's recent death. Will is a misfit scholarship boy who transfers to Edwards from Bible college, waiting tables to get by. What he knows for sure is that he loves Phoebe. 
Grieving and guilt-ridden, Phoebe is increasingly drawn into a religious group–a secretive extremist cult–founded by a charismatic former student, John Leal. He has an enigmatic past that involves North Korea and Phoebe's Korean American family. Meanwhile, Will struggles to confront the fundamentalism he's tried to escape, and the obsession consuming the one he loves. When the group bombs several buildings in the name of faith, killing five people, Phoebe disappears. Will devotes himself to finding her, tilting into obsession himself, seeking answers to what happened to Phoebe and if she could have been responsible for this violent act."
---
~ Adult Non-fiction ~
Empress: The Astonishing Reign of Nur Jahan by Ruby Lal
Adult non-fiction
Release date: 3rd of July 2018
"When it came to hunting, she was a master shot. As a dress designer, few could compare. An ingenious architect, she innovated the use of marble in her parents' mausoleum on the banks of the Yamuna River that inspired her stepson's Taj Mahal. And she was both celebrated and reviled for her political acumen and diplomatic skill, which rivaled those of her female counterparts in Europe and beyond.
In 1611, thirty-four-year-old Nur Jahan, daughter of a Persian noble and widow of a subversive official, became the twentieth and most cherished wife of the Emperor Jahangir. While other wives were secluded behind walls, Nur ruled the vast Mughal Empire alongside her husband, and governed in his stead as his health failed and his attentions wandered from matters of state. An astute politician and devoted partner, Nur led troops into battle to free Jahangir when he was imprisoned by one of his own officers. She signed and issued imperial orders, and coins of the realm bore her name."
---
My Country: A Syrian Memoir by Kassem Eid
Memoir
Release date: 3rd of July 2018
"On August 21, 2013, Kassem Eid nearly died in a sarin gas attack in the town of Moadamiya. At least 1,500 people were killed. Later that day, he was hit by a mortar while helping the Free Syrian Army fight government forces. He survived that, too. But his entire world—friends, neighbors, family, everything he knew—had been devastated beyond repair.
Eid recalls moving to Moadamiya in 1989, at the age of three. The streets where he and his eleven siblings played were fragrant with jasmine. But he soon realized that he was treated differently at school because of his family's Palestinian immigrant origins, and their resistance to the brutal regime. When Bashar al-Assad succeeded his father in 2000, hopes that he would ease the state's severity were swiftly crushed.
The unprecedented scope of this brave, deeply felt memoir makes it unique in the body of literature to emerge from the Syrian civil war. Eid illuminates the realities of growing up in a corrupt dictatorship; the strictures of living under siege; the impact of unspeakable violence; and how, at extraordinary personal risk, he drew worldwide attention to the assault on cities across Syria."
---
The Great Flowing River: A Memoir of China, from Manchuria to Taiwan by Chi Pang-Yuan
Memoir
Release date: 3rd of July 2018
"Scholar, writer, and teacher Chi Pang-yuan recounts her youth in mainland China and adulthood in Taiwan. Chi's remarkable life, told in rich and striking detail, humanizes the eventful and turbulent times in which she lived.
The Great Flowing River begins as a coming-of-age story set against the backdrop of China's war with Japan. Chi depicts life in pre-occupation Manchuria and gives an eyewitness account of life in China during the war with Japan. She tells the tale of her youthful romance with a dashing pilot that ends tragically when he is shot down in the last days of the war. The book describes the deepening political divide in China and her choice to take a job in Taiwan, where she would remain after the Communist victory."
---
The Death of Truth: Notes on Falsehood in the Age of Trump by Michiko Kakutani
Non-fiction
Release date: 17th of July 2018
"Over the last three decades, Michiko Kakutani has been thinking and writing about the demise of objective truth in popular culture, academia, and contemporary politics. In The Death of Truth, she connects the dots to reveal the slow march of untruth up to our present moment, when Red State and Blue State America have little common ground, proven science is once more up for debate, and all opinions are held to be equally valid. (And, more often than not, rudely declared online.) The wisdom of the crowd has diminished the power of research and expertise, and we are each left clinging to the "facts" that best confirm our biases."
---
~ Poetry ~ 
Poetry
Release date: 3rd of July 2018
"In Brood, Kimiko Hahn trains her eye on the commonplace—clothespins, bees, papaya, perfume, poached eggs, a sponge, fire, sand dollars—and reveals their very essence in concise evocative language. Underlying these little gems is a sense of loss, a mother's death or a longing for childhood. "Brood" connotes the bundling of family or beasts, but also dark thinking, and both are at play here where the less said, the better." 
---
A Handful Of Stars by Ruby Dhal
Poetry
Release date: 27th of July 2018
"Hope is found in wishes made upon shooting stars, so a handful of stars gives us faith.
A Handful of Stars is a journey of courage and resilience that readers take from falling to healing, realising along the way that the journey is not going to be easy.
The book branches over various themes from love, heartbreak, loss, and womanhood to self-love, revival, and healing.
Readers learn about the beauty and innocence of falling and they learn that the healing is not a destination but a process, and this process can often last a lifetime. The book teaches that a person's softness is their biggest strength and that having a big heart is not always a bad thing and that a glimmer of light can be found in the darkest places."
---
~ Picture/Board Books ~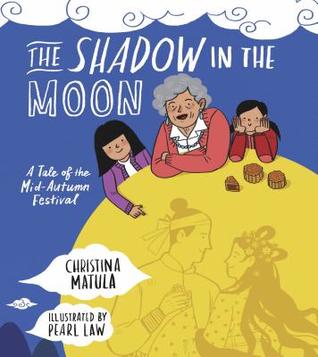 The Shadow in the Moon by Christina Matula
Picture book
Release date: 17th of July 2018
"Two sisters and their grandmother celebrate a popular Chinese holiday with family. Their favorite part? Mooncakes, of course–along with Ah-ma's story of the ancient Chinese tale of Hou Yi, a brave young archer, and his wife, Chang'E. A long, long time ago, Hou Yi rescued the earth from the heat of ten suns. The Immortals rewarded him with a magic potion that could let him live in the sky with them forever. But when a thief tries to steal the potion, what will Chang'E do to keep it out of dangerous hands? The sisters are mesmerized by Ah-ma's retelling and the fact that the very mooncakes they enjoy each holiday are a symbol of this legend's bravest soul."
---
*List compiled by Lit CelebrAsian team members: Glaiza and Shenwei 
*In case you missed it, check out the June Releases