We are excited to share some new books in June!
A mix of kid-lit, young adult, and adult books are listed below.
Thanks to our Lit CelebrAsian team members: Glaiza and Shenwei for taking the time to research and compile this list.
Note: This is a just a small sample of releases out in June, so let us know what books you're excited for.
---
~ Middle Grade ~
The House That Lou Built by Mae Respicio 
Middle grade contemporary fiction
Release date: 12th of June, 2018
"Lou Bulosan-Nelson is going to build her dream. She shares a room with her mom in her grandmother's house in San Francisco, and longs for a place of her own where she can escape her lovable but large extended Filipino family. Lou has a talent for woodshop class and creating projects, and plans to build a tiny house, 100 square feet, all her own, on land that she inherited from her dad, who died before she was born. Then Lou discovers it's not so easy to build one, but she won't give up on her dream—and her friends and family won't either. This heartwarming coming-of-age story explores culture and family, forgiveness and friendship, and what makes a house a true home." 
---
~ Young Adult ~
Mariam Sharma Hits the Road by Sheba Karim
Young adult contemporary fiction
Release date: 5th of June, 2018
"The summer after her freshman year in college, Mariam is looking forward to working and hanging out with her best friends: irrepressible and beautiful Ghazala and religious but closeted Umar. But when a scandalous photo of Ghaz appears on a billboard in Times Square, Mariam and Umar come up with a plan to rescue her from her furious parents. And what better escape than New Orleans?
The friends pile into Umar's car and start driving south, making all kinds of pit stops along the way–from a college drag party to a Muslim convention, from alarming encounters at roadside diners to honky-tonks and barbeque joints.
Along with the adventures, the fun banter, and the gas station junk food, the friends have some hard questions to answer on the road. With her uncle's address in her pocket, Mariam hopes to learn the truth about her father (and to make sure she didn't inherit his talent for disappearing). But as each mile of the road trip brings them closer to their own truths, they know they can rely on each other, and laughter, to get them through."
---
 Smoke in the Sun (Flame in the Mist #2) by Renee Ahdieh 
Young adult fantasy
Release date: 5th of June, 2018
"After Okami is captured in the Jukai forest, Mariko has no choice–to rescue him, she must return to Inako and face the dangers that have been waiting for her in the Heian Castle. She tricks her brother, Kenshin, and betrothed, Raiden, into thinking she was being held by the Black Clan against her will, playing the part of the dutiful bride-to-be to infiltrate the emperor's ranks and uncover the truth behind the betrayal that almost left her dead.
With the wedding plans already underway, Mariko pretends to be consumed with her upcoming nuptials, all the while using her royal standing to peel back the layers of lies and deception surrounding the imperial court. But each secret she unfurls gives way to the next, ensnaring Mariko and Okami in a political scheme that threatens their honor, their love and the very safety of the empire."
---
 Mech Cadet Yu Vol. 1 by Greg Pak 
Young adult graphic novel
Release date: 5th of June, 2018
"A young boy gets the opportunity of a lifetime when he bonds with a giant sentient robot and joins the ranks of the illustrious Sky Corps Academy to protect the world from alien threats. 
Every year, giant sentient robots from outer space come to Earth and bond forever with a brand new crop of cadets at Sky Corps Academy to help keep the planet safe. But this year, instead of making a connection with a cadet, one of the mechs bonds with Stanford, a young kid working with his Mom as a janitor at Sky Corps. Stanford has the opportunity of a lifetime but he'll first have to earn the trust of his classmates if he's to defend the planet from the monstrous Sharg."
---
 A Reaper at the Gates (Ember Quartet #3) by Sabaa Tahir
Young adult fantasy
Release date: 12th of June, 2018
"Beyond the Empire and within it, the threat of war looms ever larger.
The Blood Shrike, Helene Aquilla, is assailed on all sides. Emperor Marcus, haunted by his past, grows increasingly unstable, while the Commandant capitalizes on his madness to bolster her own power. As Helene searches for a way to hold back the approaching darkness, her sister's life and the lives of all those in the Empire hang in the balance.
Far to the east, Laia of Serra knows the fate of the world lies not in the machinations of the Martial court, but in stopping the Nightbringer. But while hunting for a way to bring him down, Laia faces unexpected threats from those she hoped would aid her, and is drawn into a battle she never thought she'd have to fight.
And in the land between the living and the dead, Elias Veturius has given up his freedom to serve as Soul Catcher. But in doing so, he has vowed himself to an ancient power that will stop at nothing to ensure Elias's devotion–even at the cost of his humanity.
---
Young contemporary fiction
Release date: 12th of June, 2018
"The only sort of risk 18-year-old Laila Piedra enjoys is the peril she writes for the characters in her stories: epic sci-fi worlds full of quests, forbidden love, and robots. Her creative writing teacher has always told her she has a special talent. But three months before her graduation, he's suddenly replaced—by Nadiya Nazarenko, a Pulitzer Prize–winning novelist who is sadistically critical and perpetually unimpressed.
 
At first, Nazarenko's eccentric assignments seem absurd. But before long, Laila grows obsessed with gaining the woman's approval. Soon Laila is pushing herself far from her comfort zone, discovering the psychedelic highs and perilous lows of nightlife, temporary flings, and instability. Dr. Nazarenko has led Laila to believe that she must choose between perfection and sanity—but rejecting her all-powerful mentor may be the only way for Laila to thrive."
---
Young contemporary fiction
Release date: 12th of June, 2018
"When teenagers Hari and Jamal film an unarmed youth from their estate being beaten by police, they find themselves hunted by the very people who should be protecting them. But as they go on the run with Hari's twin sister, Taran, and Jamal's girlfriend, Anna, the four friends discover that the truth behind the shooting goes so much deeper, with terrible personal consequences for them all.
A hard-hitting YA crime thriller dealing with timely themes of youth helplessness, gentrification and police brutality.
---
 All That I Can Fix by Crystal Chan
Young adult contemporary fiction
Release date: 12th of June, 2018
"In Makersville, Indiana, people know all about Ronney—he's from that mixed-race family with the dad who tried to kill himself, the pill-popping mom, and the genius kid sister. If having a family like that wasn't bad enough, the local eccentric at the edge of town decided one night to open up all the cages of his exotic zoo—lions, cheetahs, tigers—and then shoot himself dead. Go figure. Even more proof that you can't trust adults to do the right thing.
Overnight, news crews, gun control supporters, and gun rights advocates descend on Makersville, bringing around-the-clock news coverage, rallies, and anti-rallies with them. With his parents checked out, Ronney is left tending to his sister's mounting fears of roaming lions, stopping his best friend from going on a suburban safari, and shaking loose a lonely boy who follows Ronney wherever he goes. Can Ronney figure out a way to hold it together as all his worlds fall apart?"
---
 Not the Girls You're Looking For by Aminah Mae Safi 
Young adult contemporary fiction
Release date: 19th of June, 2018
"Lulu Saad doesn't need your advice, thank you very much. She's got her three best friends and nothing can stop her from conquering the known world. Sure, for half a minute she thought she'd nearly drowned a cute guy at a party, but he was totally faking it. And fine, yes, she caused a scene during Ramadan. It's all under control. Ish.
Except maybe this time she's done a little more damage than she realizes. And if Lulu can't find her way out of this mess soon, she'll have to do more than repair friendships, family alliances, and wet clothing. She'll have to go looking for herself."
---
 The Boyfriend Bracket by Kate Evangelista
Young adult contemporary romance
Release date: 19th of June, 2018
"Stella has had a hopeless crush on Will, her older brother's best friend FOREVER, but now that Cam and Will have graduated and are going off to college, this year is her chance to really strike out on her own. Without her overprotective brother and his sidekick around to distract her, she can focus on having all the typical high school experiences that she's always dreamed of—starting with finding a boyfriend! With the help of her best friend Franklin, she comes up with the perfect plan to have a boyfriend by Christmas: The Boyfriend Bracket.
Or it seems like the perfect plan…right up until Will starts showing up again. How is she supposed to find the perfect boyfriend when none of her dates measure up to the one boy she can never have?"
---
A Thousand Beginnings and Endings edited by Ellen Oh & Elsie Chapman
Young adult fantasy
Release date: 23rd of June, 2018
"Star-crossed lovers, meddling immortals, feigned identities, battles of wits, and dire warnings. These are the stuff of fairy tale, myth, and folklore that have drawn us in for centuries. 
Fifteen bestselling and acclaimed authors reimagine the folklore and mythology of East and South Asia in short stories that are by turns enchanting, heartbreaking, romantic, and passionate. 
Compiled by We Need Diverse Books's Ellen Oh and Elsie Chapman, the authors included in this exquisite collection are: Renee Ahdieh, Sona Charaipotra, Preeti Chhibber, Roshani Chokshi, Aliette de Bodard, Melissa de la Cruz, Julie Kagawa, Rahul Kanakia, Lori M. Lee, E. C. Myers, Cindy Pon, Aisha Saeed, Shveta Thakrar, and Alyssa Wong. 
A mountain loses her heart. Two sisters transform into birds to escape captivity. A young man learns the true meaning of sacrifice. A young woman takes up her mother's mantle and leads the dead to their final resting place. From fantasy to science fiction to contemporary, from romance to tales of revenge, these stories will beguile readers from start to finish." 
---
~ Adult fiction ~
 Adjacentland by Rabindranath Maharaj
Adult science fiction
Release date: 1st of June, 2018
"Today is a new day but yesterday was the same day. In this disquieting new work from award-winning novelist Rabindranath Maharaj, a man awakens in a strange institution called the Compound with no memory of his past. Struggling to make sense of his surroundings, he is skeptical of the administrators who try to convince him he is mad and dangerous, and begins to suspect he has been the subject of recurring experiments, which have caused episodes of amnesia.
In dreamlike prose Maharaj weaves a story of fragments, where our narrator comes to believe that he was once a comic book writer who warned in his stories that the reliance on artificial intelligence would make the imagination obsolete and subversive. As the narrator searches for clues he may have left for himself before his memory loss, both he and the reader learn of Adjacentland, a land of misfits and outsiders. It is only in Adjacentland that the imagination has survived. With a motley group of other inmates from the Compound, the narrator decides to make his way there, but during the journey he discovers a terrible secret about himself and his companions."
---
The Showrunner by Kim Moritsugu
Adult contemporary fiction
Release date: 2nd of June, 2018
"Rising-star showrunner Stacey McCreedy has one goal: to leave behind her nerd-girl origins and become a power player — like Ann Dalloni, her former mentor and current producing partner. Ann, meanwhile, is feeling her age and losing her mind. But she'll be damned if she cedes control of their hit primetime TV show to Stacey.
After Ann hires Jenna, a young actress hoping to restart her stalled career, as an assistant, the relationship between Ann and Stacey deteriorates into a blood feud. Soon, Jenna must choose whom to support and whom to betray to achieve her own ends. And Stacey will find out if she possesses the killer instinct needed to stay on top." 
---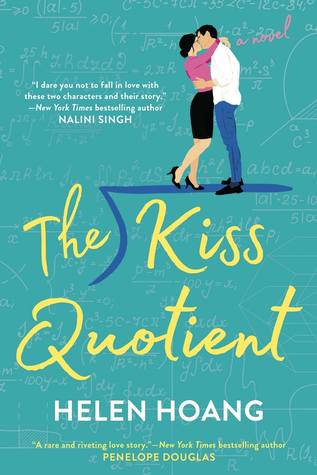 The Kiss Quotient (The Kiss Quotient #1) by Helen Hoang 
Adult contemporary romance
Release date: 5th of June, 2018
"Stella Lane thinks math is the only thing that unites the universe. She comes up with algorithms to predict customer purchases–a job that has given her more money than she knows what to do with, and way less experience in the dating department than the average thirty-year-old.
It doesn't help that Stella has Asperger's and French kissing reminds her of a shark getting its teeth cleaned by pilot fish. Her conclusion: she needs lots of practice–with a professional. Which is why she hires escort Michael Phan. The Vietnamese and Swedish stunner can't afford to turn down Stella's offer, and agrees to help her check off all the boxes on her lesson plan–from foreplay to more-than-missionary position…
Before long, Stella not only learns to appreciate his kisses, but to crave all the other things he's making her feel. Soon, their no-nonsense partnership starts making a strange kind of sense. And the pattern that emerges will convince Stella that love is the best kind of logic.."
---
Anthology
Release date: 5th of June, 2018
"A startlingly beautiful debut, Half Gods brings together the exiled, the disappeared, the seekers. Following the fractured origins and destines of two brothers named after demigods from the ancient epic the Mahabharata, we meet a family struggling with the reverberations of the past in their lives. These ten interlinked stories redraw the map of our world in surprising ways: following an act of violence, a baby girl is renamed after a Hindu goddess but raised as a Muslim; a lonely butcher from Angola finds solace in a family of refugees in New Jersey; a gentle entomologist, in Sri Lanka, discovers unexpected reserves of courage while searching for his missing son."
---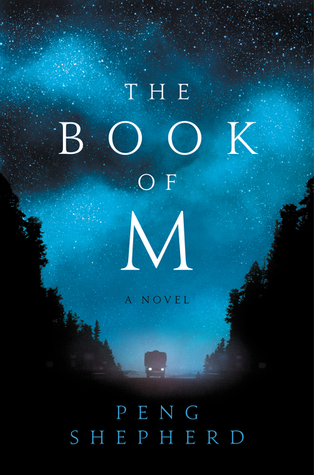 The Book of M by Peng Shepherd
Adult science fiction
Release date: 5th of June, 2018
"One afternoon at an outdoor market in India, a man's shadow disappears—an occurrence science cannot explain. He is only the first. The phenomenon spreads like a plague, and while those afflicted gain a strange new power, it comes at a horrible price: the loss of all their memories.
Ory and his wife Max have escaped the Forgetting so far by hiding in an abandoned hotel deep in the woods. Their new life feels almost normal, until one day Max's shadow disappears too.
Knowing that the more she forgets, the more dangerous she will become to Ory, Max runs away. But Ory refuses to give up the time they have left together. Desperate to find Max before her memory disappears completely, he follows her trail across a perilous, unrecognizable world, braving the threat of roaming bandits, the call to a new war being waged on the ruins of the capital, and the rise of a sinister cult that worships the shadowless."
---
The Good Son by You-Jeong Jeong
Adult thriller
Release date: 5th of June, 2018
"Early one morning, twenty-six-year-old Yu-jin wakes up to a strange metallic smell, and a phone call from his brother asking if everything's all right at home – he missed a call from their mother in the middle of the night. Yu-jin soon discovers her murdered body, lying in a pool of blood at the bottom of the stairs of their stylish Seoul duplex. He can't remember much about the night before; having suffered from seizures for most of his life, Yu-jin often has trouble with his memory. All he has is a faint impression of his mother calling his name. But was she calling for help? Or begging for her life? 
 
Thus begins Yu-jin's frantic three-day search to uncover what happened that night, and to finally learn the truth about himself and his family."
---
Ayesha At Last by Uzma Jalaluddin 
Adult contemporary romance
Release date: 12th of June, 2018
"Pride and Prejudice with a modern twist 
AYESHA SHAMSI has a lot going on.  Her dreams of being a poet have been set aside for a teaching job so she can pay off her debts to her wealthy uncle. She lives with her boisterous Muslim family and is always being reminded that her flighty younger cousin, Hafsa, is close to rejecting her one hundredth marriage proposal. Though Ayesha is lonely, she doesn't want an arranged marriage. Then she meets Khalid who is just as smart and handsome as he is conservative and judgmental. She is irritatingly attracted to someone who looks down on her choices and dresses like he belongs in the seventh century.
When a surprise engagement between Khalid and Hafsa is announced, Ayesha is torn between how she feels about the straightforward Khalid and his family; and the truth she realizes about herself. But Khalid is also wrestling with what he believes and what he wants. And he just can't get this beautiful, outspoken woman out of his mind."
---
A Place for Us by Fatima Farheen Mirza 
Adult contemporary fiction
Release date: 12th of June, 2018
"A Place for Us unfolds the lives of an Indian-American Muslim family, gathered together in their Californian hometown to celebrate the eldest daughter, Hadia's, wedding–a match of love rather than tradition. It is here, on this momentous day, that Amar, the youngest of the siblings, reunites with his family for the first time in three years. Rafiq and Layla must now contend with the choices and betrayals that lead to their son's estrangement–the reckoning of parents who strove to pass on their cultures and traditions to their children, and of children who in turn struggle to balance authenticity in themselves with loyalty to the home they came from."
---
Revenant Gun (The Machineries of Empire #3) by Yoon Ha Lee
Adult science fiction
Release date: 12th of June, 2018
"When Shuos Jedao wakes up for the first time, several things go wrong. His few memories tell him that he's a seventeen-year-old cadet–but his body belongs to a man decades older.  Hexarch Nirai Kujen orders Jedao to reconquer the fractured hexarchate on his behalf even though Jedao has no memory of ever being a soldier, let alone a general.  Surely a knack for video games doesn't qualify you to take charge of an army?
Soon Jedao learns the situation is even worse.  The Kel soldiers under his command may be compelled to obey him, but they hate him thanks to a massacre he can't remember committing.  Kujen's friendliness can't hide the fact that he's a tyrant.  And what's worse, Jedao and Kujen are being hunted by an enemy who knows more about Jedao and his crimes than he does himself… "
---
Convenience Store Woman by Sayaka Murata, Ginny Tapley Takemori (Translator)
Adult contemporary fiction
Release date: 12th of June, 2018
"Keiko Furukura had always been considered a strange child, and her parents always worried how she would get on in the real world, so when she takes on a job in a convenience store while at university, they are delighted for her. For her part, in the convenience store she finds a predictable world mandated by the store manual, which dictates how the workers should act and what they should say, and she copies her coworkers' style of dress and speech patterns so that she can play the part of a normal person. However, eighteen years later, at age 36, she is still in the same job, has never had a boyfriend, and has only few friends. She feels comfortable in her life, but is aware that she is not living up to society's expectations and causing her family to worry about her. When a similarly alienated but cynical and bitter young man comes to work in the store, he will upset Keiko's contented stasis—but will it be for the better?"
---
Ocean Light (Psy-Changeling Trinity #2) by Nalini Singh
Adult paranormal romance
Release date: 12th of June, 2018
"Security specialist Bowen Knight has come back from the dead. But there's a ticking time bomb in his head: a chip implanted to block telepathic interference that could fail at any moment–taking his brain along with it. With no time to waste, he should be back on land helping the Human Alliance. Instead, he's at the bottom of the ocean, consumed with an enigmatic changeling…
Kaia Luna may have traded in science for being a chef, but she won't hide the facts of Bo's condition from him or herself. She's suffered too much loss in her life to fall prey to the dangerous charm of a human who is a dead man walking. And she carries a devastating secret Bo could never imagine…
But when Kaia is taken by those who mean her deadly harm, all bets are off. Bo will do anything to get her back–even if it means striking a devil's bargain and giving up his mind to the enemy…"
---
All the Lives We Never Lived by Anuradha Roy
Adult historical fiction
Release date: 14th of June, 2018
"A novel that spans India's twentieth century from the 1930s through Independence to the 1990s – by the Man Booker longlisted author of Sleeping on Jupiter
"In my childhood, I was known as the boy whose mother had run off with an Englishman."
So begins the story of Myshkin and his mother Gayatri, its rebellious, alluring artist-heroine who is driven to abandon home and marriage and follow her primal instinct for freedom.
Freedom of another kind is in the air across all of India, and in Germany the Nazis have come to power. At this point of crisis, a German artist from Gayatri's past seeks her out. His arrival ignites passions she has long been forced to suppress.
What follows is Gayatri's life as pieced together by her son, a journey that takes him through India and Dutch-held Bali. Excavating the roots of the world in which he was abandoned, he comes to understand the connections between volcanic strife at home and a war-torn universe overtaken by patriotism."
---
Adult contemporary fiction
Release date: 15th of June, 2018
"In her tiny flat in East London, as Mili waits for her baby to arrive, little things remind her of her life in India—-the scent of jasmine flowers, a heavy downpour, a late-night cup of coffee, an amla or gooseberry–and she is overcome with a deep desire to recreate the flavors of her childhood. Can a jar of amla pickle help her travel back to that safe haven she once called home?
In this sweetly nostalgic graphic novel, the narrator recounts her meandering journey from her ancestral village in South India to the United Kingdom, capturing the deep feeling of longing for home that shapes the lives of emigrants everywhere."
---
Adult historical fiction
Release date: 15th of June, 2018
"To become one of only a few hundred certified wine experts in the world, Kate must pass the notoriously difficult Master of Wine Examination. She's failed twice before; her third attempt will be her last. Suddenly finding herself without a job and with the test a few months away, she travels to Burgundy, to spend the fall at the vineyard estate that has belonged to her family for generations. There she can bolster her shaky knowledge of Burgundian vintages and reconnect with her cousin Nico and his wife Heather, who now oversee the grapes' day-to-day management. The one person Kate hopes to avoid is Jean-Luc, a neighbor vintner and her first love.
At the vineyard house, Kate is eager to help her cousins clean out the enormous basement that is filled with generations of discarded and forgotten belongings. Deep inside the cellar, behind a large armoire, she discovers a hidden room containing a cot, some Resistance pamphlets, and an enormous cache of valuable wine. Piqued by the secret space, Kate begins to dig into her family's history—a search that takes her back to the dark days of the Second World War."
---
 Number One Chinese Restaurant by Lillian Li
Adult contemporary fiction
Release date: 19th of June, 2018
"The Beijing Duck House in Rockville, Maryland, is not only a beloved go-to setting for hunger pangs and celebrations; it is its own world, inhabited by waiters and kitchen staff who have been fighting, loving, and aging within its walls for decades. When disaster strikes, this working family's controlled chaos is set loose, forcing each character to confront the conflicts that fast-paced restaurant life has kept at bay. 
Owner Jimmy Han hopes to leave his late father's homespun establishment for a fancier one. Jimmy's older brother, Johnny, and Johnny's daughter, Annie, ache to return to a time before a father's absence and a teenager's silence pushed them apart. Nan and Ah-Jack, longtime Duck House employees, are tempted to turn their thirty-year friendship into something else, even as Nan's son, Pat, struggles to stay out of trouble. And when Pat and Annie, caught in a mix of youthful lust and boredom, find themselves in a dangerous game that implicates them in the Duck House tragedy, their families must decide how much they are willing to sacrifice to help their children."
---
Name Me a Word: Indian Writers Reflect on Writing by Meena Alexander (Editor)
Adult contemporary fiction
Release date: 24th of June, 2018
"Internationally renowned scholar, poet, and essayist Meena Alexander brings together leading twentieth- and twenty-first-century voices from India and the diaspora in this anthology. Contributors include English-language luminaries such as R. K. Narayan, Salman Rushdie, and Arundhati Roy and powerful writers in Indian languages such as U. R. Ananthamurthy, Mahasweta Devi, and Lalithambika Antherjanam. This book will make a thoughtful gift for poetry and fiction enthusiasts and fans of Indian literature, as well as an ideal volume for academics introducing writers from the subcontinent."
---
Adult historical fiction
Release date: 24th of June, 2018
"Opening in the mid-nineteenth-century, this dazzling debut novel traces the voyage of Song, a boy who leaves his impoverished family in rural China to seek his fortune. Song may have survived the perilous journey to the colony of British Guiana in the Caribbean, but once there he discovers riches are hard to come by, as he finds himself working as an indentured plantation worker.
Between places, between peoples, and increasingly aware that circumstances of birth carry more weight than accomplishments or good deeds, Song fears he may live as an outsider forever." 
---
The Secrets Between Us (Between Us #2) by Thrity Umrigar
Adult historical fiction
Release date: 26th of June, 2018
"It isn't the words we speak that make us who we are. Or even the deeds we do. It is the secrets buried in our hearts."
Poor and illiterate, Bhima had faithfully worked for the Dubash family, an upper-middle-class Parsi household, for more than twenty years. Yet after courageously speaking the truth about a heinous crime perpetrated against her own family, the devoted servant was cruelly fired. The sting of that dismissal was made more painful coming from Sera Dubash, the temperamental employer who had long been Bhima's only confidante. A woman who has endured despair and loss with stoicism, Bhima must now find some other way to support herself and her granddaughter, Maya.
Bhima's fortunes take an unexpected turn when her path intersects with Parvati, a bitter, taciturn older woman. The two acquaintances soon form a tentative business partnership, selling fruits and vegetables at the local market. As they work together, these two women seemingly bound by fate grow closer, each confessing the truth about their lives and the wounds that haunt them. Discovering her first true friend, Bhima pieces together a new life, and together, the two women learn to stand on their own.
---
Adult contemporary fiction
Release date: June, 2018
"Chicago 1980. Li-an Donohue's luck changes the instant she meets a mysterious Italian businessman in the Drake Hotel. Hearing her play, he offers her a job in Macau on the spot.
She's there in a heartbeat. From a drab Chicago winter to swimming pools, Sémillon Blanc and lobster. It seems perfect. Li-an has her own private pavilion on the estate of a colonial gothic mansion. But easy livin' is harder than she thought. She's homesick. Lonely. And beginning to think it might not be all it seems.
Until she meets slick New Yorker DJ, Ben. He is the ring-a-ding, the daddy cool of the club scene who shares her passion for – her obsession with – music. An island in China isn't fun when you're desperate to cut a recording deal, make it big in disco, he says. Ben has a secret plan. But it sure doesn't sound like music to Li-an's ears…"
---
~ Adult Non-fiction ~
Sick: A Memoir by Porochista Khakpour 
Memoir
Release date: 5th of June, 2018
"For as long as writer Porochista Khakpour can remember, she has been sick. For most of that time, she didn't know why. All of her trips to the ER and her daily anguish, pain, and lethargy only ever resulted in one question: How could any one person be this sick? Several drug addictions, three major hospitalizations, and over $100,000 later, she finally had a diagnosis: late-stage Lyme disease. 
Sick is Khakpour's arduous, emotional journey—as a woman, a writer, and a lifelong sufferer of undiagnosed health problems—through the chronic illness that perpetually left her a victim of anxiety, living a life stymied by an unknown condition.
A story about survival, pain, and transformation, Sick is a candid, illuminating narrative of hope and uncertainty, boldly examining the deep impact of illness on one woman's life." 
---
~ Poetry ~ 
 If They Come for Us by Fatimah Asghar
Poetry
Release date: 26th of June, 2018
"In this powerful and imaginative debut poetry collection, Fatimah Asghar nakedly captures the experiences of being a young Pakistani Muslim woman in America by braiding together personal and marginalized people's histories. After being orphaned as a young girl, Asghar grapples with coming-of-age as a woman without the guidance of a mother, questions of sexuality and race, and navigating a world that put a target on her back. Asghar's poems at once bear anguish, joy, vulnerability, and compassion, while exploring the many facets of violence: how it persists within us, how it is inherited across generations, and how it manifests in our relationships with friends and family, and in our own understanding of identity."
---
~ Picture/Board Books ~
 Drawn Together by Minh Le, Dan Santat (Illustrator)
Picture book
Release date: 5th of June, 2018
"When a young boy visits his grandfather, their lack of a common language leads to confusion, frustration, and silence. But as they sit down to draw together, something magical happens-with a shared love of art and storytelling, the two form a bond that goes beyond words.
With spare, direct text by Minh L and luminous illustrations by Caldecott Medalist Dan Santat, this stirring picturebook about reaching across barriers will be cherished for years to come."
---
*List compiled by Lit CelebrAsian team members: Glaiza and Shenwei 
*In case you missed it, check out the May Releases.