We are excited to share some new books in May!
A mix of kid-lit, middle-grade, young adult, and adult books are listed below. (In case you missed it, join our open May reading challenge #AsianLitBingo too!)
Thanks to our Lit CelebrAsian team members: Glaiza and Shenwei for taking the time to research and compile this list.
Note: This is a just a small sample of releases out in May, so let us know what books you're excited for.

---
~ Middle Grade ~
Middle grade/young adult contemporary
Release date: 8th of May, 2018
"Life is quiet and ordinary in Amal's Pakistani village, but she had no complaints, and besides, she's busy pursuing her dream of becoming a teacher one day. Her dreams are temporarily dashed when–as the eldest daughter–she must stay home from school to take care of her siblings. Amal is upset, but she doesn't lose hope and finds ways to continue learning. Then the unimaginable happens–after an accidental run-in with the son of her village's corrupt landlord, Amal must work as his family's servant to pay off her own family's debt. 
Life at the opulent Khan estate is full of heartbreak and struggle for Amal–especially when she inadvertently makes an enemy of a girl named Nabila. Most troubling, though, is Amal's growing awareness of the Khans' nefarious dealings. When it becomes clear just how far they will go to protect their interests, Amal realizes she will have to find a way to work with others if they are ever to exact change in a cruel status quo, and if Amal is ever to achieve her dreams."
---
Power Forward (Zayd Saleem, Chasing the Dream #1) by Hena Khan, Sally Wern Comport (Illustrations)
Middle grade contemporary
Release date: 8th of May, 2018
"Fourth grader Zayd Saleem has some serious hoop dreams. He's not just going to be a professional basketball player. He's going to be a star. A legend. The first Pakistani-American kid to make it to the NBA. He knows this deep in his soul. It's his destiny. There are only a few small things in his way.
For starters, Zayd's only on the D-team. (D stands for developmental, but to Zayd it's always felt like a bad grade or something.) Not to mention, he's a bit on the scrawny side, even for the fourth grade team. But his best friend Adam is on the Gold Team, and it's Zayd's dream for the two of them to play together.
His mom and dad don't get it. They want him to practice his violin way more than his jump shot. When he gets caught blowing off his violin lessons to practice, Zayd's parents lay down the ultimate punishment: he has to hang up his high tops and isn't allowed to play basketball anymore.
As tryouts for the Gold Team approach, Zayd has to find the courage to stand up for himself and chase his dream."
---
Lumberjanes: The Moon Is Up (Lumberjanes #2) by Mariko Tamaki, BOOM! Studios, Brooke Allen (Illustrations)
Middle grade fantasy
Release date: 8th of May, 2018
"Welcome to Miss Qiunzella Thiskwin Penniquiqul Thistle Crumpet's Camp for Hardcore Lady Types. The five scouts of Roanoke cabin—Jo, April, Molly, Mal, and Ripley—love their summers at camp. They get to hang out with their best friends, earn Lumberjane scout badges, annoy their no-nonsense counsellor Jen . . . and go on supernatural adventures. That last one? A pretty normal occurrence at Miss Qiunzella's, where the woods contain endless mysteries.
As the camp gears up for the big Galaxy Wars competition, Jo and the gang get some help from an unexpected visitor—a Moon Pirate!"
---
The Memory of Forgotten Things by Kat Zhang 
Middle grade contemporary
Release date: 15th of May, 2018
"One of the happiest memories twelve-year-old Sophia Wallace has is of her tenth birthday. Her mother made her a cake that year—and not a cake from a box-mix, but from scratch. She remembers the way the frosting tasted, the way the pink sugar roses dissolved on her tongue.
This memory, and a scant few others like it, is all Sophia has of her mother, so she keeps them close. She keeps them secret, too. Because as paltry as these memories are, she shouldn't have them at all.
The truth is, Sophia Wallace's mother died when she was six years old. But that isn't how she remembers it. Not always.
Sophia has never told anyone about her unusual memories—snapshots of a past that never happened. But everything changes when Sophia gets assigned a school research project on solar eclipses. She becomes convinced that the upcoming solar eclipse will grant her the opportunity to make her alternate life come true, to enter a world where her mother never died.
With the help of two misfit boys, she must figure out a way to bring her mother back to her—before the opportunity is lost forever."
---
Middle grade contemporary
Release date: 28th of May, 2018
"Front Desk tells the story of 10 year old Mia Tang. Every day, Mia manages the front desk of the Calivista Motel while her parents clean the rooms. She's proud of her job. She loves the guests and treats them like family. When one of the guests gets into trouble with the police, it shakes Mia to her core. Her parents, meanwhile, hide immigrants in the empty rooms at night. If the mean motel owner Mr. Yao finds out, they'll be doomed!"
---
Middle grade contemporary fiction
Release date: 29th of May, 2018
"Now that Zayd has made the Gold Team, he's hustling hard and loving every minute of the season.
But when team starts to struggle, Zayd can't help wondering if it has something to do with him. Even worse, his best friend Adam suddenly starts acting like he doesn't care about basketball anymore, even though they are finally teammates. He stops playing basketball with Zayd at recess and starts hanging out with other kids. Then, Adam up and quits the Gold Team to play football instead.
While his uncle's wedding preparations turn life into a circus at home, Zayd is left on his own to figure things out. He has to decide how to still be friends with Adam and step up to fill the empty shoes he left on the court. Does Zayd have what it takes to be on point and lead his team back to victory?"
---
~ Young Adult ~
The Map of Salt and Stars by Jennifer Zeynab Joukhadar 
Young adult historical fantasy
Release date: 1st of May, 2018
"It is the summer of 2011, and Nour has just lost her father to cancer. Her mother, a cartographer who creates unusual, hand-painted maps, decides to move Nour and her sisters from New York City back to Syria to be closer to their family. But the country Nour's mother once knew is changing, and it isn't long before protests and shelling threaten their quiet Homs neighborhood. When a shell destroys Nour's house and almost takes her life, she and her family are forced to choose: stay and risk more violence or flee as refugees across seven countries of the Middle East and North Africa in search of safety. As their journey becomes more and more challenging, Nour's idea of home becomes a dream she struggles to remember and a hope she cannot live without.
More than eight hundred years earlier, Rawiya, sixteen and a widow's daughter, knows she must do something to help her impoverished mother. Restless and longing to see the world, she leaves home to seek her fortune. Disguising herself as a boy named Rami, she becomes an apprentice to al-Idrisi, who has been commissioned by King Roger II of Sicily to create a map of the world. In his employ, Rawiya embarks on an epic journey across the Middle East and the north of Africa where she encounters ferocious mythical beasts, epic battles, and real historical figures."
---
Young adult science fiction
Release date: 1st of May, 2018
"Meteors devastated the Earth. World Governments developed plans to help surviving citizens. The United States disbanded and salvageable land was divided into four quadrants—North, South, East, and West—governed by The Remnant Council.
Struggling to survive, seventeen-year-old Ava ends up in juvenile detention, until she is selected for a new life—with a catch. She must be injected with an experimental serum. The results will be life changing. The serum will make her better. To receive the serum Ava agrees to join a program controlled by ISAN, the International Sensory Assassin Network.
While on a mission, she is abducted by a rebel group led by Rhett and told that not only does she have a history with him, but her entire past is a lie perpetuated by ISAN to ensure her compliance. Unsure of who to trust, Ava must decide if her strangely familiar and handsome captor is her enemy or her savior—and time is running out."
---
The Girl in the Broken Mirror by Savita Kalhan
Young adult contemporary
Release date: 1st of May, 2018
"Jay's creative writing exercise is to write a fairy tale, to end with 'they lived happily ever after'. But the way her life is panning out she's not sure it will ever reach that stage.  She and her mother are moving in with distant relatives, and they have super strict rules for girls. Jay is expected to have only Indian friends, if she has any at all. How can she see her school friends, Chloe and Matt? But this is only the beginning of a nightmare for Jay. When her life implodes, how can she hide the shame and how will she find a way to keep going? (TW: rape)
A powerful moving gripping story which explores themes of family, loyalty and culture clash but is ultimately about hope and understanding." 
---
Losing the Girl: Book 1 by MariNaomi 
Young adult graphic novel
Release date: 1st of May, 2018
"High school math prodigy Claudia Jones is missing. Her classmates share rumors of an alien abduction–when they're not struggling with early romances, fraying friendships, and the other challenges of young adulthood. Emily's trying to handle a life-changing surprise. Paula's hoping to step out of Emily's shadow. Nigel just wants a girl who will laugh at his jokes. And Brett hardly lets himself get close to anybody. Different chapters focus on different characters, each with a unique visual approach."
---
Out of Left Field by Kris Hui Lee 
Young adult contemporary
Release date: 1st of May, 2018
"Marnie has never had a hard time fitting in with the guys. It would take a lot more than their goofy antics to keep her from joining them at the neighborhood sandlot to do what she loves best: play ball.
An added perk of hanging out at the sandlot? Spending time with Cody Kinski, their high school's star pitcher and Marnie's best friend. Sure, he can be stubborn and annoying. He also knows how to make her laugh and respects her skills on the mound. And when he gets nailed in the arm by a bone-fracturing pitch, Marnie becomes the team's best chance at making it to the playoffs. Except no one told the guys they're supposed to be on her side. 
With her own team against her, Marnie begins questioning her abilities. And when fate throws her a curveball, can she play without losing the game, Cody, and her belief in herself?"
---
 The Outcast (Summoner #4) by Taran Matharu
Young adult fantasy
Release date: 3rd of May, 2018
"Enter an immersive world where the chosen few have the ability to summon demons…
Arcturus is just an orphaned stable boy when he discovers he has the ability to summon demons from another world. He is sent to Vocans Academy where the lost arts of summoning, spell craft and demonology are taught to the noble children of the Empire. As the first commoner gifted with this ability, his discovery challenges the nobility and the powers that be and Arcturus soon makes enemies. With no one but his demon Sacharissa by his side, Arcturus must prove himself as a worthy Summoner…"
---
 The Way You Make Me Feel by Maurene Goo 
Young adult contemporary
Release date: 8th of May, 2018
"Clara Shin lives for pranks and disruption. When she takes one joke too far, her dad sentences her to a summer working on his food truck, the KoBra, alongside her uptight classmate Rose Carver. Not the carefree summer Clara had imagined. But maybe Rose isn't so bad. Maybe the boy named Hamlet (yes, Hamlet) crushing on her is pretty cute. Maybe Clara actually feels invested in her dad's business. What if taking this summer seriously means that Clara has to leave her old self behind?" 
---
Flynn Nightsider and the Edge of Evil (Flynn Nightsider #1) by Mary Fan
Young adult fantasy
Release date: 8th of May, 2018
"A century ago, the Enchanters defeated the evil Lord of the Underworld, but not before he'd unleashed his monsters and ravaged the earth. The Enchanters built the Triumvirate out of what remained of the United States, demanding absolute obedience in exchange for protection from the lingering supernatural beasts.
Sixteen-year-old Flynn Nightsider, doomed to second-class life for being born without magic, knows the history as well as anyone. Fed up with the Triumvirate's lies and secrecy, he longs for change. And when he stumbles across a clue that hints at something more – secrets in the dark, the undead, and buried histories – he takes matters into his own hands.
Before long, Flynn finds himself hunted not only by the government, but also by nightmarish monsters and a mysterious man with supernatural powers … all seeking him for reasons he cannot understand. Rescued by underground rebels, he's soon swept up in their vision of a better world, guided by a girl as ferocious as the monsters she fights. But as the nation teeters on the brink of revolution, Flynn realizes three things.
The rebellion is not what it seems.
Flynn himself might be more than he seems.
And the fate of the world now rests in his hands."
---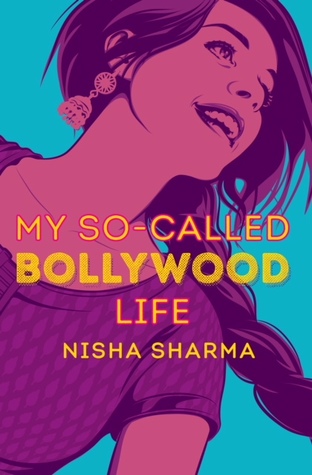 My So-Called Bollywood Life by Nisha Sharma
Young adult contemporary
Release date: 15th of May, 2018
"Winnie Mehta was never really convinced that Raj was her soulmate, but their love was written in the stars. Literally, a pandit predicted Winnie would find the love of her life before her 18th birthday, and Raj meets all of the qualifications. Which is why Winnie is shocked to return from her summer at film camp to find her boyfriend of three years hooking up with Jenny Dickens. Worse, Raj is crowned chair of the student film festival, a spot Winnie was counting on for her film school applications. As a self-proclaimed Bollywood expert, Winnie knows this is not how her perfect ending is scripted.
Then there's Dev, a fellow film geek, and one of the few people Winnie can count on to help her reclaim control of her story. Dev is smart charming, and challenges Winnie to look beyond her horoscope to find someone she'd pick for herself. But does falling for Dev mean giving up on her prophecy, and her chance to live happily ever after? To get her Bollywood-like life on track, Winnie will need a little bit of help from fate, family, and of course, a Bollywood movie star." 
---
All of This Is True by Lygia Day Peñaflor
Young adult contemporary
Release date: 15th of May, 2018
"Miri Tan loved the book Undertow like it was a living being. So when she and her friends went to a book signing to meet the author, Fatima Ro, they concocted a plan to get close to her, even if her friends won't admit it now. As for Jonah, well—Miri knows none of that was Fatima's fault.
Soleil Johnston wanted to be a writer herself one day. When she and her friends started hanging out with her favorite author, Fatima Ro, she couldn't believe their luck—especially when Jonah Nicholls started hanging out with them, too. Now, looking back, Soleil can't believe she let Fatima manipulate her and Jonah like that. She can't believe that she got used for a book.
Penny Panzarella was more than the materialistic party girl everyone at the Graham School thought she was. She desperately wanted Fatima Ro to see that, and she saw her chance when Fatima asked the girls to be transparent with her. If only she'd known what would happen when Fatima learned Jonah's secret. If only she'd known that the line between fiction and truth was more complicated than any of them imagined. . ."
---
From Twinkle, with Love by Sandhya Menon 
Young adult contemporary fiction
Release date: 22nd of May, 2018
"Aspiring filmmaker and wallflower Twinkle Mehra has stories she wants to tell and universes she wants to explore, if only the world would listen. So when fellow film geek Sahil Roy approaches her to direct a movie for the upcoming Summer Festival, Twinkle is all over it. The chance to publicly showcase her voice as a director? Dream come true. The fact that it gets her closer to her longtime crush, Neil Roy—a.k.a. Sahil's twin brother? Dream come true x 2.
When mystery man "N" begins emailing her, Twinkle is sure it's Neil, finally ready to begin their happily-ever-after. The only slightly inconvenient problem is that, in the course of movie-making, she's fallen madly in love with the irresistibly adorkable Sahil.
Twinkle soon realizes that resistance is futile: The romance she's got is not the one she's scripted. But will it be enough?
Told through the letters Twinkle writes to her favorite female filmmakers, From Twinkle, with Love navigates big truths about friendship, family, and the unexpected places love can find you."
---
 Driving by Starlight by Anat Deracine 
Young adult contemporary fiction
Release date: 22nd of May, 2018
"Sixteen-year-olds Leena and Mishie are best friends. They delight in small rebellions against the Saudi cultural police—secret Western clothing, forbidden music, flirtations. But Leena wants college, independence—she wants a different life. Though her story is specific to her world (a world where it's illegal for women to drive, where a ten-year-old boy is the natural choice as guardian of a fatherless woman), ultimately it's a story about friendship, family, and freedom that transcends cultural differences." 
---
The Battles of Bridget Lee Volume 2: The Miracle Child by Ethan Young
Young adult graphic novel
Release date: 22nd of May, 2018
"A legendary hero in a sci-fi dystopian future must fight to protect a symbol of hope for humanity and an alien race before invaders can destroy it . . .
En route to rescue an old friend from an abandoned outpost, Bridget Lee is dragged back to the battlefield where her husband died. There, she discovers the plans of the alien race known as the Kra'kuu to unite and rise up behind a new figure, but will it be enough to fend off the merciless Marauders when the time comes?"
---
Young adult science fiction
Release date: 29th of May, 2018
"Earth's century of peace as a colony of an alien race has been shattered. As the alien-run government navigates peace talks with the human terrorist group Sapience, Donovan tries to put his life back together and return to his duty as a member of the security forces. But a new order comes from the alien home planet: withdraw. Earth has proven too costly and unstable to maintain as a colony, so the aliens, along with a small selection of humans, begin to make plans to leave. As word of the withdrawal spreads through the galaxy, suddenly Earth becomes vulnerable to a takeover from other aliens races. Aliens who do not seek to live in harmony with humans, but will ravage and destroy the planet.
As a galactic invasion threatens, Donovan realizes that Sapience holds the key that could stop the pending war. Yet in order to save humankind, all species on Earth will have to work together, and Donovan might just have to make the ultimate sacrifice to convince them."
---
~ Adult fiction ~
 The Poppy War: A Novel by R.F. Kuang
Adult historical military fantasy
Release date: 1st of May, 2018
"When Rin aced the Keju—the Empire-wide test to find the most talented youth to learn at the Academies—it was a shock to everyone: to the test officials, who couldn't believe a war orphan from Rooster Province could pass without cheating; to Rin's guardians, who believed they'd finally be able to marry her off and further their criminal enterprise; and to Rin herself, who realized she was finally free of the servitude and despair that had made up her daily existence. That she got into Sinegard—the most elite military school in Nikan—was even more surprising.
But surprises aren't always good.
Because being a dark-skinned peasant girl from the south is not an easy thing at Sinegard. Targeted from the outset by rival classmates for her color, poverty, and gender, Rin discovers she possesses a lethal, unearthly power—an aptitude for the nearly-mythical art of shamanism. Exploring the depths of her gift with the help of a seemingly insane teacher and psychoactive substances, Rin learns that gods long thought dead are very much alive—and that mastering control over those powers could mean more than just surviving school. Afew are aware that a Third Poppy War is just a spark away . . ."
Full list of TWs for Chapter 21 here.
---
Fairytale retelling
Release date: 1st of May, 2018
"In this hybrid novella of trauma and survival, Anna Maria Hong re-imagines and extends the tale of Hansel and Gretel, breaking its received patterns of abandonment and abuse to set G. to wander a world racialized and gendered by power dynamics at every turn. Survivor, artist, hero, G.'s decisive action at the Witch's oven becomes the kernel of a new identity, independent and resilient, capable of transforming cruel stories into a cunning, masterful feminist bildungsroman."
---
The Baghdad Clock by Shahad Al Rawi 
Adult historical fiction
Release date: 8th of May, 2018
"Baghdad, 1991. In the midst of the first Gulf War, a young Iraqi girl huddles with her neighbours in an air raid shelter. There, she meets Nadia. The two girls quickly become best friends and together they imagine a world not torn apart by civil war, sharing their dreams, their hopes and their desires, and their first loves. But as they grow older and the bombs continue to fall, the international sanctions bite and friends begin to flee the country, the girls must face the fact that their lives will never be the same again.
This poignant debut novel will spirit readers away to a world they know only from the television, revealing just what it is like to grow up in a city that is slowly disappearing in front of your eyes, and showing how in the toughest times, children can build up the greatest resilience."
---
 Shadow Child by Rahna Reiko Rizzuto 
Adult historical fiction
Release date: 8th of May, 2018
"Twin sisters Hana and Kei grew up in a tiny Hawaiian town in the 1950s and 1960s, so close they shared the same nickname. Raised in dreamlike isolation by their loving but unstable mother, they were fatherless, mixed-race, and utterly inseparable, devoted to one another. But when their cherished threesome with Mama is broken, and then further shattered by a violent, nearly fatal betrayal that neither young woman can forgive, it seems their bond may be severed forever–until, six years later, Kei arrives on Hana's lonely Manhattan doorstep with a secret that will change everything.
Told in interwoven narratives that glide seamlessly between the gritty streets of New York, the lush and dangerous landscape of Hawaii, and the horrors of the Japanese internment camps and the bombing of Hiroshima, SHADOW CHILD is set against an epic sweep of history. "'
---
That Kind of Mother by Rumaan Alam 
Adult contemporary fiction
Release date: 8th of May, 2018
"Like many first-time mothers, Rebecca Stone finds herself both deeply in love with her newborn son and deeply overwhelmed. Struggling to juggle the demands of motherhood with her own aspirations and feeling utterly alone in the process, she reaches out to the only person at the hospital who offers her any real help—Priscilla Johnson—and begs her to come home with them as her son's nanny.
Priscilla's presence quickly does as much to shake up Rebecca's perception of the world as it does to stabilize her life. Rebecca is white, and Priscilla is black, and through their relationship, Rebecca finds herself confronting, for the first time, the blind spots of her own privilege. She feels profoundly connected to the woman who essentially taught her what it means to be a mother. When Priscilla dies unexpectedly in childbirth, Rebecca steps forward to adopt the baby. But she is unprepared for what it means to be a white mother with a black son. As she soon learns, navigating motherhood for her is a matter of learning how to raise two children whom she loves with equal ferocity, but whom the world is determined to treat differently."
---
Hybrid Child by Mariko Ōhara, Jodie Beck (Translation)
Adult speculative fiction
Release date: 15th of May, 2018
"Until he escaped, he had been called "Sample B #3," but he had never liked this name. That would surprise them—that he could feel one way or another about it. He was designed to reshape himself based on whatever life forms he ingested; he was not made to think, and certainly not to assume the shape of a repair technician whose cells he had sampled and then simply walk out of the secure compound.
Artificial Intelligence is all too real in this classic of Japanese science fiction by Mariko Ohara. Jonah, a child murdered by her mother, has become the spirit of an AI-controlled house where the rogue cyborg once known as Sample B #3 takes refuge and, making a meal of the dead girl buried under the house, takes Jonah's form. On faraway Planet Caritas, an outpost of human civilization, the female AI system that governs society has become insane. Meanwhile, the threat of the Adiaptron Empire, the machine race that #3 was built to fight, remains."
---
The Storm: A Novel by Arif Anwar 
Adult historical fiction
Release date: 15th of May, 2018
"Time is running out for Shahryar. His work visa has expired and he may soon be forced out of the United States and back to his home country of Bangladesh. Clinging to the remaining weeks he has left with his young American daughter, Shar reflects upon his family's history, beginning in a village on the Bay of Bengal, where a poor fisherman, Jamir, and his wife, Honufa, prepare to face a storm of historic proportions.
Spilling across tense, crucial moments in history, Jamir and Honufa's story intersects with other lives, like that of Ichiro, a Japanese pilot fighting in a war he does not understand; Claire, a British doctor in danger during the anti-colonialist Burmese rebellions; and Rahim and Zahira, a privileged couple in Calcutta uprooted to East Pakistan by the Partition of India."
---
Adult contemporary fiction
Release date: 15th of May, 2018
"Brit is the second violinist, a beautiful and quiet orphan; the viola is Henry, a prodigy who's always had it easy; the cellist is Daniel, the oldest, the angry skeptic who sleeps around; and on first violin is Jana, their flinty, resilient leader. Together, they are the Van Ness String Quartet.
In The Ensemble, each character picks up the melody, from the group's youthful rocky start through to adulthood. As they navigate devastating failures and wild success, heartbreak and marriage, triumph and loss, betrayal and enduring loyalty, they are always tied together—by career, by the intensity of their art, by the secrets they carry together, and by choosing each other over and over again."
---
Adult historical fiction
Release date: 18th of May, 2018
"His country stood on the verge of a new beginning and the gate of hell. The Kuomintang promises the dawn of democracy, but the Communists threaten civil war while Japan's unbridled ambitions loom. 
All Clark Yuan wants is to see his fellow countrymen's lives improve. He joins the KMT, hoping to play his part to make China a better place. He vows to Eden, the beautiful Jewish girl he admires from afar, Shanghai would be her forever home. 
But power and money are at stake. The line of good and evil shifts. To achieve his ends, he must bargain with the devils. How much of his soul must he sacrifice to reach the greater good? 
* 
Fleeing the rise of the Nazis, Eden Levine came with her family to Shanghai, hoping to build a new life. 
The dazzling city made her swoon. From the pinnacle of luxury, big band jazz, to a safe haven for Jewish refugees, the country that turns no one away is the beacon of hope. But behind the glitz and glamour, the darkness of human nature lurks. 
A heinous crime shocks the international community. 
Would she defend an innocent Nazi soldier and risk the ire of her own people? With only her new friend Clark by her side, could she defy the clutch of racial strife to see justice prevail?" 
---
Cult X by Fuminori Nakamura, Kalau Almony (Translator)
Adult thriller
Release date: 22nd of May, 2018
"The magnum opus by Akutagawa Prize-winner Fuminori Nakamura, Cult X is a story that dives into the psychology of fringe religion, obsession, and social disaffection.
When Toru Narazaki's girlfriend, Ryoko, disappears, he tries to track her down, despite the warnings of a private detective he's hired to find her. Ryoko's past is shrouded in mystery, but the one concrete clue to her whereabouts is a previous address where she lived: in a compound in the heart of Tokyo, with a group that seems to be a cult led by a charismatic guru with a revisionist Buddhist scheme of life, death, and society. Narazaki plunges into the secretive world of the cult, ready to expose himself to any of the guru's brainwashing tactics if it means he can learn the truth about Ryoko. But the cult isn't what he expected, and he has no idea of the bubbling violence beneath its surface."
Inspired by the 1995 sarin gas attack on the Tokyo subway, Cult X is an exploration of what draws individuals into extremism.
---
Hidden and Visible Realms: Early Medieval Chinese Tales of the Supernatural and the Fantastic by Zhenjun Zhang (Translation), Compiled by Liu Yiquing
Zhiguai
Release date: 22nd of May, 2018
"Chinese culture of the Six Dynasties period (220-589) saw a blossoming of stories of the fantastic. Zhiguai, "records of the strange" or "accounts of anomalies," tell of encounters with otherness, in which inexplicable and uncanny phenomena interrupt mundane human affairs. They depict deities, ghosts, and monsters; heaven, the underworld, and the immortal lands; omens, metamorphoses, and trafficking between humans and supernatural beings; and legendary figures, strange creatures, and natural wonders in the human world.
Hidden and Visible Realms, traditionally attributed to Liu Yiqing, is one of the most significant zhiguai collections, distinguished by its varied contents, elegant writing style, and fascinating stories. It is also among the earliest collections heavily influenced by Buddhist beliefs, values, and concerns. Beyond the traditional zhiguai narratives, it includes tales of karmic retribution, reincarnation, and Buddhist ghosts, hell, and magic. In this annotated first complete English translation, Zhenjun Zhang gives English-speaking readers a sense of the wealth and wonder of the zhiguai canon."
---
The Peace Machin by Özgür Mumcu
Adult speculative fiction
Release date: 31st of May, 2018
We'll create a machine. A peace machine that will put an end to all wars.
As the twentieth century dawns the world stands on the brink of yet another bloody war. But what if conflict were not inevitable? What if a machine could exploit the latest developments in electromagnetic science to influence people's minds? And what if such a machine could put an end to violence for ever?
The search for the answer to these questions will lead our hero Celal away from his unassuming life as an Istanbul-based writer of erotic fiction, and on a quest across a continent stumbling headlong towards disaster, from Istanbul to Paris and Belgrade, as he struggles to uncover the mystery of The Peace Machine before time runs out for humanity.
---
~ Adult Non-fiction ~
Mixed Korean: Our Stories edited by Cerissa Kim, Katherine Kim, Sora Kim-Russell and Mary-Kim Arnold
Anthology
Release date: May 2018
"From the struggles of the Korean War, to the modern dilemmas faced by those who are mixed race, comes an assortment of stories that capture the essence of what it is to be a mixed Korean. With common themes of exclusion, and recollections of not looking Korean enough, black enough, white enough, or "other" enough, this powerful collection features works by 38 contributors including award-winning authors Alexander Chee, Michael Croley, Victoria Namkung, Joel Peterson and Heinz Insu Fenkl, alongside pieces composed by prominent writers, poets and scholars. Interwoven between the better known literary names, are the voices of newcomers with powerful memories that have never been captured before. Collectively, these stories will resonate with anyone who has ever stood on the outside of a group, longing for inclusion. All proceeds from the anthology will be donated to 325Kamra – Reuniting families through DNA and KoreanAmericanStory.org."
---
Memoir
Release date: 1st of May, 2018
"Cinelle Barnes was barely three years old when her family moved into Mansion Royale, a stately ten-bedroom home in the Philippines. Filled with her mother's opulent social aspirations and the gloriously excessive evidence of her father's self-made success, it was a girl's storybook playland. But when a monsoon hits, her father leaves, and her mother's terrible lover takes the reins, Cinelle's fantastical childhood turns toward tyranny she could never have imagined. Formerly a home worthy of magazines and lavish parties, Mansion Royale becomes a dangerous shell of the splendid palace it had once been.
In this remarkable ode to survival, Cinelle creates something magical out of her truth—underscored by her complicated relationship with her mother."
---
Memoir
Release date: 7th of May, 2018
"In 1975, a Cambodian refugee named Ted Ngoy and his family arrived in Southern California penniless. Less than a decade later, he was a multimillionaire at the helm of an unlikely empire of independent donut shops that continue to dominate the West Coast and fend off advances by large chains such as Dunkin' Donuts.
Then he lost it all. It wasn't the first time, and it wouldn't be the last. Racked with guilt, homeless in his sixties, and supporting two small children, he set out to build a new life.
Ngoy's story is one of survival, hard knocks, and the indomitable spirit of a singular man with unparalleled vision. He has gone from rich to poor not once, but three separate times. Making money is easy, he says, but keeping your priorities straight can be a challenge."
---
 With Stones in Our Hands: Writings on Muslims, Racism, and Empire by Sohail Daulatzai (Editor), Junaid Rana (Editor)
Non-fiction
Release date: 15th of May, 2018
"With Stones in Our Hands compiles writings by scholars and activists who are leading the struggle to understand and combat anti-Muslim racism. Through a bold call for a politics of the Muslim Left and the poetics of the Muslim International, this book offers a glimpse into the possibilities of social justice, decolonial struggle, and political solidarity. The essays in this anthology reflect a range of concerns such as the settler colonial occupation of Palestine, surveillance and policing, blackness and radical protest traditions, militarism and empire building, social movements, and political repression. With Stones in Our Handsoffers new ideas to achieve decolonization and global solidarity.
Contributors: Rabab Ibrahim Abdulhadi, Abdullah Al-Arian, Arshad Imtiaz Ali, Evelyn Alsultany, Vivek Bald, Abbas Barzegar, Hatem Bazian, Sylvia Chan-Malik, Arash Davari, Fatima El-Tayeb, Hafsa Kanjwal, Ronak K. Kapadia, Maryam Kashani, Robin D. G. Kelley, Su'ad Abdul Khabeer, Nadine Naber, Selim Nadi, Sherene H. Razack, Atef Said, Steven Salaita, Stephen Sheehi."
---
Brothers of the Gun: A Memoir of the Syrian War by Marwan Hisham, Molly Crabapple (Illustrations)
Memoir
Release date: 16th of May, 2018
"Brothers of the Gun is the story of young man coming of age during the Syrian war, from its inception to the present. Marwan watched from the rooftops as regime warplanes bombed soldiers; as revolutionary activist groups, for a few dreamy days, spray-painted hope on Raqqa; as his friends died or threw in their lot with Islamist fighters. He became a journalist by courageously tweeting out news from a city under siege by ISIS, the Russians, and the Americans all at once. He watched the country that ran through his veins—the country that held his hopes, dreams, and fears—be destroyed in front of him, and eventually joined the relentless stream of refugees risking their lives to escape."
---
Non-fiction
Release date: 16th of May, 2018
"In Like a Mother, Angela offers a rigorously researched and compelling look at the physiology, biology, chemistry, and psychology of pregnancy and motherhood, informed by research, reportage, and her own experience. With a journalist's curiosity and discipline, a mother's urgency, and a food writer's insatiability, she explores the science behind the pressing questions women have about a number of subjects, including postpartum hormones, breast milk, and miscarriage.
 Infused with candor and humor, born out of awe, appreciation, and understanding of the human body and its workings, Like a Mother is a full-frontal look at what's really happening underneath your skin 
---
~ Poetry ~ 
Flood Damages by Eunice Andrada
Poetry
Release date: May, 2018
"In Flood Damages, Eunice Andrada explores the open wounds of colonial occupation, diaspora and inheritance. Through the figure of a young Filipina-Australian woman whose family has been irreparably damaged by deportation, violence and illness, events both political and personal are felt most keenly in and through the body – 'your blood sings of the scattered histories/ that left you here'. A poet and performance artist, Andrada combines the passionate intensity of voice, image and rhythms of prayer to affirm the brown female body as a site of vulnerability and power."
---
Poetry
Release date: 5th of May, 2018
"Rainforest is the 4th collection of poetry from Singaporean-Australian poet Eileen Chong, published by Pitt Street Poetry.
In her new book of 52 poems, Chong builds on her previously explored themes of belonging, trauma, and the joys of everyday living. Chong crafts her poems using imagery of water, forests, life and death. A masterful collection from an important contemporary Asian-Australian poet, Rainforest is a strong addition to Chong's growing body of work."
---
 The Hijab Files by Maryam Azam
Poetry
Release date: 12th of May, 2018
"Maryam Azam's debut collection takes the significance of the hijab as its focus of attention. Though shamed and angered by the prejudice towards Muslims the scarf arouses, Azam is also aware of its sensuality and allure, and the power and protection it offers. In 'A Brief Guide to Hijab Fashion', 'Miss Khan Takes off her Hijab' and 'Places I've Prayed', she reflects on the rich possibilities of the scarf, the moral values it embodies, and the commitment required to maintain these values in a secular society. In the second section, 'Wallah Bros', she examines the tensions young Muslims experience when negotiating the technology of modern dating. The poems in the final section, 'The Piercing of this Place', are alert to the presence of spiritual forces in the world, and open on to the larger dimensions of time and space, to mystery and the prospect of death. Azam's style is simple and direct, and informed with humour: it frames as it reveals, asserting the dignity of ritual and observance in everyday life."
---
 Marianna's Beauty Salon by Bushra Rehman
Poetry
Release date: 24th of May, 2018
"Bushra Rehman's debut collection singes in its interrogation of the American dream while capturing the lives of a neighborhood in transition. These sly, adept poems work through circumstances under threat with audacity, humor, and wonder. Rehman offers a new kind of fairy tale, surreal yet rooted in harsh, ugly modern realities. Simply and profoundly, her book is a love poem for Muslim girls, Queens, and immigrants making sense of their foreign home–and surviving."
---
~ Picture/Board Books ~
 Always Anjali by Sheetal Sheth
Picture Book
Release date: 12th of May, 2018
"When Anjali and her friends want to get matching personalized license plates, she can't find her name. To make matters worse, she gets bullied for her 'different' name, and is so upset she demands to change it. When her parents refuse and she is forced to take matters into her own hands, she winds up learning to celebrate who she is and carry her name with pride and power. A timeless story about appreciating what makes us special."
---
*List compiled by Lit CelebrAsian team members: Glaiza and Shenwei 
*In case you missed it, check out the April Releases.