The team at Lit CelebrAsian are excited to share some new books in April.
Also, Asian Lit Bingo is returning in May! Asian Lit Bingo features our annual reading challenge, which is open to all readers to participate in. Visit the challenge board from last year to start planning your next reading pile. Keep an eye out for special announcements too.
Thanks to our Lit CelebrAsian team members: Glaiza and Shenwei for taking the time to research and compile the list of middle-grade, young adult, and adult books below.
Note: This is a just a small sample of releases out in April, so let us know what books you're excited for. Update to the list: Mommy's Khimar is by an African-American author but definitely check it out.
---
~ Middle Grade ~
Peasprout Chen, Future Legend of Skate and Sword by Henry Lien
Middle grade fantasy
Release date: 3rd of April, 2018
Rep: Chinese protagonist
"Welcome to Pearl Famous Academy of Skate and Sword, where the blades are sharp and the competition is fierce. 
Peasprout Chen dreams of becoming a legend of wu liu, the deadly and beautiful art of martial arts figure skating. 
As the first students from the rural country of Shin to attend Pearl Famous Academy of Skate and Sword, Peasprout and her little brother Cricket have some pretty big skates to fill. They soon find themselves in a heated competition for top ranking. 
Tensions rise when the dazzling pearl buildings of the Academy are vandalized and outsider Peasprout is blamed for the attacks by her rivals … and even some friends. 
Now, she must uncover the true vandal to ensure peace between Shin and Pearl – all while becoming a champion."
---
 Jasmine Toguchi, Drummer Girl (Jasmine Toguchi #3) by Debbi Michiko Florence), Elizabet Vukovic (Illustrator)
Middle grade contemporary
Release date: 3rd of April, 2018
Rep: Japanese protagonist
"It's talent show time at school, and eight-year-old Jasmine Toguchi is excited to show her stuff. But as she thinks about her strengths–tree-climbing, mochi making, collage–none of them feel quite right to perform on-stage. Jasmine's friends already have a talent: Tommy yo-yo's, Daisy dances, and Linnie plays piano. Plus, Maggie Milsap (aka Miss Perfect) is saying she'll have the best talent.
When Jasmine's mom introduces her to the taiko, a traditional Japanese drum, Jasmine finally finds an activity that feels just right. But will she be good enough at taiko in time to beat Maggie Milsap?
Join Jasmine as she discovers her talent–and the difference between being the best and trying your best."
---
The Secret of the Blue Glass by Tomiko Inui, Ginny Tapley Takemori (Translation)
Middle grade historical fiction/fantasy
Release date: 5th of April, 2018 (New edition)
Rep: Japanese protagonist
"In a dusty library, in the quietest corner of a house in a Tokyo suburb, live the Little People: Fern and Balbo, Robin and Iris. Just a few inches high, sleeping in cigarette boxes and crafting shoes from old book jackets, they need only one thing from their Humans – a nightly glass of milk, served in a sparkling Blue Glass goblet, by a trusted young member of the Human family. But when the Second World War comes to Japan, bringing a dangerous new kind of patriotism, both Humans and their beloved Little People face a world they could never before have imagined. It will take great love, bravery, and a rather loyal pigeon, to bring their unique families back together once more…"
---
You Go First by Erin Entrada Kelly
Middle grade contemporary
Release date: 10th of April, 2018
Rep: Filipinx protagonist
"Twelve-year-old Charlotte Lockard and eleven-year-old Ben Boxer are separated by more than a thousand miles. On the surface, their lives seem vastly different—Charlotte lives near Philadelphia, Pennsylvania, while Ben is in the small town of Lanester, Louisiana. Charlotte wants to be a geologist and keeps a rock collection in her room. Ben is obsessed with Harry Potter, presidential history, and recycling. But the two have more in common than they think. They're both highly gifted. They're both experiencing family turmoil. And they both sit alone at lunch.
Over the course of a week, Charlotte and Ben—online friends connected only by a Scrabble game—will intersect in unexpected ways as they struggle to navigate the turmoil of middle school. You Go First reminds us that no matter how hard it is to keep our heads above troubled water, we never struggle alone."
---
 Running Through Sprinklers by Michelle Kim
Middle grade contemporary
Release date: 10th of April, 2018
Rep: Biracial Korean Canadian protagonist
"Everything has changed this year. Nadine has suddenly skipped a grade and gone to high school without Sara. No matter how hard she fights to save their friendship, Sara can feel it slipping away.
But change can happen from the inside, too. The forever-friend days of running through sprinklers and slurping up ice cream cones may be over. Yet in their place, Sara just might discover something new and wonderful: herself."
---
Middle grade contemporary
Release date: 18th of April, 2018
Rep: Korean protagonist
"Krista and Jason have been best friends since preschool. It never mattered that he was a boy with reddish brown hair and she was "the Korean girl" at school. Now in fifth grade, everyone in their class is preparing their Heritage Month projects. Jason has always loved Krista's Korean family, and particularly her mom's cooking, but Krista is conflicted about being her school's "Korean Ambassador." She's also worried about asking her intimidating grandma to teach the class how to cook their traditional kim-bap. Combine that with her new friends pulling her away from Jason, and Krista has a lot to deal with this year!"
---
~ Young Adult ~
 The Secret Science of Magic by Melissa Keil 
Young adult contemporary
Release date: 1st of April, 2018
"Sophia is smart, like genius-calculator-brain smart. But there are some things no amount of genius can prepare you for, and the messiness of real life is one of them. When everything she knows is falling apart, how can she crack the puzzle of what to do with her life?
Joshua spends his time honing magic tricks and planning how to win Sophia's heart. But when your best trick is making schoolwork disappear, how do you possibly romance a genius?
In life and love, timing is everything."
---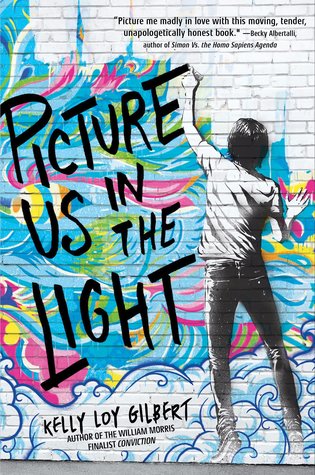 Picture Us in the Light by Kelly Loy Gilbert
Young adult contemporary
Release date: 10th of April, 2018
"Danny Cheng has always known his parents have secrets. But when he discovers a taped-up box in his father's closet filled with old letters and a file on a powerful Silicon Valley family, he realizes there's much more to his family's past than he ever imagined.
Danny has been an artist for as long as he can remember and it seems his path is set, with a scholarship to RISD and his family's blessing to pursue the career he's always dreamed of. Still, contemplating a future without his best friend, Harry Wong, by his side makes Danny feel a panic he can barely put into words. Harry and Danny's lives are deeply intertwined and as they approach the one-year anniversary of a tragedy that shook their friend group to its core, Danny can't stop asking himself if Harry is truly in love with his girlfriend, Regina Chan.
When Danny digs deeper into his parents' past, he uncovers a secret that disturbs the foundations of his family history and the carefully constructed facade his parents have maintained begins to crumble. With everything he loves in danger of being stripped away, Danny must face the ghosts of the past in order to build a future that belongs to him."
---
 The Lost Kids (Never Ever #2) by Sara Saedi
Young adult fantasy
Release date: 10th of April, 2018
"Just a few weeks ago, Wylie Dalton was living on a magical island where nobody ages past seventeen, and in love with Phinn, the island's leader. Now, her home is a creaky old boat where she's joined a ragtag group of cast-offs from the island, all dead-set on getting revenge on Phinn for betraying them. But when the Lost Kids invade Minor Island, they're shocked to find it totally deserted, except for one survivor who reveals the shocking news: adults have discovered the island."
---
Love & War (Alex & Eliza #2) by Melissa de la Cruz 
Young adult historical fiction
Release date: 17th of April, 2018
"1780. Albany, New York.
As the war for American Independence carries on, two newlyweds are settling into their new adventure: marriage. But the honeymoon's over, and Alexander Hamilton and Eliza Schuyler are learning firsthand just how tricky wedded life can be. Alex is still General George Washington's right-hand man and his attention these days is nothing if not divided–much like the colonies' interests as the end of the Revolution draws near. Alex & Eliza's relationship is tested further by lingering jealousies and family drama. "
---
Trouble Never Sleeps (Trouble #3) by Stephanie Tromly
Young adult mystery
Release date: 24th of April, 2018
"No one makes getting into trouble look as good as Philip Digby—and he looks good doing it. Now that he's back in town, he's plunged Zoe (and their Scooby Gang of wealthy frenemy Sloane, nerd-tastic genius Felix, and aw-shucks-handsome Henry) back into the deep end on the hunt for his kidnapped sister. He's got a lead, but it involves doing a deal with the scion of an alarmingly powerful family, not to mention committing some light treason. Zoe and Digby are officially together now, and she's definitely up for whatever closure this new caper might offer, even though this mystery will come with a twist neither expected."
---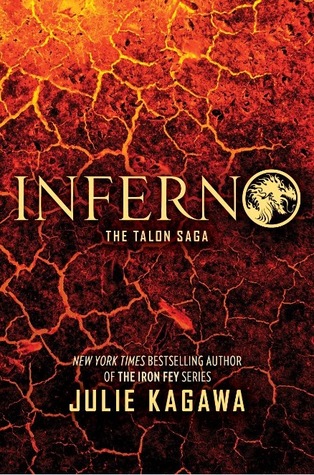 Inferno (Talon #5) by Julie Kagawa 
Young adult fantasy
Release date: 24th of April, 2018
"Inferno, the fiery, hugely anticipated finale of The Talon Saga.

What if dragons walked among us in human form? Enter a modern fantasy of heroes, sacrifice, forbidden love and enemies turned allies who have no choice but to fight side by side… Don't miss the epic conclusion as Ember, Riley and Garrett face off against Dante and the Talon dragon clones. Join them…or burn."
---
~ Adult fiction ~
A Boy at the Edge of the World by David Kingston Yeh
Adult contemporary fiction
Release date: 1st of April, 2018
"Meet the Garneau boys, triplets from small-town Ontario. Daniel "the eldest" is gay and moves to Toronto with his best friend Karen to attend university. Eventually, he meets David, a bike mechanic whose Catholic Italian mother talks to her dead husbands. Their chemistry is immediate, but Daniel is still drawn to his ex-boyfriend Marcus, a performance artist whose grandfather was a book-burning Nazi. A Boy at the Edge of the World is a rollicking dramedy that explores the compulsive and (ultimately) universal human pursuit of intimacy, sex, and love.
---
 America Is Not the Heart by Elaine Castillo
Adult contemporary fiction
Release date: 3rd of April, 2018
"How many lives can one person lead in a single lifetime? When Hero de Vera arrives in America, disowned by her parents in the Philippines, she's already on her third. Her uncle, Pol, who has offered her a fresh start and a place to stay in the Bay Area, knows not to ask about her past. And his younger wife, Paz, has learned enough about the might and secrecy of the De Vera family to keep her head down. Only their daughter Roni asks Hero why her hands seem to constantly ache.
Illuminating the violent political history of the Philippines in the 1980s and 1990s and the insular immigrant communities that spring up in the suburban United States with an uncanny ear for the unspoken intimacies and pain that get buried by the duties of everyday life and family ritual, Castillo delivers a powerful, increasingly relevant novel about the promise of the American dream and the unshakable power of the past." 
---
 A Necessary Evil: A Novel (Sam Wyndham #2) by Abir Mukherjee
Adult historical mystery
Release date: 3rd of April, 2018
"The fabulously wealthy kingdom of Sambalpore is home to tigers, elephants, diamond mines, and the beautiful Palace of the Sun. But when the heir to the throne is assassinated in the presence of Captain Sam Wyndham and Sergeant 'Surrender-Not' Banerjee, they discover a kingdom riven with suppressed conflict. Prince Adhir was a modernizer whose attitudes—and romantic relationships—may have upset the more religious elements of his country, while his brother—now in line to the throne—appears to be a feckless playboy.
As Wyndham and Banerjee desperately try to unravel the mystery behind the assassination, they become entangled in a dangerous world where those in power live by their own rules—and those who cross their paths pay with their lives. They must find a murderer, before the murderer finds them . . . "
---
The Invisible Valley by Su Wei, Austin Woerner (translator)
Adult fantasy
Release date: 3rd of April, 2018
"On the mountain, Lu meets an outcast polyamorous family led by a matriarch, Jade, and one of her lovers, Kingfisher. They are woodcutters and practice their own idiosyncratic faith by which they claim to placate the serpent-demon sleeping in the belly of the mountains. Just as the village authorities get wind of Lu's dalliances with the woodcutters, a typhoon rips through the valley. And deep in the jungle, a giant serpent may be stirring."
---
Pink Mountain on Locust Island by Jamie Marina Lau
Adult noir
Release date: 3rd of April, 2018
"Monk lives in Chinatown with her washed-up painter father. When Santa Coy—possible boyfriend, potential accomplice—enters their lives, an intoxicating hunger consumes their home. So begins a heady descent into art, casino resorts, drugs, vacant swimming pools, religion, pixelated tutorial videos, and senseless violence.
In bursts of fizzing, staccato and claustrophobic prose, this modern Australian take on the classic hard-boiled novel bounces you between pulverised English, elastic Cantonese and the new dialect of a digitised world. Tip over into a subterranean noir of the most electronic generation."
---
 The One Who Wrote Destiny by Nikesh Shukla
Adult contemporary fiction
Release date: 5th of April, 2018
"Mukesh has just moved from Kenya to the drizzly northern town of Keighley. He was expecting fame, fortune, the Rolling Stones and a nice girl, not poverty, loneliness and a racism. Still, he might not have found Keith Richards, but he did find the girl.
Neha is dying. Lung cancer, a genetic gift from her mother and an invocation to forge a better relationship with her brother and her widowed father before it's too late. The problem is, her brother is an unfunny comedian and her idiot father is a first-generation immigrant who moved to Keighley of all places.
Rakesh is grieving. He lost his mother and his sister to the same illness, and his career as a comedian is flat-lining. Sure, his sister would have claimed that it was because he was simply unfunny, but he can't help feel that there is more to it than that – more to do with who he is and where he comes from rather than the content of his jokes.
Ba has never looked after her two young grandchildren before. After her daughter died, her useless son-in-law dumped them on her doorstep for a month and now she has to try and work out how to bond with two children who are used England, not to the rhythms of Kenya… "
---
The Displaced: Refugee Writers on Refugee Lives Edited by Viet Thanh Nguyen
Anthology
Release date: 10th of April, 2018
"In January 2017, Donald Trump signed an executive order stopping entry to the United States from seven predominantly Muslim countries and dramatically cutting the number of refugees allowed to resettle in the United States each year. The American people spoke up, with protests, marches, donations, and lawsuits that quickly overturned the order. But the refugee caps remained.
In The Displaced, Pulitzer Prize–winning writer Viet Thanh Nguyen, himself a refugee, brings together a host of prominent refugee writers to explore and illuminate the refugee experience. Featuring original essays by a collection of writers from around the world, The Displaced is an indictment of closing our doors, and a powerful look at what it means to be forced to leave home and find a place of refuge." 
---
Not So Stories edited by David Thomas Moore
Fantasy anthology feat. PoC authors
Release date: 10th of April, 2018
"Rudyard Kipling's Just So Stories was one of the first true children's books in the English language, a timeless classic that continues to delight readers to this day. Beautiful, evocative and playful, the stories of How the Whale Got His Throat or How the First Letter Was Written paint a world of magic and wonder. 
It's also deeply rooted in British Colonialism. Kipling saw the Empire as a benign, civilizing force, in a way that's troubling to modern readers. Not So Stories attempts to redress the balance, bringing together new and established writers of colour from around the world to take the Just So Storiesback, to interrogate, challenge, and celebrate their legacy. 
Including stories by Adiwijaya Iskandar, Joseph E. Cole, Raymond Gates, Stewart Hotston, Zina Hutton, Georgina Kamiska, Cassandra Khaw, Paul Krueger, Tauriq Moosa, Jeannette Ng, Ali Nouraei, Wayne Santos, Zedeck Siew, and Achala Upendran, with illustrations from Woodrow Pheonix."
---
 Sophia of Silicon Valley: A Novel by Anna Yen
Adult contemporary fiction
Release date: 10th of April, 2018
"The daughter of successful Taiwanese immigrants, Sophia Young has always spoken her mind, and in Silicon Valley, that turns out to be her greatest asset—especially when she's often the only woman in a room. As companies like Apple, Google, Tesla, and Oracle are beginning to revolutionize the world, Sophia lucks into a job that puts her directly in the path of Scott Kraft, the eccentric founder of a groundbreaking software company and CEO of an animated film studio that is transforming the art.
As Scott's right hand woman, the incorrigibly outspoken Sophia is in the eye of the storm—a thrilling and terrifying position that challenges her, threatens her relationships and even her health, yet ultimately teaches her how to take charge of her own future. But when engineer and inventor Andre Stark hires her to run investor relations, Sophia starts to question whether the big paycheck and high-status career are worth living in a boys-club gone bad."
---
Adult contemporary fiction
Release date: 10th of April, 2018
"Vi – Daughter of an enterprising mother and a wealthy and spoiled father who never had to grow up, the Vietnam war tears their family asunder. While Vi and many of her family members escape, her father stays behind, and her family must fend for themselves in Canada.
While her mother and brothers put down roots, life has different plans for Vi. As a young woman, she finds the world opening up to her. Taken under the wing of Ha, a worldly family friend and diplomat lover, Vi tests personal boundaries and crosses international ones, letting the winds of life buffet her. From Saigon to Montreal, from Suzhou to Boston to the fall of the Berlin Wall, she is witness to the immensity of the world, the intricate fabric of humanity, the complexity of love, the infinite possibilities before her. Ever the quiet observer, somehow she must find a way to finally take her place in the world.."
---
 Though I Get Home by Y.Z. Chin
Adult contemporary fiction
Release date: 10th of April, 2018
"In these stories, characters navigate fate via deft sleights of hand: a grandfather gambles on the monsoon rains, a consort finds herself a new assignment, and a religious man struggles to keep his demons at bay. Central to the book is Isabella Sin, a small-town girl—and frustrated writer—transformed into a prisoner of conscience in Malaysia's most notorious detention camp."
---
 Louisiana Catch by Sweta Srivastava Vikram 
Adult contemporary fiction
Release date: 10th of April, 2018
"Ahana, a wealthy thirty-three-year-old New Delhi woman, flees the pain of her mother's death, and her dark past, by accepting a huge project in New Orleans, where she'll coordinate an annual conference to raise awareness of violence against women. Meanwhile, she seeks relief from her pain in an online support group, where she makes a good friend: the mercurial Jay Dubois, who is also grieving the loss of his mother. Louisiana Catch is an emotionally immersive novel about identity, shame, and who we project ourselves to be in the world."
---
Disoriental by Négar Djavadi, Tina Kover (Translator)
Adult contemporary fiction
Release date: 17th of April, 2018
"Kimiâ Sadr fled Iran at the age of ten in the company of her mother and sisters to join her father in France. Now twenty-five and facing the future she has built for herself as well as the prospect of a new generation, Kimiâ is inundated by her own memories and the stories of her ancestors, which come to her in unstoppable, uncontainable waves. In the waiting room of a Parisian fertility clinic, generations of flamboyant Sadrs return to her, including her formidable great-grandfather Montazemolmolk, with his harem of fifty-two wives, and her parents, Darius and Sara, stalwart opponents of each regime that befalls them."
---
 Floating City by Kerri Sakamoto
Adult historical fiction
Release date: 17th of April, 2018
"Frankie Hanesaka isn't afraid of a little hard work. An industrious boy, if haunted by the mysterious figures of his mother's past in Japan, he grows up in a floating house in the harbour of Port Alberni, BC. With all the Japanese bachelors passing through town to work in the logging camps and lumber mills, maybe he could build a hotel on the water, too. Make a few dollars. But then the war comes, and Frankie finds himself in a mountain internment camp, his small dreams of success dashed by the great tides of history." 
---
Pearls on a Branch: Oral Tales by Najla Jraissaty Khoury, Inea Bushnaq (Translation)
Folktale collection
Release date: 17th of April, 2018
"A collection of 30 traditional Syrian and Lebanese folktales infused with new life by Lebanese women, collected by Najla Khoury.
While civil war raged in Lebanon, Najla Khoury traveled with a theater troupe, putting on shows in marginal areas where electricity was a luxury, in air raid shelters, Palestinian refugee camps, and isolated villages. Their plays were largely based on oral tales, and she combed the country in search of stories. Many years later, she chose one hundred stories from among the most popular and published them in Arabic in 2014, exactly as she received them, from the mouths of the storytellers who told them as they had heard them when they were children from their parents and grandparents. Out of the hundred stories published in Arabic, Inea Bushnaq and Najla Khoury chose thirty for this book."
---
Adult contemporary fiction
Release date: 19th of April, 2018
"2003, Singapore. Friendless and fatherless, sixteen-year-old Szu lives in the shadow of her mother Amisa, once a beautiful actress and now a hack medium performing séances with her sister in a rusty house. When Szu meets the privileged, acid-tongued Circe, an unlikely encounter develops into an intense friendship and offers Szu a means of escape from her mother's alarming solitariness.
Seventeen years later, Circe is struggling through a divorce in fraught and ever-changing Singapore when a project comes up at work: a remake of the cult seventies horror film series 'Ponti', the very project that defined Amisa's short-lived film career. Suddenly Circe is knocked off balance: by memories of the two women she once knew, by guilt, and by a past that threatens her conscience. Told from the perspectives of all three women, Ponti is about friendship and memory, about the things we do when we're on the cusp of adulthood that haunt us years later." 
---
The President's Gardens by Muhsin Al-Ramli, Luke Leafgren (Translator)
Historical fiction
Release date: 20th of April, 2018
"The President's Gardens is an epic novel about Saddam Hussein's Iraq, following the lives of three friends from the beginning of the Iran-Iraq War to the aftermath of the American invasion.
Abdullah loses twenty years to Iranian captivity before returning to learn the terrible truth of his birth. Tariq, the son of the local Sheik, avoids the army, and becomes a man of power and influence, able to help his friends but always careful to keep his own interests closest to his heart. Ibrahim loses a foot in the first Gulf War and his wife to cancer before taking on a menial job in the gardens of one of the president's many palaces – a job whose responsibilities will escalate beyond his wildest imaginings. Multiple multi-generational stories about family, war and oppression are woven together in The President's Gardens."
---
Moon Brow by Shahriar Mandanipour, Khalili Sara (Translation)
Contemporary fiction
Release date: 24th of April, 2018
"Before shrapnel severed his left arm during the Iran–Iraq war, Amir Khan lived the life of a carefree playboy. Five years later, his mother and sister Reyhaneh find him in hospital for shell-shocked soldiers and bring him home to Tehran. His memories decimated, Amir is haunted by the vision of a mysterious woman he believes is his fiancée. He never sees her face: there is a shining crescent moon on her forehead, and he names her Moon Brow.
His sense of humor intact, Amir cajoles Reyhaneh into helping him find her. Reluctantly she agrees, if only to heal her ruptured family. All the while, twin scribes—the angel of virtue and the angel of sin—sit on Amir's shoulders and narrate the story. Wildly inventive and steeped in Persian folklore and contemporary Middle East history."
---
The Emissary by Yōko Tawada, Margaret Mitsutani (Translation)
Speculative fiction
Release date: 24th of April, 2018
"Japan, after suffering from a massive irreparable disaster, cuts itself off from the world. Children are so weak they can barely stand or walk: the only people with any get-go are the elderly. Mumei lives with his grandfather Yoshiro, who worries about him constantly. They carry on a day-to-day routine in what could be viewed as a post-Fukushima time, with all the children born ancient—frail and gray-haired, yet incredibly compassionate and wise. Mumei may be enfeebled and feverish, but he is a beacon of hope, full of wit and free of self-pity and pessimism. Yoshiro concentrates on nourishing Mumei, a strangely wonderful boy who offers "the beauty of the time that is yet to come."
---
Speculative fiction
Release date: 24th of April, 2018
"The dead aren't really gone, they persist as phone numbers, social media accounts, newsletter recipients, and as members of fan-fiction forums. Digital ghosts move and connect us: we feel we know people we have only seen online just as corporations masquerade as familiar friends. 
In Rubik, darkly comedic interconnected stories follow Elena Rubik, her best friend Jules Valentine, and wannabe investigative reporter April Kuan, as a viral marketing scheme's motivations become cause for concern. There are the adventures of a model turned visual artist, a voice actor primarily used for tech support, enigmatic schoolchildren, clever anime characters, and more." 
---
Scales of Injustice by Loā Hô, Darryl Sterk (Translation)
Short story collection
Release date: 27th of April, 2018
"Loā Hô (1894-1943, also Lai He) was a Taiwanese physician and writer of poetry, fiction, and essays. His lifetime almost exactly coincides with Japan's 50-year rule of Taiwan and was a fierce critic of both Japanese colonial rule and the preceding feudal system. He is considered by many to be the first modern writer in Taiwan. This volume contains the complete fiction of Loā Hô, as well as his chilling account of being jailed by the Japanese military police."
---
 We Mark Your Memory: Writings from the Descendants of Indenture edited by David Dabydeen, Maria del Pilar Kaladeen, Tina K. Ramnarine
Prose and Poetry
Release date: 30th of April, 2018
"The abolition of slavery was the catalyst for the arrival of the first Indian indentured labourers into the sugar colonies of Mauritius (1834), Guyana (1838) and Trinidad (1845), followed some years later by the inception of the system in South Africa (1860) and Fiji (1879). By the time indenture was abolished in the British Empire (1917–20), over one million Indians had been contracted, the overwhelming majority of whom never returned to India. Today, an Indian indentured labour diaspora is to be found in Commonwealth countries including Belize, Kenya, Malaysia, Sri Lanka and the Seychelles.
Hidden within this little-known system of nineteenth- and early twentieth-century Indian  migration under the British Empire are hitherto neglected stories of workers who were both exploited and unfree. These include indentured histories from Madeira to the Caribbean, from West Africa to the Caribbean, and from China to the Caribbean, Mauritius and South Africa.
To mark the centenary of the abolition of the system in the British Empire (2017–20) this volume brings together, for the first time, new writing from across the Commonwealth. It is a unique attempt to explore, through the medium of poetry and prose, the indentured heritage of the twenty-first century."
---
~ Adult non-fiction ~
Mixed Korean: Our Stories edited by Cerissa Kim, Katherine Kim, Sora Kim-Russell and Mary-Kim Arnold
Anthology
Release date: TBA April, 2018
"From the struggles of the Korean War, to the modern dilemmas faced by those who are mixed race, comes an assortment of stories that capture the essence of what it is to be a mixed Korean. With common themes of exclusion, and recollections of not looking Korean enough, black enough, white enough, or "other" enough, this powerful collection features works by 38 contributors including award-winning authors Alexander Chee, Michael Croley, Victoria Namkung, Joel Peterson and Heinz Insu Fenkl, alongside pieces composed by prominent writers, poets and scholars. Interwoven between the better known literary names, are the voices of newcomers with powerful memories that have never been captured before. Collectively, these stories will resonate with anyone who has ever stood on the outside of a group, longing for inclusion. All proceeds from the anthology will be donated to 325Kamra – Reuniting families through DNA and KoreanAmericanStory.org."
---
Lyric essays
Release date: 3rd of April, 2018
"The orphan at the center is without homeland and without language. In three linked lyric essays, Arnold attempts to claim her own linguistic, cultural, and aesthetic lineage. Born in Korea and adopted to the US as a child, she explores the interconnectedness of language and identity through the lens of migration and cultural rupture. Invoking artists, writers, and thinkers—Theresa Hak Kyung Cha, Francesca Woodman, Susan Sontag, among others—this collection interweaves personal documents, images, and critical texts as a means to examine loss and longing."
---
Legendary Ladies: 50 Goddesses to Empower and Inspire You by Ann Shen
Non-fiction
Release date: 3rd of April, 2018
"From the beloved author and artist behind Bad Girls Throughout History comes this lushly illustrated book of goddesses from around the world. Aphrodite, the Greek goddess whose love overcame mortality. Mazu, the Chinese deity who safely guides travelers home. Lakshmi, the Hindu provider of fortune and prosperity. These powerful deities and many more are celebrated in gorgeous artwork and enlightening essays that explore the feminine divine and encourage readers to empower themselves. Ann Shen's signature watercolors make Legendary Ladies a unique, gift-worthy homage to the mighty women within."
---
 Engineering A Life by Krishan K. Bedi
Memoir
Release date: 3rd of April, 2018
"Krishan Bedi came to the United States in December of 1961 at the tender age of twenty. He had only $300 in his pocket, and he had made it out of his small village in India on sheer faith, determined to get education in the US. For him, there was no option but to succeed—so he began his new life in Knoxville, Tennessee, where he had to adapt to the culture shock not only of being in the US but a Punjabi man in the South in the 1960s."
---
How to Write an Autobiographical Novel: Essays by Alexander Chee
Memoir
Release date: 17th of April, 2018
"How to Write an Autobiographical Novel is the author's manifesto on the entangling of life, literature, and politics, and how the lessons learned from a life spent reading and writing fiction have changed him. In these essays, he grows from student to teacher, reader to writer, and reckons with his identities as a son, a gay man, a Korean American, an artist, an activist, a lover, and a friend. He examines some of the most formative experiences of his life and the nation's history, including his father's death, the AIDS crisis, 9/11, the jobs that supported his writing—Tarot-reading, bookselling, cater-waiting for William F. Buckley—the writing of his first novel, Edinburgh, and the election of Donald Trump."
---
 Futureface: A Family Mystery, an Epic Quest, and the Secret to Belonging by Alex Wagner
Memoir
Release date: 17th of April, 2018
"A journalist travels the globe searching for answers to the mystery of her own ancestry, along the way raising deeper questions about the American experience of race, immigration, exile, and identity.
The daughter of a Burmese mother and a white American father, Alex Wagner grew up thinking of herself as a "futureface"—an avatar of a mixed-race future when all races would merge into a brown singularity. But when one family mystery leads to another, Wagner's post-racial ideals fray as she becomes obsessed with the specifics her own family's racial and ethnic history. Drawn into the wild world of ancestry, she embarks upon a quest around the world—and into her own DNA—to answer the ultimate questions of who she really is and where she belongs."
---
 What the Future Looks Like: Scientists Predict the Next Great Discoveries – And Those That Are Already Shaping Our World by Jim Al-Khalili
Non-fiction
Release date: 17th of April, 2018
"Now, award-winning science writer Jim Al-Khalili and his top-notch team of experts draw on their mastery of groundbreaking scientific research to predict what advancements will shape the future. Taking on genomics, robotics, AI, the Internet of Things, synthetic biology, interstellar travel, colonization of the solar system, and much more, What the Future Looks Like explores big-picture questions like Will we find a cure to all diseases or the answer to climate change? Will bionics one day turn us into superheroes?"
Non-fiction
Release date: 17th of April, 2018
"In Off the Menu, he shows how we each have a unique food memoir that is worthy of exploration. To Lee, recipes are narratives and a conduit to learn about a person, a place, or a point in time. He says that the best way to get to know someone is to eat the food they eat. Each chapter shares a personal tale of growth and self-discovery through the foods Lee eats and the foods of the people he interacts with—whether it's the Korean budae jjigae of his father or the mustard beer cheese he learns to make from his wife's German-American family. Each chapter is written in narrative form and punctuated with two recipes to highlight the story, including Green Tea Beignets, Cornbread Pancakes with Rhubarb Jam, and Butternut Squash Schnitzel."
---
 Brown Girl in a White Country by Anita Vikram
Memoir
Release date: 20th of April, 2018
"Our narratives are buried in mainstream, tossed aside because our stories don't quite fit a mold that exists. So it's time to create a new box for ourselves." 

In her debut memoir BROWN GIRL IN A WHITE COUNTRY, Anita Vikram depicts the experience of growing up as a South Asian American in the United States. From mental health to sexual violence, Vikram depicts a variety of topics through the lens of a girl longing for happiness and fulfillment. "
---
Non-fiction
Release date: 24th of April, 2018
"Daisy Khan has spent her adult life, as the executive director of the Women's Islamic Initiative in Spirituality and Equality (WISE) to educate and empower Muslim women. Now, in this powerful memoir, she interweaves her own story from her childhood in Kashmir to her adulthood as a designer in New York to rediscovering her faith and marrying a Sufi Imam with the moving and inspiring narratives from her advocacy work around the world."
---
~ Poetry ~ 
The Displaced Children of Displaced Children by Faisal Mohyuddin
 Poetry
Release date: 2nd of April, 2018
"Moving through past, present and future, this is a family history that journeys between America, Pakistan, modern Europe and even into space. Faisal Mohyuddin delves into the past of his parents and their neighbours in Pakistan and India in a self-consciously impossible attempt to find some way of belonging to a place that is lost. Moving from elegant ghazals of lament to stuttering, disjointed phrases of yearning, Mohyuddin portrays with restrained emotion the complexities of what it is to be displaced, geographically, spiritually, psychologically. With moments of sorrow interspersed with unsettling humour, deep familial love and celebrations of beauty, it is a story recognizable to any who have felt displaced in a new world. "
---
Poetry
Release date: 3rd of April, 2018
"Jenny Xie's award-winning debut, Eye Level, takes us far and near, to Phnom Penh, Corfu, Hanoi, New York, and elsewhere. Animated by a restless inner questioning, these poems meditate on the forces that moor the self and set it in motion, from immigration to travel to estranging losses and departures.As Xie writes, "Me? I'm just here in my traveler's clothes, trying on each passing town for size."
---
Poetry
Release date: 3rd of April, 2018
"Ghost Of is a mourning song, not an exorcism or un-haunting of that which haunts, but attuned attention, unidirectional reaching across time, space, and distance to reach loved ones, ancestors, and strangers. By working with, in, and around the photographs that her brother left behind (from which he cut himself out before his death), Nguyen wrestles with what remains: memory, physical voids, and her family captured around an empty space."
---
 Oceanic by Aimee Nezhukumatathil 
Poetry
Release date: 10th of April, 2018
"With inquisitive flair, Aimee Nezhukumatathil creates a  registry of the earth's wonderful and terrible magic. In her fourth collection of poetry, she studies forms of love as diverse and abundant as the ocean itself. She brings to life a father penguin, a C-section scar, and the Niagara Falls with a powerful force of reverence for life and living things. With an encyclopedic range of subjects, Oceanic speaks to each reader as a cooperative part of the earth, an extraordinary neighborhood to which we all belong."
---
Poetry
Release date: 10th of April, 2018
"Not Here is a flight plan for escape and a map for navigating home; a queer Vietnamese American body in confrontation with whiteness, trauma, family, and nostalgia; and a big beating heart of a book. Nguyen's poems ache with loneliness and desire and the giddy terrors of allowing yourself to hope for love, and revel in moments of connection achieved."
---
Poetry
Release date: 24th of April, 2018
"In the bold tradition of the "Misty Poets," Ha Jin confronts China's fraught political history while paying tribute to its rich culture and landscape. The poems of A Distant Center speak in a voice that is steady and direct, balancing contemplative longing with sober warnings from a writer who has confronted the traumas of censorship and state violence. With unadorned language and epigrammatic wit, Jin conjures scenes that encompass the personal, historical, romantic, and environmental, interrogating conceptions of foreignness and national identity as they appear and seep into everyday interactions and being." 
---
Émigré by Genève Chao
Poetry
Release date: 30th of April, 2018
"Emigre is the same in English as in French, but this is a book of differences. Chao writes in Guernsey French, English and American English, while bringing in stories of plantation workers in Hawai'i. This multi-vocal book is at once playful and earnest, revealing the complications of deracination by way of its words. Words mean something, but they are also miniature allegories for departure and (at least imagined) return.
Emigre is about islands and the words that emigration obliges us to make into islands."
---
Poetry
Release date: April, 2018
"Lost Lake, which exhibits Li's distinctive use of text and image, consists of eight extended sequences of poetry, collage and photography, on subjects ranging from Dante's Inferno and Steve Reich's Different Trains, to the tomb of Newton and the archives of artist and autodidact Joseph Cornell. Through the eight sequences of Lost Lake, geography and music, history and architecture, works of art and literature, encounter each other in striking and unexpected ways, generating new hybrid objects."
---
~ Picture/Board Books ~
Kaya's Heart Song by Diwa Tharan Sanders, Nerina Canzi (Illustrator)
Picture book
Release date: 3rd of April, 2018
"Let me tell you a secret–if you have a heart song, anything is possible. Even magic!"
Kaya is looking for her heart song–the song that happy hearts sing. Her search takes her on a journey deep into the jungle where a broken down carousel waits for a very special song to make it turn again.
---
You're Safe With Me by Chitra Soundar, Poonam Mistry (Illustrator)
Picture book
Release date: 3rd of April, 2018
"When the moon rises high and the stars twinkle, it is bedtime for the baby animals of the Indian forest. But tonight, when the skies turn dark and the night grows stormy, the little ones can't sleep. SWISH-SWISH! CRACK-TRACK! FLASH-SNAP! goes the storm. Only Mama Elephant with her words of wisdom can reassure them, "You're safe with me."
---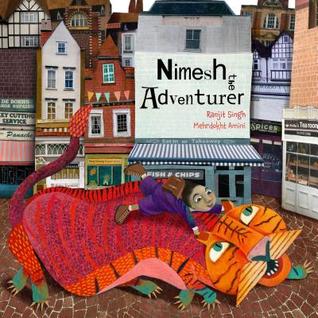 Nimesh the Adventurer by Ranjit Singh
Picture book
Release date: 3rd of April, 2018
"Nimesh is walking home from school. Except…there happens to be a shark in the corridor. And a dragon in the library! And why would crossing the road lead to the North Pole? A fun-filled story about a little boy with a BIG imagination, Nimesh the Adventurer will surely make even the dullest journey a dazzling adventure."
---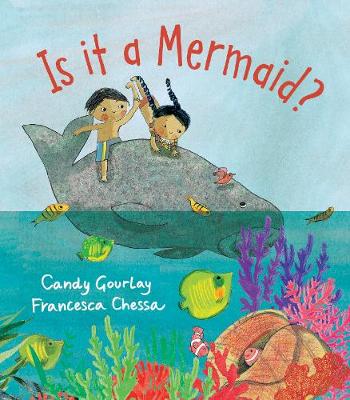 Is it a Mermaid? by Candy Gourlay, Francesca Chessa (Illustrations)
Picture book
Release date: 4th of April, 2018
"When Benjie and Bel find a strange creature on a tropical beach they know it's a dugong. But the dugong insists she is a beautiful mermaid and to prove it, she shows them her mermaid's tail and sings them a mermaid song.
The children aren't convinced but they play with their new friend all the same. When it's time for her to go back to sea, there is one surprise left – could she be a mermaid after all?"
---
Crescent Moons and Pointed Minarets: A Muslim Book of Shapes by Hena Khan, Mehrdokht Amini (Illustrations)
Picture book
Release date: 10th of April, 2018
"From a crescent moon to a square garden to an octagonal fountain, this breathtaking picture book celebrates the shapes—and traditions—of the Muslim world. Sure to inspire questions and observations about world religions and cultures, Crescent Moons and Pointed Minarets is equally at home in a classroom reading circle and on a parent's lap being read to a child."
---
Bhimrao Ambedkar: The Boy Who Asked Why by Sowmya Rajendran, Satwik Gade (Illustrator)
Picture book
Release date: 14th of April, 2018 (New edition)
"The Boy Who Asked Why follows the life of an extraordinary man, 'Babasaheb' Bhimrao Ambedkar, who energised the struggle against caste prejudice. His fiery speeches and writings urged Dalits to protest against the inhumanity they suffered, and continue to suffer. This straightforward telling, visualised with quirky imagination, brings to children a man whose story will raise their awareness of discrimination — leading them, perhaps, to ask their own whys." 
---
Picture book
Release date: 15th of April, 2018
"Did we take more than our due?" 
Weaving his tale around a Gond fable about water, artist Subash Vyam muses on the history of our relationship to this most primeval of elements. A migrant to the city, he recalls growing up in a village where water was always scarce and human ingenuity was welcomed. In contrast to the village, the needs of the city are monstrous and there is a great danger that we will run this resource completely dry. In the end, there is only one way forward: all communities need to make a pact with Nature in order to survive ― or in our mindless push to harness her powers, we might lose our own place in this universe."
---
Ten Cents a Pound by Nhung N. Tran-Davies, Josée Bisaillon (Illustrator)
Picture book
Release date: 18th of April, 2018
"A young girl is torn by her desire to stay home with her family and the familiarity of their village, and her desire to go to school and discover the world beyond the mountains that surround them. Every time the girl insists that she will stay, her mother repeats that she must go—that there is more to life than labor in the coffee fields. Their loving exchange reveals the struggles and sacrifices that they will both have to make for the sake of the young girl's future. The sweet, simple text captures a mother's love and her wish for a life of opportunity for her daughter."
---
Take a Ride by My Side by Jonathan Ying, Victoria Ying (Illustrator) 
"Join Cat and Dog as they travel by bike, boat, plane, and more, and ultimately realize that there's no place quite like home.
With simple, animated rhymes and whimsical illustrations that bring these adorable animals and their adventures to life, brother and sister team Jonathan and Victoria Ying (Not Quite Black and White and Lost and Found, What's That Sound) introduce readers to all different types of vehicles in their third picture book collaboration—a great read-aloud perfect for the youngest picture book audience.
Let's take a trip.
A trip to where?
We'll take a trip from here to there."