The team at Lit CelebrAsian are happy to share new books this month!
A mix of kid-lit, middle-grade, young adult, and adult books are listed below.
Thankful to our Lit CelebrAsian team members: Glaiza and Shenwei for taking the time to research and compile this list.
Note: This is a just a small sample of releases out in February, so let us know what books you're excited for!
---
~ Middle Grade ~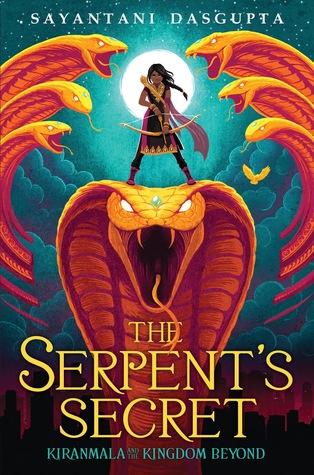 The Serpent's Secret (Kiranmala and the Kingdom Beyond #1) by Sayantani DasGupta
Middle grade fantasy
Release date: 27th of February, 2018
Rep: Indian protagonist
"On the morning of her twelfth birthday, Kiranmala is just a regular sixth grader living in Parsippany, New Jersey… until her parents mysteriously vanish later that day and a rakkhosh demon slams through her kitchen, determined to eat her alive. Turns out there might be some truth to her parents' fantastical stories—like how Kiranmala is a real Indian princess—and a wealth of secrets about her origin they've kept hidden.
To complicate matters, two crushworthy Indian princes ring her doorbell, insisting they're here to rescue her. Suddenly, Kiran is swept into another dimension full of magic, winged horses, moving maps, and annoying, talking birds. There she must solve riddles and slay demons all while avoiding the Serpent King of the underworld (who may or may not want to kill her) and the rakkhosh queen (who definitely does) in order to find her parents and basically save New Jersey, her entire world, and everything beyond it…"
---
Middle grade/young adult contemporary
Release date: 6th of February, 2018
"Hockey is Conor's life. His whole life. He'll say it himself, he's a hockey beast. It's his dad's whole life too—and Conor is sure that's why his stepmom, Jenny, left. There are very few things Conor and his dad love more than the game, and one of those things is their Doberman, Sinbad. When Sinbad is diagnosed with cancer, Conor chooses to put his hockey lessons and practices on hold so they can pay for Sinbad's chemotherapy.
But without hockey to distract him, Conor begins to notice more. Like his dad's crying bouts, and his friend's difficult family life. And then Conor notices one more thing: Without hockey, the one thing that makes him feel special, is he really special at all?"
---
~ Young Adult ~
Young adult contemporary
Release date: 6th of February, 2018
Rep: Taiwanese protagonist
"At seventeen, Mei should be in high school, but skipping fourth grade was part of her parents' master plan. Now a freshman at MIT, she is on track to fulfill the rest of this predetermined future: become a doctor, marry a preapproved Taiwanese Ivy Leaguer, produce a litter of babies.
With everything her parents have sacrificed to make her cushy life a reality, Mei can't bring herself to tell them the truth–that she (1) hates germs, (2) falls asleep in biology lectures, and (3) has a crush on her classmate Darren Takahashi, who is decidedly not Taiwanese.
But when Mei reconnects with her brother, Xing, who is estranged from the family for dating the wrong woman, Mei starts to wonder if all the secrets are truly worth it. Can she find a way to be herself, whoever that is, before her web of lies unravels?"
---
 Down and Across by Arvin Ahmadi
Young adult contemporary
Release date: 6th of February, 2018
Rep: Iranian protagonist
"Scott Ferdowsi has a track record of quitting. Writing the Great American Novel? Three chapters. His summer internship? One week. His best friends know exactly what they want to do with the rest of their lives, but Scott can hardly commit to a breakfast cereal, let alone a passion.
With college applications looming, Scott's parents pressure him to get serious and settle on a career path like engineering or medicine. Desperate for help, he sneaks off to Washington, DC, to seek guidance from a famous professor who specializes in grit, the psychology of success.
He never expects an adventure to unfold out of what was supposed to be a one-day visit. But that's what Scott gets when he meets Fiora Buchanan, a ballsy college student whose life ambition is to write crossword puzzles. When the bicycle she lends him gets Scott into a high-speed chase, he knows he's in for the ride of his life. Soon, Scott finds himself sneaking into bars, attempting to pick up girls at the National Zoo, and even giving the crossword thing a try–all while opening his eyes to fundamental truths about who he is and who he wants to be."
---
 Shadowsong (Wintersong #2) by S. Jae-Jones
Young adult fantasy
Release date: 6th of February, 2018
"Six months after the end of Wintersong, Liesl is working toward furthering both her brother's and her own musical careers. Although she is determined to look forward and not behind, life in the world above is not as easy as Liesl had hoped. Her younger brother Josef is cold, distant, and withdrawn, while Liesl can't forget the austere young man she left beneath the earth, and the music he inspired in her.
When troubling signs arise that the barrier between worlds is crumbling, Liesl must return to the Underground to unravel the mystery of life, death, and the Goblin King—who he was, who he is, and who he will be. What will it take to break the old laws once and for all? What is the true meaning of sacrifice when the fate of the world—or the ones Liesl loves—is in her hands?"
---
 Americanized: Rebel Without a Green Card by Sara Saedi
Young adult memoir
Release date: 6th of February, 2018
"Americanized follows Sara's progress toward getting her green card, but that's only a portion of her experiences as an Iranian-"American" teenager. Sara pivots gracefully from the terrifying prospect that she might be kicked out of the country at any time to the almost-as-terrifying possibility that she might be the only one of her friends without a date to the prom. This moving, often hilarious story is for anyone who has ever shared either fear." 
---
 Dark Goddess (Alpha Goddess #2) by Amalie Howard
Young adult fantasy
Release date: 6th of February, 2018
"After an epic struggle that unseated the Asura Lord of Death and placed Serjana Caelum's best friend, Kyle, on his throne, the Mortal Realm is peaceful and the balance between good and evil—which Sera is sworn to protect—has been restored.
But signs of a new threat to the world of men quickly begin to appear: A scourge of demons descends on the Mortal Realm, and Sera is beside herself trying to locate their source. She sends word to the gods for help, and their answer comes in the form of Kira, the living incarnation of Kali, goddess of destruction.
Stunning and dangerous, Kira plans to protect the heavens at all cost, even if it means destroying the entire Mortal Realm. Soon Sera and Kyle find themselves fighting not just the demon plague, but Kira and her twin. But when an even more sinister threat arises—putting not just the human world but all planes of existence in jeopardy—they must all learn to work together or lose everything they sacrificed so much to save."
---
 The Prince and the Dressmaker by Jen Wang 
Young adult graphic novel
Release date: 13th of February, 2018
"Prince Sebastian is looking for a bride―or rather, his parents are looking for one for him. Sebastian is too busy hiding his secret life from everyone. At night he puts on daring dresses and takes Paris by storm as the fabulous Lady Crystallia―the hottest fashion icon in the world capital of fashion!
Sebastian's secret weapon (and best friend) is the brilliant dressmaker Frances―one of only two people who know the truth: sometimes this boy wears dresses. But Frances dreams of greatness, and being someone's secret weapon means being a secret. Forever. How long can Frances defer her dreams to protect a friend? Jen Wang weaves an exuberantly romantic tale of identity, young love, art, and family. A fairy tale for any age, The Prince and the Dressmaker will steal your heart."
---
Blood of a Thousand Stars (Empress of a Thousand Skies #2) by Rhoda Belleza
Young adult science fiction
Release date: 20th of February, 2018
"Empress: With a revolution brewing, Rhee is faced with a choice: make a deal with her enemy, Nero, or denounce him and risk losing her crown.
Fugitive: Framed assassin Alyosha has one goal in mind: kill Nero. But to get his revenge, Aly may have to travel back to the very place he thought he'd left forever—home.
Princess: Kara knows that a single piece of technology located on the uninhabitable planet Wraeta may be the key to remembering—and erasing—the princess she once was.
Madman: Villainous media star Nero is out for blood, and he'll go to any means necessary to control the galaxy.
Vicious politics and high-stakes action culminate in an epic showdown that will determine the fate of the universe. "
---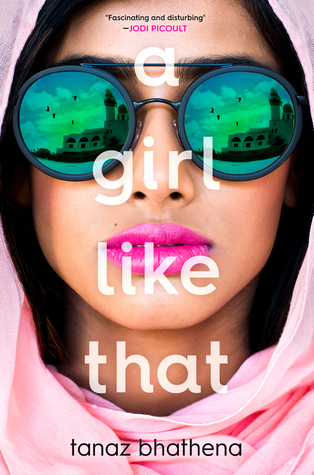 A Girl Like That by Tanaz Bhathena
Young adult contemporary fiction
Release date: 27th of February, 2018
Rep: Indian protagonist
"Sixteen-year-old Zarin Wadia is many things: a bright and vivacious student, an orphan, a risk taker. She's also the kind of girl that parents warn their kids to stay away from: a troublemaker whose many romances are the subject of endless gossip at school.  You don't want to get involved with a girl like that, they say. So how is it that eighteen-year-old Porus Dumasia has only ever had eyes for her? And how did Zarin and Porus end up dead in a car together, crashed on the side of a highway in Jeddah, Saudi Arabia? When the religious police arrive on the scene, everything everyone thought they knew about Zarin is questioned. And as her story is pieced together, told through multiple perspectives, it becomes clear that she was far more than just a girl like that."
---
~ Adult fiction ~
 Call Me Zebra by Azareen Van der Vliet Oloomi
Adult contemporary fiction
Release date: 6th of February, 2018
Rep: Iranian protagonist
"Zebra is the last in a line of anarchists, atheists, and autodidacts. When war came, her family didn't fight; they took refuge in books. Now alone and in exile, Zebra leaves New York for Barcelona, retracing the journey she and her father made from Iran to the United States years ago.
 
Books are Zebra's only companions—until she meets Ludo. Their connection is magnetic; their time together fraught. Zebra overwhelms him with her complex literary theories, her concern with death, and her obsession with history. They push and pull their way across the Mediterranean, wondering with each turn if their love, or lust, can free Zebra from her past."
---
Adult contemporary fiction
Release date: 6th of February, 2018
"When a woman unexpectedly loses her lifelong best friend and mentor, she finds herself burdened with the unwanted dog he has left behind. Her own battle against grief is intensified by the mute suffering of the dog, a huge Great Dane traumatized by the inexplicable disappearance of its master, and by the threat of eviction: dogs are prohibited in her apartment building. But while troubles abound, rich and surprising rewards lie in store for both of them."
---
 The Few by Hakan Günday, Alexander Dawe (Translation)
Adult contemporary fiction
Release date: 6th of February, 2018
Rep: Turkish protagonist
"I am here. Where are you? – These desperate words link the two protagonists of Hakan Gunday's raw and fearless novel The Few. The Few is an unflinching story of the vulnerability of the world's youth when cultures, politics, and generations collide. In a time when countless refugees and children slip through the cracks, it is a powerful admonishment not to forget those who are helpless victims." (TW: human trafficking and abuse).
---
Seventeen by Hideo Yokoyama, Louise Heal Kawai (Translator)
Adult thriller
Release date: 8th of February, 2018
Rep: Japanese protagonist
"1985. Kazumasa Yuuki, a seasoned reporter at the North Kanto Times, runs a daily gauntlet against the power struggles and office politics that plague its newsroom. But when an air disaster of unprecedented scale occurs on the paper's doorstep, its staff are united by an unimaginable horror, and a once-in-a-lifetime scoop.
2002. Seventeen years later, Yuuki remembers the adrenaline-fuelled, emotionally charged seven days that changed his and his colleagues' lives. He does so while making good on a promise he made that fateful week – one that holds the key to its last unsolved mystery, and represents Yuuki's final, unconquered fear."
---
 Ambiguity Machines: and Other stories by Vandana Singh
Adult science fiction
Release date: 13th of February, 2018
"Vandana Singh's deep humanism interplays with her scientific background in stories that explore and celebrate this world and others and characters who are trying to make sense of the people they meet, what they see, and the challenges they face. An eleventh century poet wakes to find he is as an artificially intelligent companion on a starship. A woman of no account has the ability to look into the past. In "Requiem," a major new novella, a woman goes to Alaska to try and make sense of her aunt's disappearance. We think we're all moving together through space and time at the same speed and in the same direction, yet the universe is far stranger than that." 
---
  The Lost Girls of Camp Forevermore by Kim Fu
New adult contemporary fiction
Release date: 13th of February, 2018
"A group of young girls descend on Camp Forevermore, a sleepaway camp in the Pacific Northwest, where their days are filled with swimming lessons, friendship bracelets, and camp songs by the fire. Filled with excitement and nervous energy, they set off on an overnight kayaking trip to a nearby island. But before the night is over, they find themselves stranded, with no adults to help them survive or guide them home."
---
A Dangerous Crossing (Rachel Getty & Esa Khattak #4) by Ausma Zehanat Khan 
Adult mystery
Release date: 13th of February, 2018
Rep: Syrian protagonist
"For Inspector Esa Khattak and Sergeant Rachel Getty, the Syrian refugee crisis is about to become personal. Esa's childhood friend, Nathan Clare, calls him in distress: his sister, Audrey, has vanished from a Greek island where the siblings run an NGO. Audrey had been working to fast-track refugees to Canada, but now, she is implicated in the double-murder of a French Interpol agent and a young man who had fled the devastation in Syria."
---
 Monsters, Animals, and Other Worlds: A Collection of Short Medieval Japanese Tales
Edited by Haruo Shirane and Keller Kimbrough
Collection of supernatural tales
Release date: 13th of February, 2018
"Monsters, Animals, and Other Worlds is a collection of twenty-five medieval Japanese tales of border crossings and the fantastic, featuring demons, samurai, talking animals, amorous plants, and journeys to supernatural realms. The most comprehensive compendium of short medieval Japanese fiction in English, Monsters, Animals, and Other Worlds illuminates a rich world of literary, Buddhist, and visual culture."
---
 Song of a Captive Bird by Jasmin Darznik 
Adult historical fiction
Release date: 13th of February, 2018
Rep: Iranian protagonist
"Forugh's poems are considered both scandalous and brilliant; she is heralded by some as a national treasure, vilified by others as a demon influenced by the West. She perseveres, finding love with a notorious filmmaker and living by her own rules—at enormous cost. But the power of her writing grows only stronger amid the upheaval of the Iranian revolution.
Inspired by Forugh Farrokhzad's verse, letters, films, and interviews—and including original translations of her poems—Jasmin Darznik has written a haunting novel, using the lens of fiction to capture the tenacity, spirit, and conflicting desires of a brave woman who represents the birth of feminism in Iran—and who continues to inspire generations of women around the world."
---
Adult contemporary fiction
Release date: 13th of February, 2018
"An extraordinary debut novel, Freshwater explores the surreal experience of having a fractured self. It centers around a young Nigerian woman, Ada, who develops separate selves within her as a result of being born "with one foot on the other side." Unsettling, heartwrenching, dark, and powerful, Freshwater is a sharp evocation of a rare way of experiencing the world, one that illuminates how we all construct our identities." (TW: SA)
---
 All the Names They Used for God: Stories by Anjali Sachdeva
Short story collection
Release date: 20th of February, 2018
"Anjali Sachdeva's debut collection spans centuries, continents, and a diverse set of characters but is united by each character's epic struggle with fate: A workman in Andrew Carnegie's steel mills is irrevocably changed by the brutal power of the furnaces; a fisherman sets sail into overfished waters and finds a secret obsession from which he can't return; an online date ends with a frightening, inexplicable disappearance." 
---
The Golden Hairpin by Qinghan CeCe, Alex Woodend (Translator)
Adult historical thriller
Release date: 20th of February, 2018
"In ancient China, history, vengeance, and murder collide for a female sleuth.
At thirteen, investigative prodigy Huang Zixia had already proved herself by aiding her father in solving confounding crimes. At seventeen, she's on the run, accused of murdering her family to escape an arranged marriage. Driven by a single-minded pursuit, she must use her skills to unmask the real killer…and clear her name.
But when Huang Zixia seeks the help of Li Shubai, the Prince of Kui, her life and freedom are bargained: agree to go undercover as his eunuch to stop a serial killer and to undo a curse that threatens to destroy the Prince's life.
Huang Zixia's skills are soon tested when Li Shubai's betrothed vanishes. With a distinctively exquisite golden hairpin as her only clue, Huang Zixia investigates—and discovers that she isn't the only one in the guarded kingdom with a dangerous secret."
---
Forbidden by Faith by Negeen Papehn
Adult romance
Release date: 20th of February, 2018
"Sara knows her life would be easier if she married a man of her faith, but when has love ever been easy? 
Raised by her immigrant Iranian parents, she's been taught that a good daughter makes decisions based on her family's approval, and she's spent most of her life in their good graces. Until she meets Maziar, and her world is turned upside down. An instant electricity ignites between them, and it seems like fate when she discovers he's also Iranian. Just as her mind begins to soar with the possibilities, he shatters her hopes. 
Sara is Muslim. Maziar is Jewish. Will faith tear them apart?
Despite centuries of unrest behind them, Sara and Maziar embark on a forbidden love affair, attempting to navigate through cultural and religious prejudices."
---
Of Dogs and Walls by Yūko Tsushima
Short story collection
Release date: 22nd of February
"Though their house was new, the wall had been there a long time.
In these two stories, which have never before been translated into English, Tsushima shows how memories, dreams and fleeting images describe the borders of our lives.
Penguin Modern: fifty new books celebrating the pioneering spirit of the iconic Penguin Modern Classics series, with each one offering a concentrated hit of its contemporary, international flavour." 
---
 On the Far Side of Memory: Short Stories of Lalithambika Antharjanam by Lalithambika Antharjanam, J. Devika (Translator)
Short story collection
Release date: 28th of February
"Lalithambika Antharjanam (1909-1989) was one of the earliest women to gain recognition in modern Malayalam literature as one of the first voices raised on behalf of women. Her works deal with the struggles of the women in her community, their assertion of independence from the men in their lives, and their unease with modern domesticity and community reformism. 
This collection of her twenty-two short stories covers almost the entire span of her writing, from the 1930s to the 1980s. The volume seeks to place her as a feminist public intellectual intervening in the literary and sociopolitical debates of her times, which, of course, change dramatically across the course of the century." 
---
~ Adult Non-fiction ~
We Have Not Stopped Trembling Yet: Letters to My Filipino-Athabascan Family by E.J.R. David
Non-fiction
Release date: 1st of February
"In a series of letters to his mixed-race Koyukon Athabascan family, E. J. R. David shares his struggles, insecurities, and anxieties as a Filipino American immigrant man, husband, and father living in the lands dominated by his family's colonizer. The result is We Have Not Stopped Trembling Yet, a deeply personal and heartfelt exploration of the intersections and widespread social, psychological, and health implications of colonialism, immigration, racism, sexism, intergenerational trauma, and internalized oppression. Their histories underscore and reveal how historical and contemporary oppression has very real and tangible impacts on Peoples across time and generations."
---
 The Queer and Transgender Resilience Workbook: Skills for Navigating Sexual Orientation and Gender Expression by Anneliese Singh
Non-fiction – own voices non-binary
Release date: 2nd of February, 2018
"How can you build unshakable confidence and resilience in a world still filled with ignorance, inequality, and discrimination? The Queer and Transgender Resilience Workbook will teach you how to challenge internalized negative messages, handle stress, build a community of support, and embrace your true self."
---
White Privilege: The Myth of a Post-Racial Society by Kalwant Bhopal
Non-fiction
Release date: 15th of February, 2018
"One of the major features of politics in the past few years has been a renewed attention to race as a driving factor in both politics and everyday life. How, after decades of civil rights activism, do people from black and minority ethnic communities continue to be marginalized? In White Privilege, Kalwant Bhopal draws on social science research and political and economic analysis to show how people from black and minority backgrounds are continually positioned as outsiders in public discourse and interpersonal interaction."
---
Secrets We Kept: Three Women of Trinidad by Krystal A. Sital
Memoir
Release date: 20th of February, 2018
"There, in a lush landscape of fire-petaled immortelle trees and vast plantations of coffee and cocoa, where the three hills along the southern coast act as guardians against hurricanes, Krystal A. Sital grew up idolizing her grandfather, a wealthy Hindu landowner. Years later, to escape crime and economic stagnation on the island, the family resettled in New Jersey, where Krystal's mother works as a nanny, and the warmth of Trinidad seems a pretty yet distant memory. But when her grandfather lapses into a coma after a fall at home, the women he has terrorized for decades begin to speak, and a brutal past comes to light."
---
The Future of Humanity: Terraforming Mars, Interstellar Travel, Immortality, and Our Destiny Beyond by Michio Kaku
Non-fiction
Release date: 20th of February, 2018
"World-renowned physicist and futurist Michio Kaku explores in rich, accessible detail how humanity might gradually develop a sustainable life in outer space. With his trademark storytelling verve, Kaku shows us how science fiction is becoming reality: mind-boggling developments in robotics, nanotechnology, and biotechnology could enable us to build habitable cities on Mars; nearby stars might be reached by microscopic spaceships sailing through space on laser beams; and technology might one day allow us to transcend our physical bodies entirely."
---
The Chinese Must Go: Violence, Exclusion, and the Making of the Alien in America by Beth Lew-Williams
Non-fiction
Release date: 26th of February, 2018
"The American West erupted in anti-Chinese violence in 1885. Following the massacre of Chinese miners in Wyoming Territory, communities throughout California and the Pacific Northwest harassed, assaulted, and expelled thousands of Chinese immigrants. Beth Lew-Williams shows how American immigration policies incited this violence and how the violence, in turn, provoked new exclusionary policies. Ultimately, Lew-Williams argues, Chinese expulsion and exclusion produced the concept of the "alien" in modern America."
---
~ Poetry ~
 The Uncommon Feast by Eileen Chong
Poetry + Prose
Release date: 1st of February
"In The Uncommon Feast, Eileen Chong gives us a collection of poetry, essays and recipes that remark on how food has shaped her life, her way of understanding her world, and the world of connections with those around her. For Chong, food is an act of sharing and an act of generosity. Here, she shares with you a collection of her poems on food, essays that chart the meaning of food and poetry in her life, and even a secret recipe or two. Includes illustrations by Colin Cassidy."
---
The Spiritual Poems of Rumi by Jalaluddin Mevlana Rumi – مولوی, Nader Khalili (Translation)
Poetry
Release date: 13th of February
"For more than eight centuries, Persian mystic poet and Sufi master Jalaloddin Mohammed Balkhi Rumi—commonly referred to as simply Rumi—has enchanted and enthralled readers from every faith and background with his universal themes of love, friendship, and spirituality, which he seamlessly wove into evanescent poetry. Translated by renown Rumi expert Nader Khalili, over 120 poems—including twenty-one previously unpublished—have been carefully collected and curated in this beautifully illustrated edition."
---
Poetry
Release date: 15th of February
"This is a debut collection that confronts and questions parts of love from the viewpoint of one within a relationship that is not at its end. The poet looks directly at all the hopes, self-deceptions and the wishes, concessions, and complicities and emerges triumphant."
---
 The Undressing: Poems by Li-Young Lee
Poetry
Release date: 20th of February
"The Undressing attempts to uncover things hidden since the dawn of the world. Short of achieving that end, these mysterious, unassuming poems investigate the human violence and dispossession increasingly prevalent around the world, as well as the horrors the poet grew up with as a child of refugees. "
---
~ Picture/Board Books ~
Childrens Board Book
Release date: 13th of February, 2018
"Experience Holi with every color of the rainbow! This Hindu celebration known as the festival of colors and the festival of love signifies the end of winter, the arrival of spring and the victory of good over evil. A time to laugh, play, visit friends and get messy! Little ones will love exploring the colors of Holi through the vibrant photographs and Singh's playful rhymes in this brilliant concept book."
---
 Tales of India: Folk Tales from Bengal, Punjab, and Tamil Nadu by Svabhu Kohli & Viplov Singh 
Childrens Picture Book
Release date: 27th of February, 2018
"A shape-shifting tiger and a pretentious rat.
A generous goddess and a powerful demon.
A clever princess and a prince who returns from the dead.
This collection of 16 traditional tales transports readers to the beguiling world of Indian folklore. Transcribed by Indian and English folklorists in the nineteenth century, these stories brim with wit and magic. Fans of fairy tales will encounter familiar favorites—epic quests and talking animals—alongside delightful surprises—an irreverent sense of humor and an array of bold, inspiring heroines. This special gift edition features an embossed, textured case and a ribbon marker, and each tale comes alive alongside exquisite artwork by a pair of contemporary Indian artists."
---
*List compiled by Lit CelebrAsian team members: Glaiza and Shenwei 
*In case you missed it, check out the January Book Releases.
*We're reading You Bring The Distant Near by Mitali Perkins for our February and March book club and chat, so join us!
*February is also Black History Month in the US, so definitely check out #BlackHistoryMonth for more books!