We'll be introducing the two books up for the vote below. Head over to our Twitter poll to choose which book you'd like to read!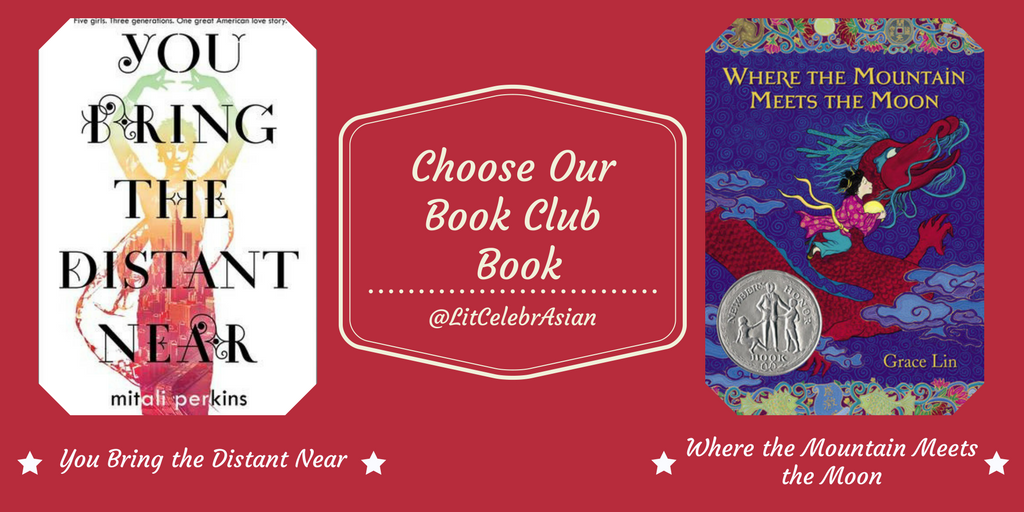 Where the Mountain Meets the Moon by Grace Lin
'This stunning fantasy is inspired by Chinese folklore. 

In the valley of Fruitless mountain, a young girl named Minli lives in a ramshackle hut with her parents. In the evenings, her father regales her with old folktales of the Jade Dragon and the Old Man on the Moon, who knows the answers to all of life's questions. Inspired by these stories, Minli sets off on an extraordinary journey to find the Old Man on the Moon to ask him how she can change her family's fortune. She encounters an assorted cast of characters and magical creatures along the way, including a dragon who accompanies her on her quest for the ultimate answer.'
You Bring the Distant Near by Mitali Perkins
Five girls. Three generations. One great American love story. You Bring the Distant Near explores sisterhood, first loves, friendship, and the inheritance of culture–for better or worse. Ranee, worried that her children are losing their Indian culture; Sonia, wrapped up in a forbidden biracial love affair; Tara, seeking the limelight to hide her true self; Shanti, desperately trying to make peace in the family; Anna, fighting to preserve her Bengali identity–award-winning author Mitali Perkins weaves together a sweeping story of five women at once intimately relatable and yet entirely new.
Book poll closes in 3 days, so vote soon!