Bookmark November with some upcoming books!
The team at Lit CelebrAsian are excited to share a few November releases to bookmark. We hope to pick up a few in the near future too.
Thankful to our Lit CelebrAsian team members: Glaiza and Shenwei for taking the time to research and compile this list.
Note: The following list is just a small sample of releases out in November, so let us know what books you're excited for!
---
The Travelling Cat Chronicles by Hiro Arikawa, Philip Gabriel (Translator)
Contemporary fiction
Release date: 2nd of November, 2017
Rep: Japanese protagonist
"Nana, a cat, is devoted to Satoru, his owner. So when Satoru decides to go on a roadtrip one day to find him a new home, Nana is perplexed. They visit Satoru's old friends from his school days and early youth. His friends may have untidy emotional lives but they are all animal lovers, and they also wonder why Satoru is trying to give his beloved cat away. Until the day Nana suddenly understands a long-held secret about his much-loved owner, and his heart begins to break. Narrated in turns by Nana and by his owner, this funny, uplifting, heartrending story of a cat is nothing if not profoundly human."
---
poems for the sound of the sky before thunder by Topaz Winters 
Poetry
Release date: 4th of November, 2017
"A collection that tiptoes the infinitely blurred lines between hurting, hoping, & healing. It speaks of sleepless nights & softened tongues, telling a story dreaming & bone-bright & out of focus in the rain. These poems are only as much for losing as they are for finding, only as much for despair as they are for the light scattered within it, only as much for leaving as they are for finally coming home."
---
 'Others' Is Not A Race by Melissa De Silva
Contemporary fiction + non-fiction
Release date: 5th of November, 2017
Rep: Eurasian protagonist
"What does it mean to be a Eurasian living in Singapore? 'Others' Is Not A Race is a tapestry that weaves together the multiple genres of narrative fiction, creative nonfiction, literary food writing and family memoir, to offer insight into the micro-minority Eurasian community through the intensely personal lens of the writer's own experience living and growing up as a Eurasian in Singapore. Throughout are interwoven the themes of memory, loss, language, identity and cultural reclamation."
---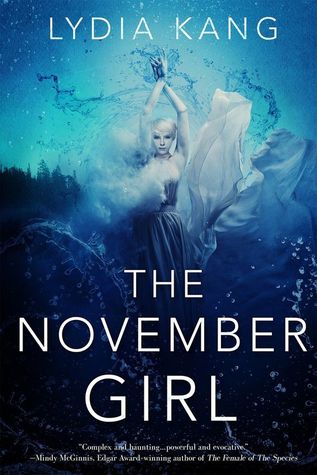 The November Girl by Lydia Kang
Young adult fantasy
Release date: 7th of November, 2017
"I am Anda, and the lake is my mother. I am the November storms that terrify sailors and sink ships. With their deaths, I keep my little island on Lake Superior alive.
Hector has come here to hide from his family until he turns eighteen. Isle Royale is shut down for the winter, and there's no one here but me. And now him.
Hector is running from the violence in his life, but violence runs through my veins. I should send him away, to keep him safe. But I'm half human, too, and Hector makes me want to listen to my foolish, half-human heart. And if I do, I can't protect him from the storms coming for us."
---
The Speaker (Sea of Ink and Gold #2) by Traci Chee
Young adult fantasy
Release date: 7th of November, 2017
"Having barely escaped the clutches of the Guard, Sefia and Archer are back on the run, slipping into the safety of the forest to tend to their wounds and plan their next move. Haunted by painful memories, Archer struggles to overcome the trauma of his past with the impressors, whose cruelty plagues him whenever he closes his eyes. But when Sefia and Archer happen upon a crew of impressors in the wilderness, Archer finally finds a way to combat his nightmares: by hunting impressors and freeing the boys they hold captive.
With Sefia's help, Archer travels across the kingdom of Deliene rescuing boys while she continues to investigate the mysterious Book and secrets it contains. But the more battles they fight, the more fights Archer craves, until his thirst for violence threatens to transform him from the gentle boy Sefia knows to a grim warrior with a cruel destiny."
---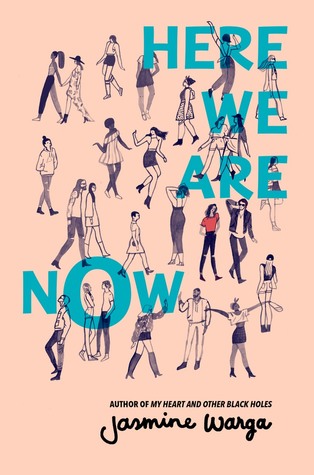 Here We Are Now by Jasmine Warga
Young adult contemporary
Release date: 7th of November, 2017
Rep:  Arab-American protagonist
"Despite sending him letters ever since she was thirteen, Taliah Abdallat never thought she'd ever really meet Julian Oliver. But one day, while her mother is out of the country, the famed rock star from Staring Into the Abyss shows up on her doorstep. This makes sense – kinda – because Julian Oliver is Taliah's father, even though her mother would never admit it to her.
Julian asks if Taliah if she will drop everything and go with him to his hometown of Oak Falls, Indiana, to meet his father – her grandfather – who is nearing the end of his life. Taliah, torn between betraying her mother's trust and meeting the family she has never known, goes."
---
Rosemarked by Livia Blackburne
Young adult fantasy
Release date: 7th of November, 2017
"A healer who cannot be healed . . .
When Zivah falls prey to the deadly rose plague, she knows it's only a matter of time before she fully succumbs. Now she's destined to live her last days in isolation, cut off from her people and unable to practice her art—until a threat to her village creates a need that only she can fill.
A soldier shattered by war . . .
Broken by torture at the hands of the Amparan Empire, Dineas thirsts for revenge against his captors. Now escaped and reunited with his tribe, he'll do anything to free them from Amparan rule—even if it means undertaking a plan that risks not only his life but his very self."
---
Adult fantasy
Release date: 7th of November, 2017
"Magical jade—mined, traded, stolen, and killed for—is the lifeblood of the island of Kekon. For centuries, honorable Green Bone warriors like the Kaul family have used it to enhance their abilities and defend the island from foreign invasion. 
Now the war is over and a new generation of Kauls vies for control of Kekon's bustling capital city. They care about nothing but protecting their own, cornering the jade market, and defending the districts under their protection. Ancient tradition has little place in this rapidly changing nation."
---
The Infinite Library and Other Stories by Victor Fernando R. Ocampo
Adult science/speculative fiction
Release date: 7th of November, 2017
Rep:  Filipino protagonist
"A boy creates monsters from nanotech clay and programs them by reciting stories. A young woman finds the secret to save their doomed generation ship inside a children's primer. Residents of Bukit Batok face a slow-motion disaster that threatens to turn them into living mathematical equations. Three Filipino siblings enter a black hole to save humanity from an enemy that uses words as weapons.
The seventeen stories in this loosely-connected collection push the limits of form and trope, from realism to genre and experimental fiction. All speak of the unease of being between two worlds, of not quite fitting in, and also of the comfort of words and books, which illuminate our way through the darkness."
---
Adult contemporary/mystery
Release date: 7th of November, 2017
Rep: Biracial Korean-American protagonist (Caryn)
"At Windemere School for Girls, one of America's elite private schools, Dr. Gregory Copeland is the beloved chair of the English Department. A married father with a penchant for romantic poetry—and impressionable teenage girls—he operates in plain sight for years, until one of his former students goes public with allegations of inappropriate conduct. With the help of an investigative journalist, and two additional Windemere alumnae who had relationships with Copeland as students, the unlikely quartet unites to take him down." (TW: harassment, rape)
---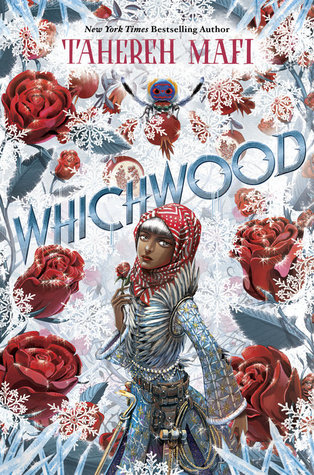 Young adult fantasy
Release date: 14th of November, 2017
Rep: Persian inspired fantasy
"Laylee can barely remember the happier times before her beloved mother died. Before her father, driven by grief, lost his wits (and his way). Before she was left as the sole remaining mordeshoor in the village of Whichwood, destined to spend her days washing the bodies of the dead and preparing their souls for the afterlife. It's become easy to forget and easier still to ignore the way her hands are stiffening and turning silver, just like her hair, and her own ever-increasing loneliness and fear.
But soon, a pair of familiar strangers appears, and Laylee's world is turned upside down as she rediscovers color, magic, and the healing power of friendship."
---
Invocation to Daughters by Barbara Jane Reyes
Poetry
Release date: 14th of November, 2017
"Feminist experimental poetry in the tradition of Audre Lorde and Theresa Hak Kyung Cha from a prominent Filipina American poet."
---
I Wore My Blackest Hair by Carlina Duan 
Poetry
Release date: 14th of November, 2017
"Carlina Duan delivers an electric debut collection of poetry. With defiance and wild joy, Duan's poems wrestle with and celebrate ancestry and history, racial consciousness, and the growing pains of girlhood. I Wore My Blackest Hair is an honest portrait of a woman in-between—identities, places, languages, and desires—and her quest to belong." 
---
Poetry
Release date: 16th of November, 2017
"They have lightning in their souls, thunder in their hearts, chaos in their bones.
Nikita Gill's poetry has captured hearts and minds all over the world; her inspirational words have been shared hundreds of thousands of times online. This collection will showcase mostly unseen poetry and prose, delving into ideas about passion, identity, and empowerment." 
---
The Years, Months, Days by Yan Lianke, Carlos Rojas (Translator)
Adult contemporary fiction
Release date: 27th of November, 2017
Rep: Chinese protagonist
"The Years, Months, Days is a profound and moving fable about the deep love between an old man and his blind dog trying to survive in a terrible drought—there is no food, the villagers have left, but the old man has managed to nurture a corn seed that has germinated on a mountain top. He is devoted to this seedling.
The old man weighs the rays of the sun, working out the arithmetic of starvation and survival. Finally he realises that for his plant to survive, one of them has to be fertiliser. He loses the coin toss, lies in a grave he has dug and asks the dog to bury him."
---
Phoenix Descending (Curse of the Phoenix #1) by Dorothy Dreyer
Young adult fantasy
Release date: 28th of November, 2017
Since the outbreak of the phoenix fever in Drothidia, Tori Kagari has already lost one family member to the fatal disease. Now, with the fever threatening to wipe out her entire family, she must go against everything she believes in order to save them—even if that means making a deal with the enemy.
When Tori agrees to join forces with the unscrupulous Khadulians, she must take on a false identity in order to infiltrate the queendom of Avarell and fulfill her part of the bargain, all while under the watchful eye of the unforgiving Queen's Guard. But time is running out, and every lie, theft, and abduction she is forced to carry out may not be enough to free her family from death.
---
State of Emergency by Jeremy Tiang
Adult contemporary fictiom
Release date: November, 2017 (UK)
"Jeremy Tiang's debut novel dives into the tumultuous days of leftist movements and political detentions in Singapore and Malaysia. It follows an extended family from the 1940s to the present day as they navigate the choppy political currents of the region. What happens when the things that divide us also bind us together?"
---
Adult urban fantasy
Release date: 28th of November, 2017
"Indelbed is a lonely kid living in a crumbling mansion in the super dense, super chaotic capital Of Bangladesh. His father, Dr. Kaikobad, is the black sheep of their clan, the once illustrious Khan Rahman family. A drunken loutish widower, he refuses to allow Indelbed go to school.
But When Dr. Kaikobad falls into a supernatural coma, Indelbed and his older cousin, the wise-cracking slacker Rais, learn that Indelbed's dad was in fact a magician—and a trusted emissary to the djinn world. And the Diinns, as it turns out, are displeased. A "hunt" has been announced, and ten year-old Indelbed is the prey. Still reeling from the fact that genies actually exist, Indelbed finds himself on the run. Soon, the boys are at the center of a great Diinn controversy, one tied to the continuing fallout from an ancient war, with ramifications for the future of life as we know it." 
---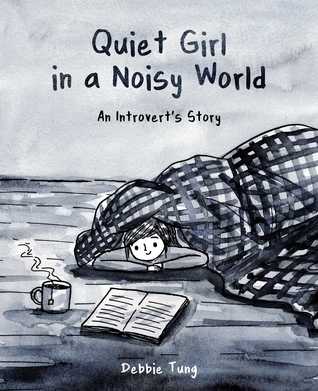 Quiet Girl in a Noisy World: An Introvert's Story by Debbie Tung 
Graphic novel memoir
Release date: 30th of November, 2017
"This illustrated gift book of short comics illuminates author Debbie Tung's experience as an introvert in an extrovert's world. Presented in a loose narrative style that can be read front to back or dipped into at one's leisure, the book spans three years of Debbie's life, from the end of college to the present day. In these early years of adulthood, Debbie slowly but finally discovers there is a name for her lifelong need to be alone: she's an introvert."
---
*List compiled by Lit CelebrAsian team members: Glaiza and Shenwei 
*Share this list via Lit CelebrAsian's Twitter!
*In case you missed it, check out the October Book Releases too.
*We're hosting our first book club chat for Rebel Seoul by Axie Oh on November 25-26, so join us via #AsianLitChat!
---
*November is also #NativeAmericanHeritageMonth, so visit American Indians in Children's Literature, #NativeReads books list, and the #NativeReads hashtag for more books!