For Halloween, we've shared a few supernatural, mystery, thriller and horror stories by Asian authors.
Feel free to recommend more books!
Middle grade, young adult and adult books are marked below.
Note: Beyond this list, there are amazing genre works by Asian authors based in Asia, so if you are based in Asia, definitely check out local publishers.
Thankful to our Lit CelebrAsian team members: Aentee, Glaiza, Shenwei, Sinead, and Wendy for taking the time to research and compile this list.
Note: For the books we've read, we've included content/trigger warnings but if we've missed warnings for any of the books, let us know below and we'll add them.
---
~ Middle Grade ~
Middle grade paranormal/horror
"Harper doesn't trust her new home from the moment she steps inside, and the rumors are that the Raine family's new house is haunted. Harper isn't sure she believes those rumors, until her younger brother, Michael, starts acting strangely. The whole atmosphere gives Harper a sense of déjà vu, but she can't remember why. She knows that the memories she's blocking will help make sense of her brother's behavior and the strange and threatening sensations she feels in this house, but will she be able to put the pieces together in time?"
---
Paris Pan Takes the Dare by Cynthea Liu
Middle-grade mystery
"So what if it's a rite of passage for every seventh grade girl in town to spend a night in the woods? Paris Pan only just moved here, the woods are super creepy, and she has enough weirdness to deal with in her own family. Finding out a girl died mysteriously years ago while on the Dare-right near Paris's new house, no less-is bad enough, but the unmistakably ghost like noises coming out of the broken-down shed at the edge of the Pan's property? Definite deal breaker.
All Paris wants is to make friends, try to fit in, and not have to deal with a dead girl. But everyone has to take the Dare, and the new girl's turn is up. . ."
---
 Suee and the Shadow by Ginger Ly, Molly Park (Illustrator)
Middle grade paranormal graphic novel
"Meet Suee: Twelve years old, wears her hair to the left in a point, favors a black dress, has no friends—and she likes it that way! When Suee transfers to the dull and ordinary Outskirts Elementary, she doesn't expect to hear a strange voice speaking to her from the darkness of the school's exhibit room, and she certainly doesn't expect to see her shadow come to life. Then things start to get really weird: One by one, her classmates at school turn into zombie-like, hollow-eyed Zeroes. While Suee investigates why this is happening, her shadow gains power."
---
Middle grade fantasy
"In the village of Huanan, in medieval China, the deity that rules is the Great Huli Jing. Though twelve-year-old Li Jing's name is a different character entirely from the Huli Jing, the sound is close enough to provide constant teasing-but maybe is also a source of greater destiny and power. Jing's life isn't easy. Her father is a poor tea farmer, and her family has come to the conclusion that in order for everyone to survive, Jing must be sacrificed for the common good.
She is sold as a bride to the Koh family, where she will be the wife and nursemaid to their three-year-old son, Ju'nan. It's not fair, and Jing feels this bitterly, especially when she is treated poorly by the Koh's, and sold yet again into a worse situation that leads Jing to believe her only option is to run away, and find home again. With the help of a spider who weaves Jing a means to escape, and a nightingale who helps her find her way, Jing embarks on a quest back to Huanan–and to herself."
(CW/TW: abuse/harsh physical punishment.)
---
~ Young Adult ~
Young adult urban fantasy
"From Sami Shah comes Fire Boy, the first of a two-part urban fantasy set in modern-day Pakistan, where djinns roam the street. Growing up in Karachi isn't easy. Wahid has a lot on his mind: the girl he likes, mostly, but also choosing a good university and finding time to play Dungeons and Dragons. Oh, and the fact that he can see djinns, other-worldly creatures made of a smokeless and scorching fire. After a horrific car accident kills his best friend and djinns steal his girlfriend's soul, Wahid vows to find out why. Fortunately, he has help in finding the djinns that tried to kill him. Unfortunately, that help is from the darkest of all spirits, the Devil himself …"
(CW: torture, graphic death.)
---
Anna Dressed in Blood by Kendare Blake
Young adult urban fantasy
"Cas Lowood has inherited an unusual vocation: He kills the dead. Searching for a ghost the locals call Anna Dressed in Blood, Cas expects the usual: track, hunt, kill. What he finds instead is a girl entangled in curses and rage, a ghost like he's never faced before. She still wears the dress she wore on the day of her brutal murder in 1958: once white, now stained red and dripping with blood. Since her death, Anna has killed any and every person who has dared to step into the deserted Victorian she used to call home. Yet she spares Cas's life."
---
Young adult fantasy
"Lush with details from Chinese folklore, SERPENTINE tells the coming of age story of Skybright, a young girl who worries about her growing otherness. As she turns sixteen, Skybright notices troubling changes. By day, she is a companion and handmaid to the youngest daughter of a very wealthy family. But nighttime brings with it a darkness that not even daybreak can quell.
When her plight can no longer be denied, Skybright learns that despite a dark destiny, she must struggle to retain her sense of self – even as she falls in love for the first time."
---
The Girl from the Well by Rin Chupeco
Young adult fantasy
"Okiku is a lonely soul. She has wandered the world for centuries, freeing the spirits of the murdered-dead. Once a victim herself, she now takes the lives of killers with the vengeance they're due. But releasing innocent ghosts from their ethereal tethers does not bring Okiku peace. Still she drifts on.
Such is her existence, until she meets Tark. Evil writhes beneath the moody teen's skin, trapped by a series of intricate tattoos. While his neighbors fear him, Okiku knows the boy is not a monster. Tark needs to be freed from the malevolence that clings to him. There's just one problem: if the demon dies, so does its host."
---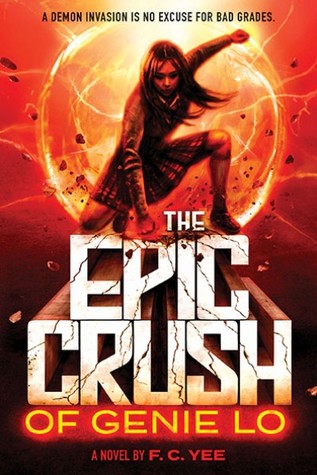 The Epic Crush of Genie Lo by F.C Yee
Young adult urban fantasy
"Genie Lo is one among droves of Ivy-hopeful overachievers in her sleepy Bay Area suburb. But when her hometown comes under siege from hellspawn straight out of Chinese folklore, her priorities are dramatically rearranged. Enter Quentin Sun, a mysterious new kid in class who becomes Genie's self-appointed guide to battling demons. While Genie knows Quentin only as an attractive transfer student with an oddly formal command of the English language, in another reality he is Sun Wukong, the mythological Monkey King incarnate—right down to the furry tale and penchant for peaches.
Suddenly, acing the SATs is the least of Genie's worries. The fates of her friends, family, and the entire Bay Area all depend on her summoning an inner power that Quentin assures her is strong enough to level the very gates of Heaven. But every second Genie spends tapping into the secret of her true nature is a second in which the lives of her loved ones hang in the balance."
---
The Ghost Bride by Yangsze Choo
Young adult historical fantasy
"Though ruled by British overlords, the Chinese of colonial Malaya still cling to ancient customs. And in the sleepy port town of Malacca, ghosts and superstitions abound.
Li Lan, the daughter of a genteel but bankrupt family, has few prospects. But fate intervenes when she receives an unusual proposal from the wealthy and powerful Lim family. They want her to become a ghost bride for the family's only son, who recently died under mysterious circumstances. Rarely practiced, a traditional ghost marriage is used to placate a restless spirit. Such a union would guarantee Li Lan a home for the rest of her days, but at a terrible price."
---
Young adult fantasy
'When the dead begin speaking to sixteen-year-old Kim Nguyen, her peaceful childhood is over. Suddenly everyone wants to exploit her new talent – her family, the Vietnamese government and even the spirits themselves. THE OTHER SHORE is a delicate meditation on the nature of ghosts, belief and how the future is shaped by the past. Winner of the 2014 Viva La Novella prize."
(CW: graphic death, reference to rape.)
---
 The Astrologer's Daughter by Rebecca Lim 
Young adult contemporary
"Avicenna Crowe's mother, Joanne, is an astrologer with uncanny predictive powers and a history of being stalked. Now she is missing.
The police are called, but they're not asking the right questions. Like why Joanne lied about her past, and what she saw in her stars that made her so afraid. But Avicenna has inherited her mother's gift. Finding an unlikely ally in the brooding Simon Thorn, she begins to piece together the mystery. And when she uncovers a link between Joanne's disappearance and a cold-case murder, Avicenna is led deep into the city's dark and seedy underbelly, unaware of how far she is placing her own life in danger."
(CW: ableist language, reference to a rape case.)
---
Young adult fantasy
"The beast raged; it punctured the air with its spite. But the girl was fiercer. Tea's gift for necromancy makes her a bone witch, who are feared and ostracized in the kingdom. Great power comes at a price, forcing Tea to leave her homeland to train under the guidance of an older, wiser bone witch. There, Tea puts all of her energy into becoming an asha, learning to control her elemental magic and those beasts who will submit by no other force. And Tea must be strong—stronger than she even believes possible. Because war is brewing in the eight kingdoms, war that will threaten the sovereignty of her homeland…and threaten the very survival of those she loves."
---
 The Gate of Sorrows by Miyuki Miyabe, Jim Hubbert (Translation)
New/young adult mystery/fantasy
"A series of murders shocks Tokyo's Shinjuku ward, but Shigenori, a retired police detective, is instead obsessed with a gargoyle that seems to move. College freshman Kotaro launches a web-based investigation of the killer, and comes to find that answers may lie within an abandoned building in the center of Japan's busiest neighborhood, and beyond the Gate of Sorrows. In this New Adult sequel to Miyabe's The Book of Heroes, you will meet monsters from other worlds and ordinary horrors that surpass even supernatural threats."
(TW: abuse)
---
~ Adult ~
Adult fantasy/horror
"On a cool evening in Kolkata, India, beneath a full moon, as the whirling rhythms of traveling musicians fill the night, college professor Alok encounters a mysterious stranger with a bizarre confession and an extraordinary story. Tantalized by the man's unfinished tale, Alok will do anything to hear its completion. So Alok agrees, at the stranger's behest, to transcribe a collection of battered notebooks, weathered parchments, and once-living skins.
From these documents spills the chronicle of a race of people at once more than human yet kin to beasts, ruled by instincts and desires blood-deep and ages-old. The tale features a rough wanderer in seventeenth-century Mughal India who finds himself irrevocably drawn to a defiant woman—and destined to be torn asunder by two clashing worlds. With every passing chapter of beauty and brutality, Alok's interest in the stranger grows and evolves into something darker and more urgent."
(TW: rape)
---
 Water Ghosts by Shawna Yang Ryan
Adult historical fiction
"Locke, California, 1928. Three bedraggled Chinese women appear out of the mist in a small Chinese farming town on the Sacramento River. Two are unknown to its residents, while the third is the long-lost wife of Richard Fong, the handsome manager of the local gambling parlor. As the lives of the townspeople become inextricably intertwined with the newly arrived women, their frightening power is finally revealed.
A lyrical imagining of what happens when a Chinese ghost story comes true, Water Ghosts is a rich tale of human passions and mingling cultures that will appeal to readers of Lisa See, Anchin Min, and Gail Tsukiyama."
---
 A Small Charred Face by Kazuki Sakuraba, Jocelyne Allen (Translation)
Adult fantasy/parnormal
"Even monsters need families.
What are the "bamboo"?
They are from China.
They look just like us.
They live by night.
They drink human lifeblood, but otherwise keep their distance.
And every century, they grow white blooming flowers.
A boy name Kyo is saved from the precipice of death by Bamboo, a vampire born of the tall grasses. They start an enjoyable, yet strange shared life together, Kyo and the gentle Bamboo. But for Bamboo, communication with a human being is the greatest sin."
---
The Djinn Falls in Love and Other Stories edited by Mahvesh Murad and Jared Shurin
Adult fantasy
"Imagine a world filled with fierce, fiery beings, hiding in our shadows, in our dreams, under our skins. They are monsters, saviours, victims, childhood friends.
Some have called them genies: these are the Djinn. And they are everywhere. On street corners, behind the wheel of a taxi, in the chorus, between the pages of books. Every language has a word for them. Every culture knows their traditions. Every religion, every history has them hiding in their dark places. There is no part of the world that does not know them."
---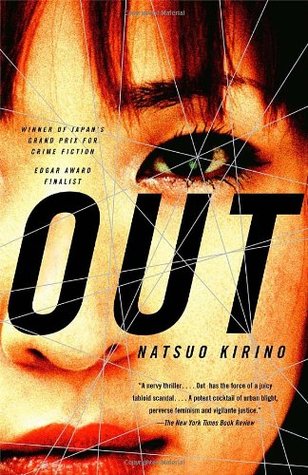 Out by Natsuo Kirino, Stephen Snyder (Translator)
Adult thriller/horror
"Natsuo Kirino's novel tells a story of random violence in the staid Tokyo suburbs, as a young mother who works a night shift making boxed lunches brutally strangles her deadbeat husband and then seeks the help of her co-workers to dispose of the body and cover up her crime.
The ringleader of this cover-up, Masako Katori, emerges as the emotional heart of Out and as one of the shrewdest, most clear-eyed creations in recent fiction. Masako's own search for a way out of the straitjacket of a dead-end life leads her, too, to take drastic action."
(TW: graphic rape, graphic murder.)
---
The Vishakanya's Choice by Roshani Chokshi
Adult historical fantasy
"Who would you be if you had a choice? What would you do?
Early in her life, Sudha's fate was divined to be a lonely, fruitless future of young widowhood. So, it was considered a blessing when she was brought to the Hastinapur harem to become a vishakanya–a weapon, an assassin, a poison maiden whose very touch is toxic.
Sudha has never had a choice, has never known anything except the cold beauty of the harem's stone walls.
After years of living in isolation with her vishakanya sisters, Sudha is given her first mission: to end the life of a great man. Someone who, unlike her, leads a life full of glittering Choices fit for an emperor.
In their fateful encounter, a vishakanya meets a conqueror and a weapon creates a legend."
---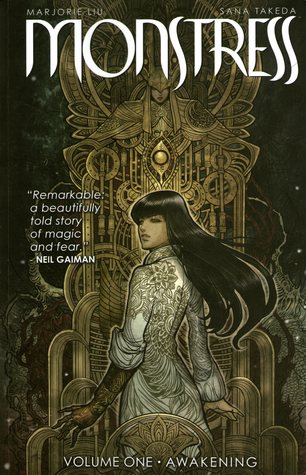 Monstress by Marjorie M. Liu and Sana Takeda (Illustrator)
Adult fantasy graphic novel
"Set in an alternate matriarchal 1900's Asia, in a richly imagined world of art deco-inflected steam punk, MONSTRESS tells the story of a teenage girl who is struggling to survive the trauma of war, and who shares a mysterious psychic link with a monster of tremendous power, a connection that will transform them both and make them the target of both human and otherworldly powers."
(CW: PTSD, slavery.)
---
 Man Tiger by Eka Kurniawan, Labodalih Sembiring (Translator)
Adult historical/literary fiction
"A wry, affecting tale set in a small town on the Indonesian coast, Man Tiger tells the story of two interlinked and tormented families and of Margio, a young man ordinary in all particulars except that he conceals within himself a supernatural female white tiger. The inequities and betrayals of family life coalesce around and torment this magical being. An explosive act of violence follows, and its mysterious cause is unraveled as events progress toward a heartbreaking revelation."
(TW: rape, domestic abuse.)
---
When Fox is a Thousand by Larissa Lai
Adult historical fantasy
"When Fox is a Thousand is a lyrical, magical novel, rich with poetry and folklore and elements of the fairytale. Larissa Lai interweaves three narrative voices and their attendant cultures: an elusive fox growing toward wisdom and her 1000 birthday, the ninth-century Taoist poet/nun Yu Hsuan-Chi (a real person executed in China for murder), and the oddly named Artemis, a young Asian-American woman living in contemporary Vancouver."
---
 Revenge by Yōko Ogawa, Stephen Snyder (translator)
Adult horror/thriller
"Sinister forces draw together a cast of desperate characters in this eerie and absorbing novel from Yoko Ogawa.
An aspiring writer moves into a new apartment and discovers that her landlady has murdered her husband. Years later, the writer's stepson reflects upon his stepmother and the strange stories she used to tell him. Meanwhile, a surgeon's lover vows to kill him if he does not leave his wife. Before she can follow-through on her crime of passion, though, the surgeon will cross paths with another remarkable woman, a cabaret singer whose heart beats delicately outside of her body. But when the surgeon promises to repair her condition, he sparks the jealousy of another man who would like to preserve the heart in a custom tailored bag. Murderers and mourners, mothers and children, lovers and innocent bystanders—their fates converge in a darkly beautiful web that they are each powerless to escape."
(TW: rape)
---
Adult urban fantasy
"Being an ex-teen vigilante comes with its own set of problems.
Housewife, ex-teen vigilante…and shape-shifting wolf…Jan Xu has enough problems without adding her sister's to the mix. Marianne is returning to Singapore and she's filled with strange ideas. She's also not alone. She's coming home with a new boyfriend who has a dark agenda of his own.
With sibling rivalry threatening the inevitable: a battle-to-the-death with fang and claw, Jan and Marianne must overcome their issues if they're ever going to find peace within their troubled relationship."
(CW: ableist language.)
---
The Unquiet Dead by Ausma Zehanat Khan
Adult thriller/mystery
"Despite their many differences, Detective Rachel Getty trusts her boss, Esa Khattak, implicitly. But she's still uneasy at Khattak's tight-lipped secrecy when he asks her to look into Christopher Drayton's death. Drayton's apparently accidental fall from a cliff doesn't seem to warrant a police investigation, particularly not from Rachel and Khattak's team, which handles minority-sensitive cases. But when she learns that Drayton may have been living under an assumed name, Rachel begins to understand why Khattak is tip-toeing around this case. It soon comes to light that Drayton may have been a war criminal with ties to the Srebrenica massacre of 1995.
If that's true, any number of people might have had reason to help Drayton to his death, and a murder investigation could have far-reaching ripples throughout the community. But as Rachel and Khattak dig deeper into the life and death of Christopher Drayton, every question seems to lead only to more questions, with no easy answers."
---
 Food of the Gods by Cassandra Khaw
Adult horror/fantasy
"Paying off a debt to the gods is never easy.
It's not unusual to work two jobs in this day and age, but sorcerer and former triad soldier Rupert Wong's life is more complicated than most. By day, he makes human hors d'oeuvres for a dynasty of ghouls; by night, he pushes pencils for the Ten Chinese Hells. Of course, it never seems to be enough to buy him a new car—or his restless, flesh-eating-ghost girlfriend passage from the reincarnation cycle—until opportunity comes smashing through his window.
In Kuala Lumpur, where deities from a handful of major faiths tip-toe around each other and damned souls number in the millions, it's important to tread carefully. ."
(CW: cannibalism, gore.)
---
 The Terracotta Bride by Zen Cho
Adult fantasy
"In the tenth court of hell, spirits wealthy enough to bribe the bureaucrats of the underworld can avoid both the torments of hell and the irreversible change of reincarnation. 
It's a comfortable undeath … even for Siew Tsin. She didn't choose to be married to the richest man in hell, but she's reconciled. Until her husband brings home a new bride. 
Yonghua is an artificial woman crafted from terracotta. What she is may change hell for good. Who she is will transform Siew Tsin. And as they grow closer, the mystery of Yonghua's creation will draw Siew Tsin into a conspiracy where the stakes are eternal life – or a very final death." 
---
Adult fantasy/mystery/horror
"Ghosts in a mansion. A home invasion. A group of friends haunted by a murder. An unlikely friendship, a dead body in an abandoned house. A girl falling to her death, and another falling into the viewless darkness.
Unseen Moon collects five suspenseful stories by award-winning author Eliza Victoria."
---
 The Summer of the Ubume by Natsuhiko Kyogoku, Alexander O. Smith (Translator)
Adult horror/thriller
"In Japanese folklore, a ghost that arise from the burial of a pregnant woman is an Ubume. 
Akihiko "Kyogokudo" Chuzenji, the title's hero, is an exorcist with a twist: he doesn't believe in ghosts. To circumnavigate his clients' inability to come to grips with a problem being their own, he creates fake supernatural explanations–ghosts–that he the "exorcises" by way of staged rituals. His patients' belief that he has vanquished the ghost creating their problems cures them.
In this first adventure, Kyogokudo, must unravel the mystery of a woman who has been pregnant for 20 months and find her husband, who disappeared two months into the pregnancy. And unravel he does, in the book's final disturbing scene."
---
Demons of the New Year: An Anthology of Horror Fiction From the Philippines by Karl R. de Mesa (Editor), Joseph Frederic F. Nacino (Editor)
Adult horror/fantasy
"Demons of the New Year: An Anthology of Horror Fiction from the Philippines represents horror written by Filipino writers elaborating on the unique perspective of local horror. These are more than just rehashed tales from the provinces about Filipino mythological monsters like the aswang and the tikbalang. Nor are these your run-of-the-mill ghost stories told thrice over during sleepovers, with a flashlight shining in your face and your kumot pulled over your head.
Within these pages, you will find tales of haunted houses, demon hunters, monster pop stars, and more." 
---
Servant of the Underworld by Aliette de Bodard
Adult historical fantasy/murder mystery
"Year One-Knife, Tenochtitlan the capital of the Aztecs. The end of the world is kept at bay only by the magic of human sacrifice. A Priestess disappears from an empty room drenched in blood. Acatl, High Priest, must find her, or break the boundaries between the worlds of the living and the dead."
---
*List compiled by Lit CelebrAsian team members: Aentee, Glaiza, Shenwei, Sinead, and Wendy.

*Share this list via Lit CelebrAsian's Twitter!
Note: Drop by #DiverseDetectives via WOCreads and Japanese horror fiction for more adult books. Though there are no content or trigger warnings on outside titles, so research where needed.
---
*We're hosting our first book club chat for Rebel Seoul by Axie Oh on November 25-26, so join us via #AsianLitChat!