Our team wanted to share a few middle-grade books by Asian authors for #MGBookTober, so we created a sample list! A shoutout to our founder Shenwei for contributing to the list as our resident signal booster for kidlit. Check out their blog for more kidlit books!
There are so many fantastic middle-grade books by Asian authors beyond this list, so we'd love to hear your recommendations too. Share them below.
Note: For the books we've read, we've included content/trigger warnings but if we've missed warnings for any of the books, let us know and we'll add them.
---
"Amina has never been comfortable in the spotlight. She is happy just hanging out with her best friend, Soojin. Except now that she's in middle school everything feels different. Soojin is suddenly hanging out with Emily, one of the "cool" girls in the class, and even talking about changing her name to something more "American." Does Amina need to start changing too? Or hiding who she is to fit in? While Amina grapples with these questions, she is devastated when her local mosque is vandalized.
Amina's Voice brings to life the joys and challenges of a young Pakistani American and highlights the many ways in which one girl's voice can help bring a diverse community together to love and support each other."
---
"A California girl born and raised, Mai can't wait to spend her vacation at the beach. Instead, though, she has to travel to Vietnam with her grandmother, who is going back to find out what really happened to her husband during the Vietnam War. Mai's parents think this trip will be a great opportunity for their out-of-touch daughter to learn more about her culture. But to Mai, those are their roots, not her own. Vietnam is hot, smelly, and the last place she wants to be. Besides barely speaking the language, she doesn't know the geography, the local customs, or even her distant relatives. To survive her trip, Mai must find a balance between her two completely different worlds."
---
"Everything in Bea's world has changed. She's starting seventh grade newly friendless and facing big changes at home, where she is about to go from only child to big sister. Feeling alone and adrift, and like her words don't deserve to be seen, Bea takes solace in writing haiku in invisible ink and hiding them in a secret spot.
But then something incredible happens–someone writes back. And Bea begins to connect with new friends, including a classmate obsessed with a nearby labyrinth and determined to get inside. As she decides where her next path will lead, she just might discover that her words–and herself–have found a new way to belong."
---
 Where The Mountain Meets The Moon by Grace Lin
"In the Valley of Fruitless Mountain, a young girl named Minli spends her days working hard in the fields and her nights listening to her father spin fantastic tales about the Jade Dragon and the Old Man of the Moon. Minli's mother, tired of their poor life, chides him for filling her head with nonsense. But Minli believes these enchanting stories and embarks on an extraordinary journey to find the Old Man of the Moon and ask him how her family can change their fortune."
---
"Harper doesn't trust her new home from the moment she steps inside, and the rumors are that the Raine family's new house is haunted. Harper isn't sure she believes those rumors, until her younger brother, Michael, starts acting strangely. The whole atmosphere gives Harper a sense of déjà vu, but she can't remember why. She knows that the memories she's blocking will help make sense of her brother's behavior and the strange and threatening sensations she feels in this house, but will she be able to put the pieces together in time?"
---
The Grand Plan to Fix Everything by Uma Krishnaswami
"Eleven-year old Dini loves movies—watching them, reading about them, trying to write her own—especially those oh-so-fabulous Bollywood movies where you don't need to know the language to get what's going on. But when her mother reveals some big news, it does not at all jibe with the script Dini had in mind. Her family is moving to India. And not even to Bombay, which is the "center of the filmi universe" (and home to Dini's all-time most favorite star, Dolly Singh). No, they're moving to a teeny, tiny town that she can't even find on a map: Swapnagiri. It means Dream Mountain, a sleepy little place where nothing interesting can happen….
But wait a movie minute! Swapnagiri is full of surprises like rose petal milk shakes, mischievous monkeys, a girl who chirps like a bird, and…could it be…Dolly herself?"
---
 Paris Pan Takes the Dare by Cynthia Liu
"So what if it's a rite of passage for every seventh grade girl in town to spend a night in the woods? Paris Pan only just moved here, the woods are super creepy, and she has enough weirdness to deal with in her own family. Finding out a girl died mysteriously years ago while on the Dare-right near Paris's new house, no less-is bad enough, but the unmistakably ghost like noises coming out of the broken-down shed at the edge of the Pan's property? Definite deal breaker.
All Paris wants is to make friends, try to fit in, and not have to deal with a dead girl. But everyone has to take the Dare, and the new girl's turn is up. . . ."
---
 Shooting Kabul by N. H. Senzai
"In the summer of 2001, twelve year old Fadi's parents make the difficult decision to illegally leave Afghanistan and move the family to the United States. When their underground transport arrives at the rendezvous point, chaos ensues, and Fadi is left dragging his younger sister Mariam through the crush of people. But Mariam accidentally lets go of his hand and becomes lost in the crowd, just as Fadi is snatched up into the truck. With Taliban soldiers closing in, the truck speeds away, leaving Mariam behind.
Adjusting to life in the United States isn't easy for Fadi's family and as the events of September 11th unfold the prospects of locating Mariam in a war torn Afghanistan seem slim. When a photography competition with a grand prize trip to India is announced, Fadi sees his chance to return to Afghanistan and find his sister. But can one photo really bring Mariam home?"
---
 The Last Cherry Blossom by Kathleen Burkinshaw
"Yuriko was happy growing up in Hiroshima when it was just her and Papa. But her aunt Kimiko and her cousin Genji are living with them now, and the family is only getting bigger with talk of a double marriage! And while things are changing at home, the world beyond their doors is even more unpredictable. World War II is coming to an end, and Japan's fate is not entirely clear, with any battle losses being hidden fom its people. Yuriko is used to the sirens and the air-raid drills, but things start to feel more real when the neighbors who have left to fight stop coming home. When the bomb hits Hiroshima, it's through Yuriko's twelve-year-old eyes that we witness the devastation and horror."
---
Blackbird Fly by Erin Entrada Kelly 
"Apple has always felt a little different from her classmates. She and her mother moved to Louisiana from the Philippines when she was little, and her mother still cooks Filipino foods, makes mistakes with her English, and chastises Apple for becoming "too American." It becomes unbearable in middle school, when the boys—the stupid, stupid boys—in Apple's class put her name on the Dog Log, the list of the most unpopular girls in school. When Apple's friends turn on her and everything about her life starts to seem weird and embarrassing, Apple turns to music. If she can just save enough to buy a guitar and learn to play, maybe she can change herself. It might be the music that saves her . . . or it might be her two new friends, who show how special she really is."
CW: explores internalisation of racist, homophobic, and ableist language but also shows learning.
---
"A trio of friends from New York City find themselves trapped inside a mechanical board game that they must dismantle in order to save themselves and generations of other children in this action-packed debut that's a steampunk Jumanji with a Middle Eastern flair.
When twelve-year-old Farah and her two best friends get sucked into a mechanical board game called The Gauntlet of Blood and Sand—a puzzle game akin to a large Rubik's cube—they know it's up to them to defeat the game's diabolical architect in order to save themselves and those who are trapped inside, including her baby brother Ahmed. But first they have to figure out how."
---
 Project Mulberry by Linda Sue Park
"Julia Song and her friend Patrick want to team up to win a blue ribbon at the state fair, but they can't agree on the perfect project. Then Julia's mother suggests they raise silkworms as she did years ago in Korea. The optimistic twosome quickly realizes that raising silkworms is a lot tougher than they thought. And Julia never suspected that she'd be discussing the fate of her and Patrick's project with Ms. Park, the author of this book!"
---
 Iris and the Tiger by Leanne Hall
"Twelve-year-old Iris has been sent to Spain on a mission: to make sure her elderly and unusual aunt, Ursula, leaves her fortune–and her sprawling estate–to Iris's scheming parents.
But from the moment Iris arrives at Bosque de Nubes, she realises something isn't quite right. There is an odd feeling around the house, where time moves slowly and Iris's eyes play tricks on her. While outside, in the wild and untamed forest, a mysterious animal moves through the shadows."
---
 The Stone Goddess by Minfong Ho
"In "The Stone Goddess," award-winning author Minfong Ho tells the story of Sophy's struggles during the 1980s Communist takeover of Cambodia.
When Sophy and her older siblings are ripped away from their family by the cruel Khmer Rouge and sent to work in a children's labor camp, Sophy bears witness to innumerable tragedies, paying too dear a price. After the Vietnamese army liberates Cambodia, Sophy returns to her mother's village, where they decide to seek refuge in America. Upon arriving in America, Sophy struggles to adjust to life in a completely new and different society, but she is caught up in the memories of all that she left behind."
---
Unidentified Suburban Object by Mike Jung
"The next person who compares Chloe Cho with famous violinist Abigail Yang is going to HEAR it. Chloe has just about had it with people not knowing the difference between someone who's Chinese, Japanese, or Korean. She's had it with people thinking that everything she does well — getting good grades, winning first chair in the orchestra, etCETera — are because she's ASIAN.
Of course, her own parents don't want to have anything to DO with their Korean background. Any time Chloe asks them a question they change the subject. They seem perfectly happy to be the only Asian family in town. It's only when Chloe's with her best friend, Shelly, that she doesn't feel like a total alien.
Then a new teacher comes to town: Ms. Lee. She's Korean American, and for the first time Chloe has a person to talk to who seems to understand completely. For Ms. Lee's class, Chloe finally gets to explore her family history. But what she unearths is light-years away from what she expected."
---
"Pashmina tells the story of an Indian-American girl who struggles to fit in at high school, then discovers more about her family's history with the help of her mother's magical pashmina."
---
 Sun Dragon's Song by Joyce Chng, Kim Miranda (Illustrator)
"More than anything, young Ho Yi wishes to become a Sun Dragon Rider, the courageous human guardians of the magnificent beasts that roam the sky and keep watch over the land. But confined to crutches, bullies giving him a hard time, and his parents being away at war, Yo Hi is up against almost impossible odds! Can he still keep hope alive, while suffering in his tiny village, to become the valiant hero only he feels he's destined to become?"
---
 The Garden of My Imaan by Farhana Zia
"Aliya already struggles with trying to fit in, feeling confident enough to talk to the cute boy or stand up to mean kids — the fact that shes Muslim is just another thing to deal with. When Marwa, a Moroccan girl who shares her faith if not her culture, comes to Aliya's school, Aliya wonders even more about who she is, what she believes, and where she fits in. Should she fast for Ramadan? Should she wear the hijab? Shes old enough for both, but does she really want to call attention to herself?"
CW: one instance of ableist language re: OCD
---
 Jasmine Toguchi, Mochi Queen by Debbi Michiko Florence, Elizabet Vukovic (Illustrator)
"Grace Kendall at Farrar, Straus and Giroux has preempted a chapter book series by Debbi Michiko Florence, about headstrong eight-year-old Jasmine Toguchi and her Japanese-American family. The first book, Jasmine Toguchi, Mochi Queen, is about yearning to be part of a fun family tradition, even if it's not something girls typically do. "
---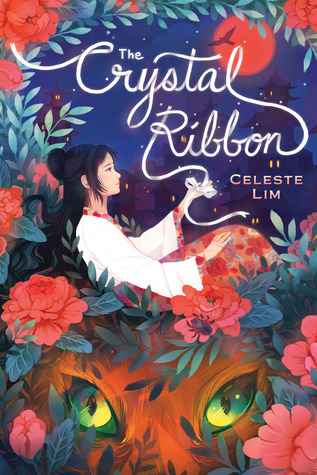 The Crystal Ribbon by Celeste Lim
"In the village of Huanan, in medieval China, the deity that rules is the Great Huli Jing. Though twelve-year-old Li Jing's name is a different character entirely from the Huli Jing, the sound is close enough to provide constant teasing-but maybe is also a source of greater destiny and power. Jing's life isn't easy. Her father is a poor tea farmer, and her family has come to the conclusion that in order for everyone to survive, Jing must be sacrificed for the common good. She is sold as a bride to the Koh family, where she will be the wife and nursemaid to their three-year-old son, Ju'nan. It's not fair, and Jing feels this bitterly, especially when she is treated poorly by the Koh's, and sold yet again into a worse situation that leads Jing to believe her only option is to run away, and find home again. With the help of a spider who weaves Jing a means to escape, and a nightingale who helps her find her way, Jing embarks on a quest back to Huanan–and to herself." 
CW/TW: abuse/harsh physical punishment.
---
 Archer's Quest by Linda Sue Park
"Kevin, a Korean American math whiz, is shocked beyond belief when a young man, complete with bow and arrows, crash lands in his bedroom. And that's just the beginning. The man, called Skillful Archer, claims to be a legendary ruler from ancient Korea. While Kevin tries explaining contemporary life to the man he nicknames Archie, the young ruler teaches Kevin about focusing his thoughts in an attempt to help him return to his kingdom. There's not a moment to lose as Kevin uses Korean history and folktales, math, and the Chinese Zodiac to help his friend travel back through time before the Year of the Tiger ends. If Archie can't get home, history will be forever changed." 
---
 The Turtle of Oman by Naomi Shihab Nye
"Aref Al-Amri does not want to leave Oman. He does not want to leave his elementary school, his friends, or his beloved grandfather, Siddi. He does not want to live in Ann Arbor, Michigan, where his parents will go to graduate school. His mother is desperate for him to pack his suitcase—but he refuses. Finally, she calls Siddi for help. But rather than pack, Aref and Siddi go on a series of adventures. They visit the camp of a thousand stars deep in the desert, they sleep on Siddi's roof, they fish in the Gulf of Oman and dream about going to India, they travel to the nature reserve to watch the sea turtles. At each stop, Siddi finds a small stone that he later slips into Aref's suitcase—mementos of home."
---
 The Emperor's Riddle by Kat Zhang
"Mia Chen is on what her mother calls a Grand Adventure. She's not sure what to make of this family trip to China, and didn't want to leave her friends for the summer, but she's excited about the prospect of exploring with her Aunt Lin, the only adult who truly understands her.
Then Aunt Lin disappears, right after her old nemesis, a man named Ying, comes to visit. Mia knows that years ago, when Aunt Lin and Ying were sent to the Fuzhou countryside to work as laborers, the two searched for an ancient treasure together—one that still hasn't been found. She's suspicious that their shared history might be linked to Aunt Lin's disappearance.
When Mia discovers an old map filled with riddles in Aunt Lin's room, she quickly pieces together her mission: find the treasure, find her aunt."
---
"kira-kira (kee ra kee ra): glittering; shining Glittering. That's how Katie Takeshima's sister, Lynn, makes everything seem. The sky is kira-kira because its color is deep but see-through at the same time. The sea is kira-kira for the same reason and so are people's eyes. When Katie and her family move from a Japanese community in Iowa to the Deep South of Georgia, it's Lynn who explains to her why people stop on the street to stare, and it's Lynn who, with her special way of viewing the world, teaches Katie to look beyond tomorrow, but when Lynn becomes desperately ill, and the whole family begins to fall apart, it is up to Katie to find a way to remind them all that there is always something glittering — kira-kira — in the future."
---
 Inside Out & Back Again by Thanhhà Lai
"For all the ten years of her life, Hà has only known Saigon: the thrills of its markets, the joy of its traditions, and the warmth of her friends close by. But now the Vietnam War has reached her home. Hà and her family are forced to flee as Saigon falls, and they board a ship headed toward hope. In America, Hà discovers the foreign world of Alabama: the coldness of its strangers, the dullness of its food . . . and the strength of her very own family."
---
The Other Christy by Oliver Phommavanh
"Christie Owens is the popular one so everybody calls Christy Ung, the Other Christy. She moved from Cambodia in Year 4 and is still a loner at school.
Christy's one solace is baking with her Auntie who suggests they bake a cake for Christy to share with her class on her birthday. Maybe a sweet treat can win them over and Christy might find a friend. She just didn't expect it to be Christie.
When Christie is ditched by her besties, the two girls who share a name strike an unlikely friendship. Christy lets down her guard, revealing secrets about her weird upbringing with her clean-obsessed Grandpa. But Christy soon realises that she and her new friend are worlds apart." 
---
 It Ain't So Awful, Falafel by Firoozeh Dumas
"Zomorod (Cindy) Yousefzadeh is the new kid on the block . . . for the fourth time. California's Newport Beach is her family's latest perch, and she's determined to shuck her brainy loner persona and start afresh with a new Brady Bunch name—Cindy. It's the late 1970s, and fitting in becomes more difficult as Iran makes U.S. headlines with protests, revolution, and finally the taking of American hostages. Even mood rings and puka shell necklaces can't distract Cindy from the anti-Iran sentiments that creep way too close to home. A poignant yet lighthearted middle grade debut from the author of the best-selling Funny in Farsi."
---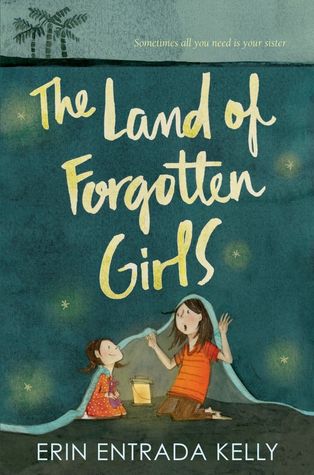 The Land of Forgotten Girls by Erin Entrada Kelly 
"Soledad has always been able to escape into the stories she creates. Just like her mother always could. And Soledad has needed that escape more than ever in the five years since her mother and sister died and her father moved Sol and her youngest sister from the Philippines to Louisiana. Then he left, and all Sol and Ming have now is their evil stepmother, Vea. Sol has protected Ming all this time, but then Ming begins to believe that Auntie Jove—their mythical, world-traveling aunt—is really going to come rescue them. Have Sol's stories done more harm than good? Can she protect Ming from this impossible hope?"
CW: explores bullying and colorism but also unlearning prejudice.
---
 The Year of the Dog by Grace Lin
"It's the Lunar Year of the Dog!

When Pacy's mom tells her that this is a good year for friends, family, and "finding herself," Pacy begins searching right away. As the year goes on, she struggles to find her talent, deals with disappointment, makes a new best friend, and discovers just why the Year of the Dog is a lucky one for her after all."
---
*List compiled by Lit CelebrAsian team members: Shenwei and Glaiza
*Share this list via Lit CelebrAsian's Twitter
---
*We're hosting our first book club chat for Rebel Seoul by Axie Oh on November 25-26, so join us via #AsianLitChat!